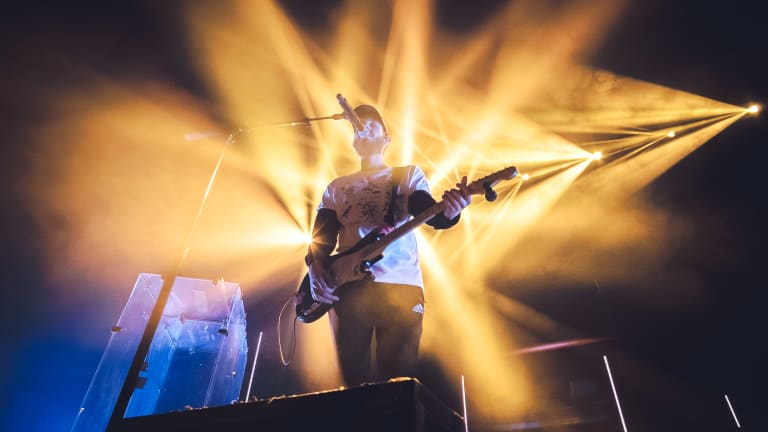 6 EDM Vocalists You Didn't Know You Loved
Show some love for a few of EDM's underappreciated angels.
According to its detractors, electronic music is often disparaged for any number of reasons. The laundry list of misconceptions and complaints range anywhere from "DJs just press play," to "EDM all sounds the same!" One of the unfounded critiques by those not in-the-know is that EDM, with all its beeps and boops, lacks lyrical style. 
Thought it may be true that the EDM spotlight doesn't always favor its vocalists, it would be totally false to say EDM lacks vocals altogether. Read on to discover some of electronic music's most influential vocalists of the past decade.
1. Matthew Koma
Matthew Koma (real name Matthew Bair) is a music powerhouse in his own right. In the industry since 2010, Bair has produced, co-produced, and written for artists like Zedd, Hardwell, Sebastian Ingrosso, Alesso, Tiësto, and Showtek. His non-EDM credits span names like Bruce Springsteen, Shania Twain, Third Eye Blind, and OneRepublic. 
Though surrounded by some controversy, Bair's most famous vocal credits come from Zedd's "Clarity" and "Spectrum." He has also provided vocals for Tiësto's "Wasted" and Audien's "Serotonin." 
2. Justine Suissa
If you have listened to trance in the past two decades, then you have heard Justine Suissa's dulcet tones. Suissa came to prominence through her collaboration with Chicane on Behind the Sun. She is a founding member and lone vocalist of OceanLab, and she continues to work closely with Above & Beyond both in OceanLab and as a featured artist. 
3. Rob Swire
Rob Swire (real name Robert Swire-Thompson) is another accomplished musician. Hailing from Perth, Swire-Thompson is the founding member of Pendulum and Knife Party. He has composed, produced, and written for artists like Swedish House Mafia, Porter Robinson, Eric Prydz, and deadmau5. 
Swire-Thompson's vocals have been features in tracks like deadmau5' "Ghosts 'n'  Stuff," and "Monophobia," as well as Eric Prydz' "Breathe." 
4. Alana Watson
Alana Watson is an irreplaceable third of British electronic music trio Nero. Starting with the group in 2008, her breakout track was "Solid Air," and she has since been a permanent member of the group. Nero has been releasing and remixing consistently since then, garnering much praise, including a Grammy for their 2011 remix of Skrillex's "Promises."
5. John Martin
John Martin is a Swedish singer, songwriter, and producer, whose voice has graced tracks by some of the biggest names in contemporary EDM. Best known for his collaborations with Swedish House Mafia, Martin has also worked with David Guetta, Tinie Tempah, and Martin Garrix, among many others. 
6. Nevve
Nevve is an entry on this list unlike any of the others. Shrouded in mystery since they came onto the scene in 2016, Nevve caught attention as the female vocalist featured by artists like DROELOE, Boombox Cartel, Flux Pavilion, Taska Black, Kill Paris and QUIX. 

For several years, fans of Nevve searched for the identity of the enigmatic artist, whose social media accounts were all blank. Only in 2019 was the mystery (mostly) solved; according to internet sleuths, Nevve is actually a collective of producers and vocalists. 
Up until 2019, however, the only Nevve vocalist seems to be Keeley Bumford, a singer, songwriter, producer, and voice actor. Even then, Bumford keeps mum. In her Reddit AMA, she said, "<3 I'm not Nevve, Nevve is not a person <3".
7. Honorable mention: Zyra
Though Zyra (real name Alexandra Cheatle) does not have a discography nearly as long as others in this list, the vocals that she is known for are absolutely unmistakable. Featured on ODESZA's "Say My Name," and "It's Only," her voice was arguably instrumental in catapulting the EDM powerhouse duo to fame, which, in turn, has revolutionized the soundscape of EDM as a whole. With just two tracks, Cheatle has left an indelible mark on electronic music. 
Brian Baker is a writer and photographer based out of St. Louis. You can find his portfolio here.