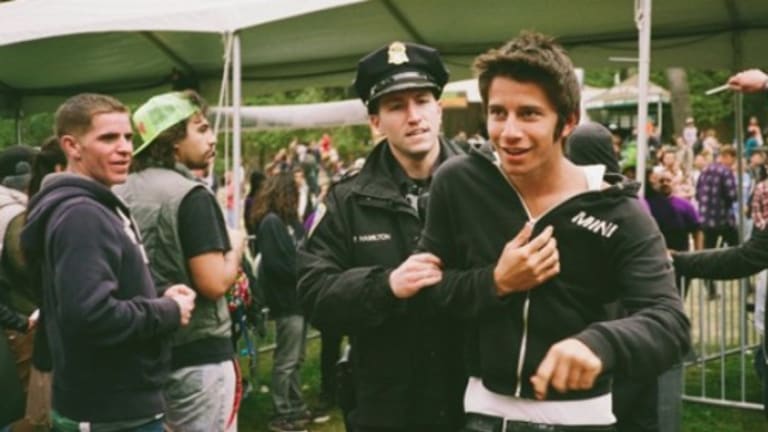 5 Ways People Try To Sneak Into Musical Festivals
Risky business
Burning Man sells out tickets to its desert den of DJs and dusty debauchery in 45 minutes. Coachella sells out its 90,000 general admission passes both weekends in just 39 minutes. For Glastonbury, even if you spend 25 frantic minutes constantly calling while refreshing pages on multiple laptops, you're still hard pressed to land one of the 145,000 coveted tickets. But Belgium's Tomorrowland wins, claiming to have maxed out its 180,000 capacity event in just 1 second… Hmm.
As the demand for festivals continues to fuel rising ticket costs, a lot of people are missing out on tickets. In rare cases disappointment turns into determination, and with time to salivate over out-of-reach lineups, determination turns into a plot. Today, I'm looking at the elusive art of festival fence jumping.
As we storm into festival season with our willies, short shorts, onesies and face paint, blaggers (translation: fest goers going for the five-finger discount) are limbering up to dodge, duck, dip, dive and dodge into the most oversubscribed festivals on the planet. In a time of face recognition technology, prolific CCTV and stringent security measures, the previously mischievous fence jumper has evolved into a skirmishing mastermind. The prize for those bold enough, simply the best music and atmosphere on the planet, at the low cost of free ninety-nine.
My personal exploits in this field have been fairly tame, with my best effort so far being a Metal Gear Solid-like recon of a club which I had been rejected from and, therefore, climbed over three neighboring house walls, on to the roof of said club and down into the buzzing beer garden below, disappearing like a budget Kaiser Soze into the crowd. I would have gone for the Mission Impossible-entry onto the main dance floor but I didn't have my rope.
For the seasoned blaggers though, it is the festivals that are the holy grail. Consider this; in the year 2000 an estimated 100,000 ticketless fans gatecrashed Glastonbury festival in the UK, performed a record-breaking wall smash so big that it put the future of the event in jeopardy. In response, Glasto' upped its efforts to deter fence jumpers by setting the global standard for security. To guard the mega-festival a 3.5 metre high perimeter wall was erected complete with guard towers and an inner secondary fence to stop any chancers lucky enough to breach the first barrier. They employ thousands of security staff in addition to the hundreds of uniform police officers patrolling the immense 900-acre site.
Their tickets have photo identification and a security hologram to prevent copies. Online orders can only be edited by way of a secure code to email which, even then, requires resubmission of a new photo ID to make any edits and each transaction goes through the websites carefully-coordinated registration process. Entry to the festival is through a series of guarded gateways where ticket checks and the occasional bag search are commonplace. Ladies and gentlemen, welcome to flavour country.
With defenses like these, I was surprised to discover that just last year one intrepid 27-year-old, Marcus Haney, blagged his way into 50 festivals, and I am not talking about the Winnipeg Day Parade, I'm talking; Ultra, (the aforementioned) Glastonbury, Bonnaroo, and even backstage at Californian superstar hangout, Coachella, to mention just a few! Powerful Marcus Haney.
Some of the techniques he employed include:
1. The Pyrite Bangle
This is essentially the fake wristband trick. Usually either done by snipping the loose bits from several bands and Zippo melting them together. The other way is to make use of your double jointed mate (not like that) to slip a wristband off and chuck it over the fence, tied around a rock of course.
2. The Jedi
The most outlandish and - many would say - the blag with the highest success rate, this is the bold face lie "I'm just coming through with a couple of the guys, cheers chief!" and keep walking. These are not the Droids you are looking for…
3. The Mongol
They're going for the wall! This is the smash and grab of festival blags. It takes military precision, technological prowess and a full crack squadron of prematurely wasted double-nutters to stand a chance of success. Grab your rope-ladders, sh*t's about to get real! There are battle plans from one of last year's successful wall gambits here, quite incredible really. They even have a motivational Powerpoint to get the troops G'd up! I was sold by point 1.
4. The David Cameron
...Also known as "The O'Reilly" stateside. This canny crook weaves a Bayern Tapestry of bullshit and balderdash that baffles the boarder patrols and bewilders the bouncers into letting him/her in. Favourites are: I'm press BS, I'm a VIP Guest BS, and I'm wearing a low-cut vest look at my breasts BS.
5. The Trojan Horse
Instructions:
1. Find small-time band
2. Make them an offer they cannot refuse, probably money rather than an equine-based threat
3. Pack friends and relatives into said band's tour bus
4. Drive, unassumingly, into target festival
5. Open doors
6. Leg iiiiiiiiiiiiit!
You'll notice "The Shawshank" didn't make the cut. I scoured the internet near and far, for like 6 minutes and couldn't find an example of a successful tunneling expedition (ahem). Challenge accepted? I'll believe it when I see it.
So it is possible, but is it cool? Well it shouldn't be, but there is definitely an unspoken kudos that comes with fence hopping, the crowd loves a maverick. And with tickets now often breaching the £200 ($300), the stakes have never been higher.
Some festivals communicate with customers on their websites reiterating the importance of acting in the spirit of the event and paying for a ticket whilst others warn of the harsh consequences that await any would-be trespassers. But with mega-festivals like Glastonbury reportedly netting close to £30 million ($45 million) each year, even if only £764,000 of that is profit, it is not hard to see how some convince themselves that this is a victimless crime.
With dwindling digital music sales forcing artists to rely increasingly on their live performances, a fence hop is a somewhat meager swipe at the industry but a swipe nonetheless, and let's not forget, that fire-breathing 100ft mechanical spider (Arcadia) stage (yeah you heard me right, Coachellites) can't be cheap.
In equal parts the fence jumpers are chastised and championed across the message boards online. To the moral ravers, in the festivals' corner, it's as simple as theft. They haven't paid, they shouldn't be let in. It's the characters that want to see everything the world has to throw at them that applaud, and they're a lot louder. Which side of the fence do you fall on? The rules are the rules, but c'mon, he who dares…