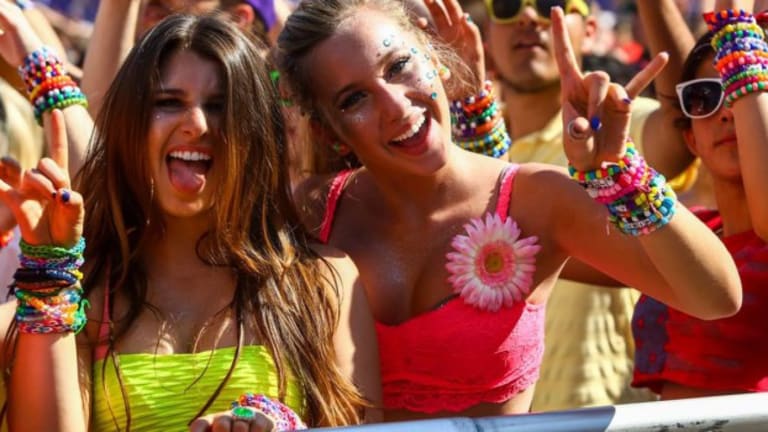 7 Of The Greatest EDM-Related Posts on Craigslist
Check Out Several Of The Best Festival and EDM-Related Posts on Craigslist
Hundreds of thousands of people use Craigslist every day to barter goods and services, find missed connections and even find ways to volunteer. And with such a diverse forum at our fingertips, the flood gates are open and filters get thrown out the window. People are advertising what they really want or need - and everything they'll do to get it.

As a raver, desperate times call for desperate measures, and we've seen a handful of EDM fans go to uncomfortable lengths to get tickets, DJ gigs, gear and more. So to celebrate the internet in all its glory, we've collected 7 of the quirkiest and most outlandish Craigslist ads by ravers, whether they are looking for Coachella boyfriends or a DJ to spin at their home-birth. Granted, we'd like to think they were all written in good fun by some clever internet pranksters but sometimes... you just can't tell.
1) It's hard out here for a pimp.
Pimpin' ain't easy, especially when you have to wear a thick-ass drape of animal fur at all times. The status image of wearing a mink coat sure has its values, but it's a hard product to sell to a raver, as we all know the EDM motto is "the less clothes the better." Now, if I were in this seller's position, I'd reevaluate the reason I'm looking to get out of the backstage passes, because if it's anything short of cruisin' in my '64 with a cane and fedora while bumpin' Doggystyle on the PCH, it probably isn't worth the trade.
2) EDM + NRA = The ultimate raver
EDM and guns have gone hand-in-hand since... well... never actually, but somehow this crafty merchant was able to perfectly tie them together into one glorious attempt to barter his Coachella passes. Honestly, the post doesn't even seem that crazy until he mentions his affinity for "shotguns etc." That was definitely the deal-breaker for me. Like what the hell does "etc." even include? Sniper rifles? WWII-crafted grenades? A trip-mine? And then there's the previous statement, "You can activate them at my home or in front of me," which all of a sudden sounds different now that shotguns are in the picture.
3. The most niche market for DJs today - homebirth gigs.
Wedding DJs are so overrated nowadays, and baby showers just never need their own soundtrack anymore - but do you know what could still use such privileges? That's right, homebirth. Birthing a child in your home is certainly not your typical approach, but it's safe to say that it opens doors for a truly special *cough, cough* experience. This "birthing" DJ ad proves exactly how special it is, starting with their eclectic taste in yogatronica, wombstep and thizz, and later with their awkwardly placed "I love you."
4. Coachella Boyfriend needed.
One of the biggest trends in Craigslist today is looking for someone to serve as an escort-like companion for a defined amount of time, and paying them to be a part of whatever activities they so choose. These girls needed their own "Coachella boyfriends" for their festival weekend, and outlined the exact requirements for getting the honor to fulfill such a role. My lord, if these were the requirements for being a modern-day gentleman, well call me Jude fucking Law.
5. Will the real Steve Aoki please stand up?
After watching the video of Steve Aoki's impersonator at Stereosonic go viral last year, I guess you could say that there are people out there who want to be just like him. Well, not just like him - they want to look like him, act like him, and just be him. After hearing seeing this Craiglist ad looking for a Steve Aoki doppelgänger, I feel like we're at the point where we'll never know whether it's actually Steve Aoki, or a fan-turned-pagan. In any case, an "EDM/medical-futuristic-themed" music video sounds badass, and although I probably wouldn't make the cut, I'd highly suggest all the look-alikes out there to keep an eye out for more opportunities like this.
6. Audition for Cirque dub Soleil.
Yeah... not so sure about this one. Save me the obvious assaults on the authenticity behind this ad (Funny or Die, I see you), but all things considered, I think they covered all the bases for a Skrillex-themed Cirque du Soleil show. As badass as that sounds, I can imagine the auditioning routine going something along the lines of "How old are you? How long have you been listening to dubstep? Do a backflip. Show me your grime face. Great, you're hired." That isn't exactly what they describe as the perfect candidate, but what am I supposed to do if I don't smoke EDM? In any case, a lifetime supply of Rock Star Energy Drink does sound like convincing compensation, as I'm already expected to die by 29 due to a diet of Hot Pockets and Mountain Dew.
7. Adopt-A-Burner
This has to be the worst post-festival experience I have ever heard. I mean come on - her name is Leaf, she's "sandy and stinky," she smoked all this guy's weed, and she's from Portland? Ok, nothing against Portland, but for this guy's sake I hope it's close because there's nothing worse than providing hospitality for a weed-smoking wood-elf-life creature that doesn't shower. Apparently she's kind of cute in a "Burning man" kind of way, so he's got that going for him, but considering the all caps request for anyone who knows her to scoop her off his hands, I think there is a valuable lesson here, folks: Do not pick up girls with plant-like names at Burning Man.