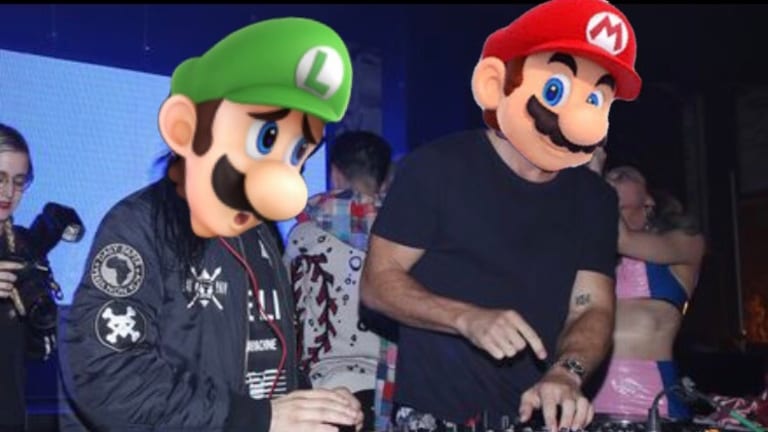 7 of Your Favorite EDM Artists as Super Smash Bros. Characters
Take a break from gaming and check this one out!
In honor of the release of the newest Super Smash Bros. game Super Smash Bros. Ultimate, we decided to have some fun and imagine some of the characters as EDM artists. Below are some of our favorite pairings. 
7. Mario - Diplo
Since the 1980s, everyone's favorite Italian plumber has been participating in a variety of fun activities like saving princesses, racing go-karts, and beating the shit out of the childhood characters you hold near and dear to your heart. Mario's constant shift in style and form is quite similar to Diplo's career.
Like Mario, you never really know what the Mad Decent boss is going to do next. We're not sure if Diplo has ever saved any kingdoms. He is, however, a member of some of EDM's biggest groups like Major Lazer, Jack Ü, Silk City, and LSD (although, Mario prefers mushrooms).
6. Samus - Rezz
When listening to Rezz it's not uncommon to feel like you're barrelling through space and time. The one they call "Space Mom" has left her mark on dance music with her dark, futuristic sound that perfectly accompanies Samus' alien slaying.
Now this isn't a perfect comparison as Samus' Metroid series hasn't delved into satanic rituals and soul stealing, but dark reboots are trendy right now so who knows what the future may hold. 
5. Bowser - Excision
If you're familiar with Excision's Lost Lands Festival, you know that he loves giant dinosaurs. It just so happens that Bowser is a giant dinosaur... See where we're going with this one?
The overwhelming power of the king of the koopas resembles Excision's aggressive take on dubstep. His bone-crushing sound would lead you to believe that he can breathe fire, although we've reached out to his management to confirm this and have not heard back.
4. Pikachu - Skrillex
One of the most beloved and well-known figures in gaming deserves a worthy dance music counterpart. Similar to how many grew up on Pokémon cartoons and games, many of the current generation of dance music fans grew up on Skrillex, who would become one of the figureheads in modern-day dance music.
That being said, we're not sure Pikachu dances like this:
3. Kirby - Porter Robinson
Porter Robinson's debut album Worlds took listeners on a journey to a far away land of dreams and underlying darkness. Kirby's Dream Land mirrors this with it's pink clouds and monsters that our family-friendly protagonist kills then swallows whole.
Plus, listening to "Shelter" definitely makes us feel soft and pink inside. 
2. Link - Armin Van Buuren
The hero of time needs a dance music counterpart who's stood the test of time. Unlike most of the artists on this list, Armin van Buuren has been one of the biggest dance music artists in the world for almost two decades.
Like the dozens of games in The Legend of Zelda series, Armin van Buuren's discography has enough entries that old school fans (see: trance snobs) can flex on new fans by name dropping songs that came out before they were born.
1. Yoshi - Any Riddim Producer
Is Yoshi a dinosaur or a lizard? Is riddim just heavier dubstep? Is that red thing on his back a spot or a saddle? All of these things are the cause of too many arguments on the internet.