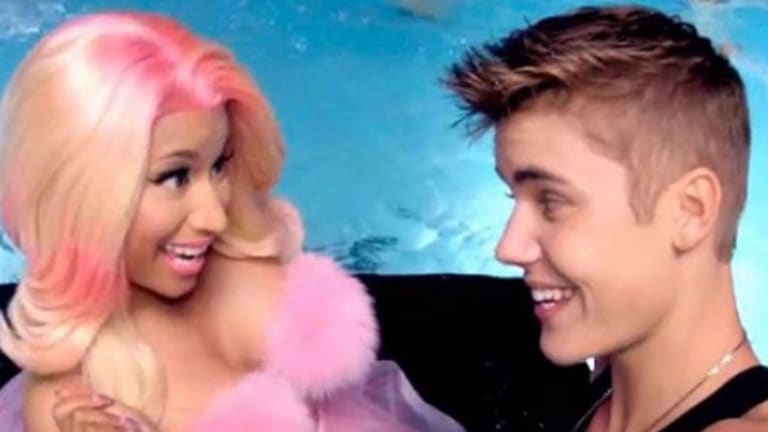 9 Mainstream Songs That Were Surprisingly Produced By EDM Stars
Mainstream artists love EDM producers!
Many times when a pop artist releases a song, their fans don't think about all the people that were a part of its conception. However, pop stars often seek out some of the industry's best producers to work with them. These producers aren't normally recognized for their contributions, and we wanted to share some songs produced by well-known EDM stars with you.
Kanye West - Black Skinhead
Kanye West is an artist known for frequently collaborating with big names. Daft Punk, Brodinski, and Gesaffelstein all worked on "Black Skinhead" and "Send It Up" for his latest album, Yeezus. Daft Punk also worked on "On Site" and "I Am A God." Kanye's seventh studio album went on to be one of the most critically acclaimed albums of 2013. 
Britney Spears - Toxic
Britney Spears' favorite producers for a period of time were Bloodshy & Avant. The producers' real names are Christian Karlsson and Pontus Winnberg. The two went on to create Miike Snow, which became a very popular band. However, you might be more familiar with Karlsson from his new duo with Style of Eye called Galantis. 
Justin Bieber ft. Nicki Minaj - Beauty And A Beat
Zedd has been known to work with some of the biggest names out there. After winning a Grammy for Clarity and playing live on The Today Show, you would think it might be hard to overlook anything he has been a part of. However, a Zedd track you might not be familiar with is "Beauty and a Beat" by Justin Bieber and Nicki Minaj. "Beauty and a Beat" was originally produced by Zedd for his album Clarity, but he felt that it didn't quite fit with everything else. As a result, he got together with a team of producers and re-wrote the song to be released on Bieber's album, Believe. 
Lady Gaga - Government Hooker
Lady Gaga's music is very heavily influenced by EDM producers. Recently, she's had a variety of popular EDM producers creating songs for her. "Government Hooker" was an unfinished track by DJ White Shadow and DJ Snake that was utilized by her team. This was far before DJ Snake had started to make it big in the EDM world. Additionally, Zedd helped produce the hit record "G.U.Y" while on tour for the Born This Way Ball. Zedd also helped produce the first song on the ARTPOP album, "Aura," with the Israeli trio Infected Mushroom. 
'N Sync - Pop
BT is one of the most talented producers in the game. He helped pioneer trance and made it into the Guinness Book of World Records for most vocal edits in a track. BT has worked with some of the biggest names in music, including Madonna, Sting, and Britney Spears. In an MTV interview from 2001, they declare him the "King of Dirty Pop" for his production of "Pop" by 'N Sync. BT's use of stutter edit was revolutionary and sought after by many pop stars. 
Pitbull ft. TJR - Don't Stop The Party
Even though TJR's name is featured in "Don't Stop the Party" by Pitbull, many people don't realize that the track was a TJR original, "Funky Vodka." The sexually explicit content got the music video banned from airing in the UK. Needless to say, this music video is a much watch. 
Usher - Numb
Another huge artist who has had some amazing support from big producers is Usher. "Numb" was co-produced by Swedish House Mafia. Usher and Swedish House Mafia actually performed the song together for the 2011 American Music Awards. They also worked together on "Euphoria." Usher has also worked with Diplo on the song "Climax" and "Go Missin'." Many photos of Diplo, Usher, and Skrillex in the studio together have popped up recently, so we might be hearing more EDM-infused tracks from the singer.
Rihanna - Rude Boy
Rob Swire has been a part of a variety of music projects including Knife Party, Pendulum and a metal group called Xygen (Pendulum before they were Pendulum). Despite working on projects that seem quite opposite from pop music, Swire helped co-write and produce Rihanna's "Rude Boy" and "Roc Me Out." Now if that doesn't show versatility, I don't know what does. 
Coldplay - A Sky Full Of Stars
It is undeniable that Avicii has had one of the most impressive dance music careers thus far. He's worked with some huge names and had some of the most memorable tracks in the last few years, including "Levels" and "Hey Brother." What some people might not know is that Avicii recently worked on Coldplay's new song A Sky Full of Stars. In addition to the production of the song, lead singer Chris Martin asked Avicii to play piano for the song. Martin later told Zane Lowe in a BBC Radio One interview that he felt like he had cheated the band by asking Avicii to play piano instead of doing it himself. 
There are many more songs that could be featured in this article, but we encourage you to find some on your own. Many music fans don't take the time to do the research, but hopefully this article will influence you to find out who the producers were behind some of your favorite pop songs.
Written by Sean Flynn