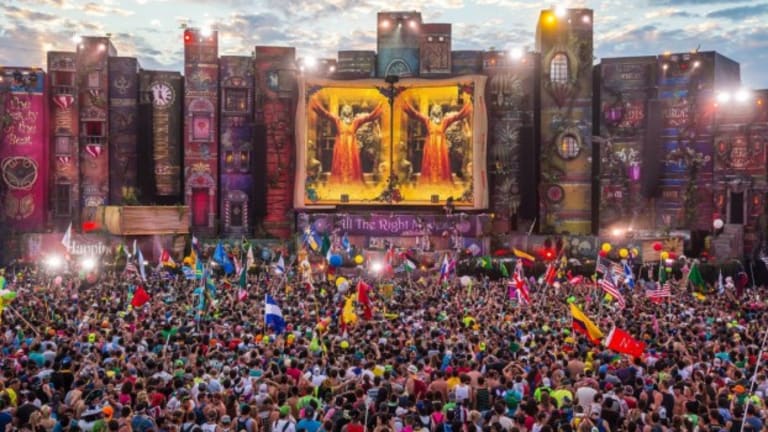 9 Things You Need To Know When Camping At Festivals
Having a good time at a camping festival is easy, if you know what you're doing.
The key to happiness at camping festivals is fairly simple if you know what you're doing. Don't be that noob who forgets to pack the essentials or disappears for a day because you can't find your way back to your campsite in the sea of indistinguishable tents. Read on below to pick up a few festival hacks or just have a refresher on how to have a successful festival experience:
1) If you have access to a charging station or power at some point, take advantage of social media before, during, and after a fest.
My favorite is Twitter, for a variety of reasons: you can get real time updates to any last minute lineup changes, you can see where your favorite DJ is doing a special unannounced set, you can check out what's happening at the next stage over without having to compromise your prime real estate up front near the stage, and you can scope out any awesome coverage post-festival. But if power is something you'd like to save because you won't have access to an outlet for a weekend, consider a portable charger, those little blocks can sure pack a lot of power in them.
2) Party responsibly.
Many camping festivals have a limit on how much alcohol you can bring into the fest with you. While we don't advise going overboard, for those of you of a legal drinking age, there are a few ways to maneuver around this limit. One of my personal favorites, is to infuse fruit with booze, and one of the easiest fruits to do this with is watermelon. Snack meets alcoholic beverage. YES! Or you can try to hide bottles amongst your gear, but you'll have to be super clever in doing so because many festivals will check your gear before letting you in for any prohibited items, including excess alcohol.
3) Distinguish your campsite
At night, in the dark, every tent looks the same on the top. Don't spend hours trying to find your way back from the loo in the middle of the night, make sure you stand out somehow with a flag, identifiable decor, battery powered lights, or balloons. Or whatever you need. Plus it will make it easier for your new friends to track you down when you tell them to look for the giant rasta banana flag flying high in the air.
4) Waterproof everything that you would not be okay with getting wet.
Mother Nature has a terrible habit of wringing the water out of the sky on festival weekends. Many-a festival have been washed away or turned into mud cities by torrential downpour when the forecast had called for sunshine. A big trash bag can be used as a poncho. Tarps are nice to have around if you have the room for them. Don't leave your tent windows open in case you're all the way across the grounds when it starts to pour, play it safe and close everything up when you head out. Keep electronics in waterproof cases, plastic bags, or just out of water's way in general, your food too. No one wants soggy potato chips. No one.
5) Make friends with your neighbors.
They'll be your extended family for the weekend, and you will probably even make a couple of friends that you'll hang onto for a while post-fest. When you run out of sunblock or booze, you'll be thankful you learned their names on the first day.
6) Supplies that are multi purpose will make your packing experience much more enjoyable.
Did you know that fanny packs come with speakers now? Well they do, as they should. This makes for hands free storage and musical entertainment when you're back at your campsite, all at once. You'll be thankful you packed light when you're hauling all of your gear from your car to your campsite too.
7) Take your vitamins!
You'll keep your immune system strong and they will help get you back up on your feet and partying after the sun has drained you of all your energy. Emergen-C is a great supplement for festival-goers, as it is known to save attendees from the dreaded "post-festival plague" that we all fear for on the ride home. In addition to this, gummy vitamins are, well, gummy vitamins - need I say more?
8) Do NOT skip sleep.
Understand that you're going to have to face FOMO at some point or another at the festival. Accept that you're going to have to miss out on SOMETHING to sleep, eat, use the bathroom. You cannot, and should not, skip these things. Sleep = energy.
While we could continue with the mostly obvious festival tips, this might be one of the most important:
9) Have fun!
Embrace the moment. Even if you get separated from your friends for a little while, make new ones while you wait to locate your crew. Or if you happen to develop a smell from the lack of shower, pat yourself down with a baby wipe, apply some new deodorant, and pretend that you're a fresh person again. Festivals are a little escape from reality, so enjoy it!