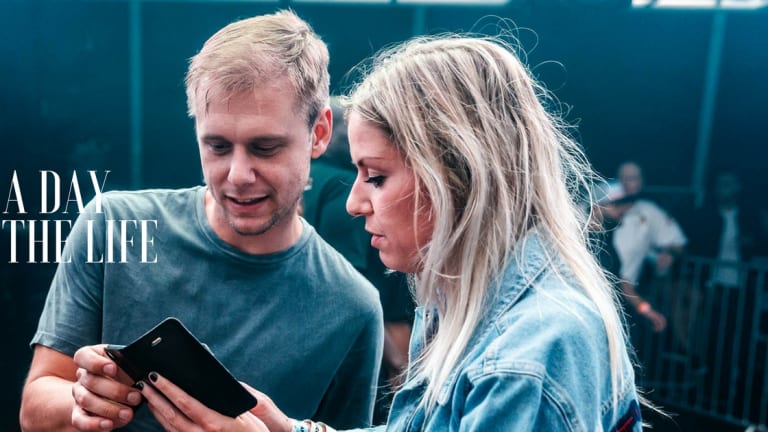 What Does It Take to Be a PR Manager and Artist Coordinator? We Spoke with Armada's Carmen van der Werf
Being able to multitask and prioritize is extremely important.
Armada Music is an Amsterdam-based record label that is home to various types of genres such as trance, deep house, progressive house, techno, and even pop.  This label was founded in 2003 by Armin van Buuren, Maykel Piron, and David Lewis (AR-MA-DA).  In fact, this amazing, passion-filled label was awarded "Best Global Dance Label" for five years in a row at the International Dance Music Awards in Miami.  This is no surprise, considering that it's home to over thirty legendary acts including Armin van Buuren, Erick Morillo, Lost Frequencies, Gareth Emery, and W&W.
For the past five years, Carmen van der Werf has been behind the scenes working with public relations for the label as well as Armin himself.  She started off setting up interviews and features for artists under the label and progressed to managing public relations as well as working directly with Armin's management team.
In between responding to endless emails, coordinating projects, and traveling for photo shoots or music festivals, we got a chance to get a few questions in with Carmen to learn more about her journey within the music industry.
EDM.com: How long have you been working in the music industry?
Carmen van der Werf: I've been working in the industry for 5 years now, since November 2012.
Typically, people who work in music started out as big fans themselves. What were some early artists or records that really caught your attention? 
Before I started working at Armada, I basically listened to all kinds of music, but mostly to pop music. At Armada, my music taste developed quickly. I started listening a lot to dance music and to the deeper/trancey and more credible sounds. Back then I really loved (and still do!) BT – Skylarking and another track I really liked is one of the first releases we did on Armada Subjekt: Luis Leon feat. Kimono – Borrowed Places.
What was the first electronic music event that you attended?
I believe that was Extrema Festival, we have so many festivals over here in the NL!
You work at Armada Music - the premiere Dutch record label and one of the biggest electronic music labels in the world. Describe to us your role. 
Armada Music started as a Trance label 15 years ago but turned out to be the biggest independent dance label nowadays. When I started at Armada 5 years ago, we were mainly releasing Trance and Progressive music. I started as PR assistant and was responsible for setting up interviews and features with Dance blogs and our artists. Next to that, I was coordinating photo and video shoots. Soon I started doing PR activities for Armin van Buuren. During that time his song 'This Is What It Feels Like' became a worldwide hit so a lot was going on. Throughout the years Armada started releasing more different kinds of music. Next to Armin PR, I was also focusing on PR for artists like W&W, Lost Frequencies, Andrew Rayel, Julian Jordan and Sunnery James & Ryan Marciano. In meanwhile my PR activities expanded and I started doing more and different work for Armin as well, since at Armada (next to being his label) we're responsible for his (music) management also.
Nowadays I'm mainly responsible for PR and a part of the day to day management. I work closely together with all members of Armin's management team and all departments here at Armada. I'm coordinating projects like sponsorships, music video shoots, photo shoots, merchandise and I'm involved in the A State of Trance brand. I'm also working on the promotion of Armin van Buuren releases + playlists to (online) media, influencers as well as on (his own) social media. I filter, prioritize, approve and decline requests we receive and be mindful of the (long-term) priorities and goals for Armin (and Armada) and the look & feel of his brands.
What does a typical day/week look like for you as an Artist Coordinator and PR Manager?
Mostly I'm just in the office at the Armada HQ's in Amsterdam. Now and then I'm traveling with Armin when we're doing projects with sponsors, big events/festivals or when we're doing photo/video shoots. When in the office I'm behind my computer most of the time, answering emails or making phone calls. Next to that, I'm having meetings with my colleagues to discuss new release plans or weekly meetings to analyze and discuss pending projects. Next to the office work, there are events I attend like conferences, (Amsterdam Dance Event) or awards shows, B2B events.
What skills do you think are the most important in your role? What is the most challenging part of your job?
The industry we're in is moving fast, you have to be on top of all developments all the time. The most challenging part of my job I guess is to keep an overview and to prioritize. There is so much going on so you have to be able to keep all balls in the air. It can be very hectic. Just keep your cool (and don't forget to enjoy the job you're in!).
Did you go to a specific university for a program related to music business? If not, what experience did you gain instead?
Not really. I studied leisure management, with focus on marketing and communication. I actually graduated as an intern at KLM Royal Dutch airlines, that's where I met Armin and his management team since KLM and Armin were collaborating on a marketing campaign together.
A lot of this industry isn't about "what you know" but "who you know" - what (or through whom) did you gain the strongest connections that helped lead you to where you are now?
So true! Your network is everything and also maintaining those contacts. This is what I learned since my early days at Armada, our CEO Maykel is the perfect example. And the best way to do this is to go out and meet people in real life. I'm lucky that I'm able to travel with Armin on a regular basis but if you're not having the chance to travel, just pick up the phone and reach out to people or meet each other on Skype. Keeping contact via social media is nice as well, but the best thing is to actually see each other or hear someone's voice. 
At what point did you know that you had "made it"? Or, are you still working towards a certain career goal?
I don't think I'll ever say that 'I made it', you will never stop learning (thankfully!) and however I think I'm lucky with my position now I'm just in the industry and only for 5 years! I'm still a rookie.
What is the single largest misconception that people have about your job?
That the only thing you're doing is flying around in private jets and drinking champagne all the time! I have to admit that I'm drinking champagne quite often but believe me, normally it's just coffee behind my computer answering thousands of emails ;-)
What's one piece of advice that you would give someone that's interested in working in the music industry?
Stay close to yourself, do what you love and what you're good at and share it with people! (and start building your network!)
To keep updated with Carmen and her adventures with Armin and Armada, follow her on Instagram!