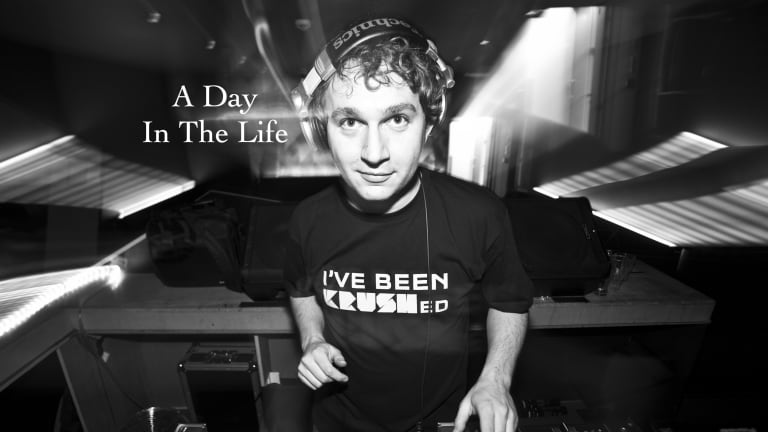 What Does It Take to Be a General Manager and Booker for a Music Festival?
We Spoke With Ostend Beach's Jan Mortelmans. Experience and drive are key to working in the industry.
Ostend Beach is a two-day electronic music festival held on Klein Strand beach in Ostend, Belgium.  This boutique festival is all about celebrating summer and takes place directly on the beach. Complete with four stages, boat parties, craft beer, and more, this festival is heading into it's ninth year.  80 artists will grace the sun-kissed stages this year in July.
The man behind the magic is Jan Mortelmans, who is both the general manager and the booker for Ostend Beach.  He has been involved in the music industry since 2000 as a DJ and currently manages bookings and marketing while also being the creative director for the festival.
In between spending time with his son, shifts at the office, and seemingly endless planning, we got the chance to speak with Jan about how he's gotten to where he is now.
EDM.com: How long have you been working in the music industry?
Jan Mortelmans: I have been a DJ since 2000. Started playing in the infamous Decadance club in Ghent (Belgium) for 10 years on every Thursday and Saturday. The club has always been a hotspot for underground house music, so I was able to play with almost every big name in the scene during that period. From Green Velvet to Josh Wink, Joris Voorn to Kevin Saunderson. All DJ's liked to play in a 300 people venue during that decade.
Typically, people who work in music started out as big music fans. What were some early artists or records that really caught your attention?
That must be the Africanism label by Bob Sinclar. You know, when the stuff he and Martin Solveig did was so refreshing and something totally new in the house scene. Also, Dj Gregory's Faya Combo label was a game changer in the house scene. So yes, you can say I was there in the beginning and was a big fan of the early Defected stuff as well.
What was the first event in the electronic music industry that you attended?
That must be Fuse On The Beach. Fuse is a legendary Belgian club and they did a yearly party in my hometown. All Detroit legends played there from Kevin Saunderson to Derrick May, I remember Green Velvet playing as well. I Instantly fell in love with the techy house vibe from those days.
How did you get started in the music industry?
Studying in Ghent. They had the best record shop in Belgium: Music Man. Every Thursday I was looking for records in the shop and had a chance to play in the Decadance club. The owners must have loved the stuff I played and I started to play twice a month, then once a week and later on had a residency with 2 gigs a week for years. And the best thing was, they were open very late so DJ's got a 4-hour slot to play. Can you image? 4-hour slots with vinyl only. A dream to play as a DJ, not possible any longer in the scene today.
You work for Ostend Beach - an international festival located on Klein Strand beach in Belgium that is heading into its 9th year. Describe to us your role.
We were doing events in our hometown for quite some time and always wanted to do a big beach party, as there were no parties at the beach. So in 2010, we started the party with the idea to have a big beach event. Lucky we had good weather and the event was attended by 3.000 people. It grew year by year so we decided in 2013 to do a 2-day event with camping. It's now heading for year 9 with 18,000 people over the 2 days. Mainly I book the DJ's, I'm the creative director of the festival and also take care of the marketing. As the festival is run by 2 people, it's a lot of work!
What does a typical day/week look like for you as the General Manager and Booker of Ostend Beach?
Monday is off-day and quality time day with my 1-year-old son. We have an office in Ostend and we work from Tuesday till Friday, 9 to 5, like any other daytime job. Although we have lots of (cool) lunch meetings, lot's of field visits as well. We start preparing the festival in September. October / November is all about looking for the right hostings and artists for the 4 stages we do (4 on Saturday, 4 on Sunday). December is the start of the campaign and from January onwards it's all about selling tickets.
What skills do you think are the most important in your role? What is the most challenging part of your job?
It's all about experience. I've been in the scene since 2000, that's 18 years non-stop DJ'ing, I'm still a DJ and play my 12th year in a row at Tomorrowland this summer. We had a cool underground club from 2010 till 2017 (Krush Club), we still do a lot of other events during the year as well. And it's also all about passion. I'm a big music lover, the biggest fan of house music probably in Belgium, so you just need to have that specific "know how" to work in the dance music scene and you need to have that passion. If you do it for the money, look for another job.
Did you go to a university specific to the work you do now? If not, what experience did you gain instead?
Haha, that's a good one. Yes, I went to the university… But I'm a Master in Geography & Urban Development. Although I finished my study, I never worked in that business. I started as a DJ and was lucky enough to have lots of gigs. Then we start throwing events, then we opened a nightclub and now with the festival I have plenty of work to keep me busy.
A lot of the industry isn't about "what you know", but "who you know" - what (or through whom) did you gain the strongest connections that helped lead you to where you are now?
I think everybody needs some help to get things started. But the best way to achieve this is, is to just do what you're good at. I must have played the right sets and sound in the Decadance club when they asked me to be a resident. So yes, all credits go to Bart from Decadance for giving me this opportunity. Without his belief in me, I would never have survived 20 years in the scene.
Ostend Beach is regarded as "the best beach festival in the world". Can you tell us more about it?
I guess we just have the most unique setting in the world. Ostend is a lovely small village on the Belgian Coast and our playground is set against the sea, the harbour and it's in the centre of the city. The beach is crystal clear white sand and we care for booking the right artists on a 4 stage setting with a wide range of cool underground music. For 8 years now, the boutique festival has been bringing nearly 80 acts a year to the seaside. With Green Velvet playing now for his 6th year in a row.
Since Ostend Beach is rebranding for its 2018 edition of the festival, what can guests expect this year?
Well, we went bigger and bigger year by year. Not only in the number of people, but also in production. The thing for 2018 was… why do we order more fireworks? Bigger stages? More confetti etc… Why not go back to where we came from? A nice and cozy beach happening. So yes, the whole setting of the festival is totally rebranded as a cozy beach event, without losing space. I think the people will just love it! All stages are built especially for our festival, we have a unique BBQ concept from Brazil (Churrascada), we have a Belgian Beer Café and even do boat parties at sea.
What is one piece of advice that you would give someone trying to pursue a position in the music industry, specifically in management?
Again, experience! Never give up. Give it a long time and try to hold on during the first couple of years. It might be hard. It was even very hard for us as well, losing money year by year. But if you believe in the long term of what you're doing, just hang on. Whether it's being a DJ, making music, doing events or even hosting festivals. Although I think there is an overkill of everything these days, so it might not be as easy as it was in my early days… Good Luck!
To keep up with News about Ostend Beach as well as view their 2018 lineup and purchase tickets, visit their official website.  If you're making the journey to the Belgian coast this summer, make sure you dance hard for Jan!