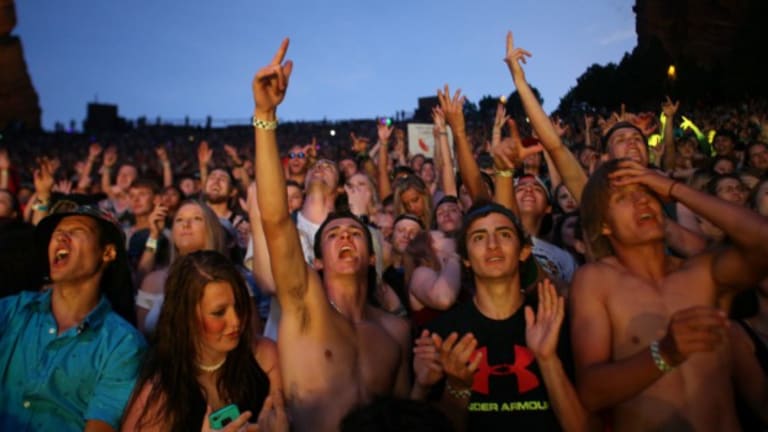 5 Things I Wish I Knew When I Was An 18-Year-Old Raver
We've learned a thing or two since our early rave days.
*Written by Megan Venzin
Dear Meg,
(It never caught on, but I know you always wanted a nickname),
Here's the deal. You're going to attend your first big music festival this summer, and you're going to fail. Big time. You're going to get too drunk and miss a full day of shows. You're going to have loud sex in a tent on day three of Bonnaroo (you disgust me). You're going to forget to look at the weather and end up freezing your ass off in a bikini and shorts. You're going to get stoned and miss about 95% of one of the very last Beastie Boys shows ever, and then Adam Yauch is going to die. I KNOW. NO, I AM NOT LYING. IT'S TERRIBLE.
Sure, you're still going to have a blast, but you're going to miss out on the full "experience," which I imagine is probably a pretty typical story. But there's good news, I'm here to tell you I've found a better way to do festivals, and that's because I have 24 of them under my belt now, plus a decade of experience that's finally led me down the path of "Doin it' Right", as Daft Punk says. (Oh wait, that song won't come out for another eight years. You're going to love it though! And no, unfortunately, you still will not have seen them live.) So if you do somehow end up reading this, DO NOT MISS THAT 2007 VEGOOSE SHOW!

I guess the main point of this letter is to remind you that history repeats itself only if you let it. Do yourself a big favor and learn from the elders who endured those epic fails before you. In this case, that elder is me because - real talk - I feel pretty damn old at some of these shows. That being said, I'm having a better time than most of the attendees because I've learned from past mistakes. So suck on that, kiddies.Here are five valuable lessons I've learned through my years of raving:
1) You must realize that music is greater than booze.
Concerts and alcohol appear to go hand in hand, but there is a limit to how much fun you can have and still take away meaningful, concrete memories from the show. No one around you cares how wasted you are. In fact, really drunk people at concerts are pretty much the worst. You still think it's cute or funny to be out of control, but it's actually really lame, and the worst part is, you really only screw yourself. You don't have to go back to camp for another beer (or 7). Just stay inside the festival grounds and soak up the tunes. You can't forget why you went to the festival in the first place. And the reason that you went was Dave Matthews Band...gawd, you really are the worst.
2) Make it a point to expose yourself to different kinds of live shows.
Being open-minded regarding music is going to help you figure out that you actually really dig electronic music. Who knew? It's easy to go see the same artists over and over again, but it's much more fulfilling to explore different genres. You're going to think that you don't like house music, and then you're going to check out acts like Disclosure, Moon Boots, Chris Malinchak, and Pete Tong, and you'll quickly discover how wrong you are. You will go to a lot of trap shows and realize after a bit that it's not your main cup of tea. That's cool too. The important thing is you tried! Get into that habit early. Miike Snow is great and all (the future offshoot known as Galantis is pretty fucking dope too!) but you can skip its set to see a DJ you've never heard of before. And yes, you love Skrillex, and I still really love Skrillex, but you don't have to follow him to festivals. Go to something weird(er) that's totally outside of your comfort zone. Experiencing new things is what fest life is all about!

3) Dress "practically" rather than "practically naked"
Looking cute doesn't have to be a top priority. I know you really don't believe me on this one, and sad to say it, but a lot of the kandi raver community will probably disagree with me on this one. Let's just say there is a time and place for costumes. When you're cruising through the ocean on Holy Ship en route to the Bahamas, by all means wear a questionable french maid costume, but..when you're at a festival where the weather is expected to drop into the low 50s by midnight, consider packing leggings and a sweatshirt. There's nothing worse than being sick at (or after) a festival, and this can easily be avoiding by just doing some research. (You'll know what I'm talking about after you rock some serious Made in America induced bronchitis). Plus, spending SO MUCH TIME on that perfect outfit can really start to distract you from why you came in the first place, which was to see music and spend time with friends. It's hard to believe, but not everyone is looking at you. It's totally okay to dress for comfort and practicality when the time calls.
4) Stop chatting your neighbor's ear off.
This one can be a hard habit to break, so hear me out. I know the show is sick, and I KNOW you want to talk about it, but it is highly likely that the dude next to you doesn't give a shit. He paid a lot to see Pretty Lights. Though you might not believe it at first, he DID NOT pay a lot to hear YOU talk about how excited you are to see Pretty Lights. And stop demanding that the people around you dance. If it's not working out in your pocket of the crowd, go find other people who want to boogie and lose their shit at the same level you always do. When you're feeling introspective, link up with that crew who would rather smoke cigarettes in the back and get all their feels out on the table rather than focusing 100 percent on the show. Just be courteous to the people around you. It's important to remember that everyone experiences shows in their own way - you don't have to tell them how to do it.
5) Take care of yourself out there.
This is perhaps the most important thing to learn, and there is a curve, so don't beat yourself up too much when you fall short. People who you think are your friends (and complete strangers for that matter) are going to offer you things that might hurt you. There's this term that they use in the future called "YOLO," and it's just as stupid as it sounds. Don't read too much into it, and definitely don't use it as a thing to live by. It will influence you to make some pretty dumb decisions. Use your head, and you'll be alright. Just remind yourself, there's always another show. There's always another festival. There's no reason to go hard all the time, especially at these four-day extravaganzas. If you end up with a wicked hangover by Day 2, just think how you're going to feel on Sunday. Drink water, take vitamin C supplements, take 5-HTP supplements, and always stretch. Eat real food, because festival french fries are just a pile of salty deceit. And perhaps most importantly, sleep. For the love of god, SLEEP! You aren't a four-year-old, and you aren't going to get away with a 20min nap. You need to fucking sleep so you can dance another day. But please remember to take your contacts out first. You're going to have a really shitty time when you forget to do this. Believe me.
They say hindsight is 20/20. And it really is, but I hope that even though you're bound to find yourself in some stupid messes and you're going to make choices that result in the best nights of your life (and the worst) you must still remember that the music is the reason you found ourselves in this scene in the first place. The unity, power, and magic that you will find within these glowstick illuminated walls is going to get you through some really tough times. Seriously, who could predict that EDM was going to be the thing that keeps you afloat after mom dies in 2013? You're going to see it coming, but you're still going to need something to lift you up. The good news is, the music will always be there for you, but you have to offer it the respect it deserves. And you'll start to see that transition. Just take it one show at a time and seriously, you DO NOT NEED another Red Bull and vodka. You're an adult. Okay, maybe one more. After all, the day you stop growing is the day you stop learning from mistakes.Love,
Dubstep Venzin(OMG you kinda sorta have a nickname?! Dreams do come true.)

Cover photo by Brandon Marshall