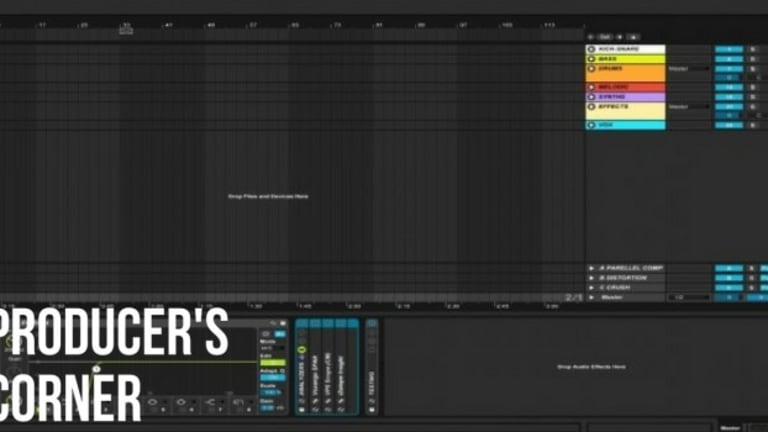 HOW TO SET UP YOUR ABLETON TEMPLATE FOR A FASTER WORKFLOW
Small things can have a big overall effect on the output!

Having a default template for your DAW is the best thing ever. When you're in a crazy creative writing session, having a template ensures that you don't have to bother about organizing the project later on. Even though this seems super common and easy, not all of us do it. If you can incorporate a template your workflow can improve to become much faster. In this article I'll be talking about the template that I've been using and how, staying organized and keeping everything in check.
1. Group & Color It
Before you start making your template, you should go back to your previous projects and see how you organized those. Did you already have consistency or organization tricks across those different projects? This will give you an idea about how you feel comfortable about putting things together. Once you're done with that, start by putting in some (3-4) audio and midi channels in different groups and assign every group a color code and stick to it. Anything in the group will have the same color, if you have a variation of an element, assign it some other color that shouldn't correspond to color of any other group. For example, if your group is assigned blue color, assign any variation in that group with a light blue color. Following this will make everything neat & organized and will make sure you don't get confused anytime you visit that project again. Grouping also opens up some crazy good routing possibilities and with Live 10's Group In Group feature, you can really take the routing to next level. Follow the image below:
2. Default Channel Elements & Skin
Even though having default channel element(s) is not that necessary, it does come in handy sometimes. For me personally, having an EQ setup on every track is enough. For the most part you'll be EQing most things by removing any unnecessary low & high frequencies. Although just because you have an EQ set up doesn't need to need to mess around with each element, however it can be helpful to have one ready to go just in case. This will save you some extra hand movement and you won't have to pull in an EQ again and again. This definitely works out great for me. In addition, having a good skin is also nice. If you're making music professionally, you've to look at the same screen for at least 6+ hours a day, so having a skin that pleases your eyes does have a psychological effect on your creativity which can work out great you.
3. Return Tracks
You can go about two ways for this. Either setup return tracks when you're mixing the track or just have 3-4 return tracks you find yourself using the most setup beforehand. This is a nice way of mixing in an super aggressive signal, but still keeping the original dry sound intact. I like to use 3 return channels for Parallel Compression, Distortion, and Saturating the High Frequencies (I've named it Crush.) In a similar way you can set up return tracks for anything really, like reverb, delay, imaging and even sidechain too. The possibilities are endless. Once you're aware of your workflow and what you find comfortable, you'll be able to have a better idea of what return tracks works the best for you, or if you even want it.
4. Master Effects & Hotkeys
Being visual with your music can help you out a lot and here comes into play what you place on your master. It can be anything and you have to figure out what works the best for you and contributes to your production. I like to use quite a few things on my master and it includes 2 EQs, 1 Utility effect and 3 meter plugins.
One EQ is there just to remove everything up to 200Hz from the sides so that I don't have any crazy stereo low frequencies ruining the mix. 2nd EQ is assigned to a hotkey so I can turn that eq on/off and can check if there is anything that is fighting in the low end. Besides this there is a utility effect that is also assigned a hotkey which I can use to switch from stereo to mono to see everything sounds good in mono and there is no phase cancellation going on. Lastly, I like to use Voxengo Span which is a spectrum analyzer, a VPS scope and Izotope insight to check out the loudness. This is what works the best for me and similarly you have to find a sweet spot for yourself and what works the best for you.
We hope you learned something new from this and it adds something to your production. Have any tricks for streamlining your workflow?