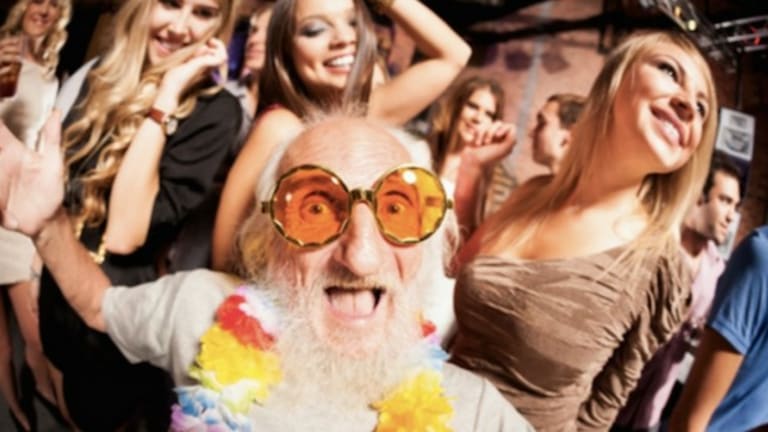 The Age After Which It Would Be 'Tragic' To Go Clubbing
A Study Reveals The Age Where It Becomes "Tragic" To Go Clubbing
If you were born before 1980, you my friend, are in for some harsh news.

An in-depth study conducted by Currys PC World in Britain, entitled The Great Indoors, revealed how the Brits prefer a night in compared to a night out after the age of 31. The study polled 5,000 (a rather boring lot) people and uncovered how the the age to hang up your dancing shoes and your clubbing ways is 37. Yup, JUST 37.

But that's okay, because this very survey also found that 31 is the age when most of the people polled stated that they started preferring to stay in as compared to going out. So by that logic, by the time they do actually hit 37, it won't matter that they're "too old" to go clubbing! Things will work out just fine right? Or so they say.

According to the study, almost half (46 percent) of the polled adults dreaded social events or nights out, preferring to "lounge" in the comfort of their own home instead. As for the reasons given regarding why a night out was not their preferred choice, the Brits stated various reasons from - Not being able to face the hangovers (29 percent), the efforts that go into getting all dressed up (22 per cent), going through the laborious process to arrange babysitters (12 per cent) and the troubles to book a taxi (21 per cent).

Six out of ten adults from the survey also stated it was altogether "too expensive" in addition to a host of more excuses. Also, nearly seven in ten of the polled adults said they were relieved when they met 'the one' as it meant they no longer had to trawl the local haunts for a suitor and could finally embrace cosy nights in. Well, while we would say to each their own, these guys surely seemed to be clubbing for all the wrong reasons. Where did they even find such a 'diverse' population of 5000 for this study?In the highlight of the findings, the poll found by the age of 37, adults are deemed too old to be dancing in nightclubs. "And a harsh 37 percent of respondents said there is nothing more tragic than seeing adults in their 40s and 50s surrounded by twenty somethings in pubs and bars." THIS statement in fact sounds rather tragic, right?
Speaking about the study, Matt Walburn, Brand and Communications Director, Currys PC World said,

"The Great Indoors study recognises the fact that there comes a time when we appreciate our home comforts more than a hectic social life and it can often be a drag to play the social butterfly at parties and nights out."
He also went on elaborate on the factors at play saying,
"Technology is a big lure of staying in and our findings show how it's transformed home habits, with Brits proudly investing in their households more than ever before. It's now almost impossible to get bored at home, with endless box sets and the latest technology, such as 4K TV, enhancing the in-house experience, so much, that it often surpasses its 'outdoor' equivalent. That coupled with social media, online shopping, and gaming with pals often means more pleasure can be had on a night IN than a night out."
The factors that this study took into play seemed to be wide ranging, except they seemed to have missed out on key factors like the music and the clubbing experience. If the study from what it shows was based on a population of 5000 to whom the music or the experience didn't seem to matter when it came to "clubbing", you're good buddy! And might just be rocking it well through your 70's at all the Festivals and Clubs you like.

Here's a little Grandma Techno for a bit of inspiration!
H/T: DJ Mag