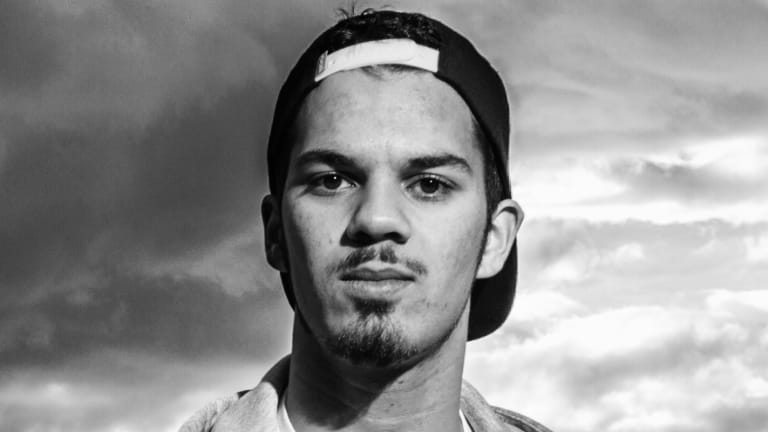 Amos And Riot Night's David McClelland Has Sights Set High For The Future [Interview]
One half of Amos and Riot Night, David McClelland openly discusses his upbringing, influences and the future in this chapter of Breaking Through.
You never know when inspiration will strike. 
Involved with music since age three, David McClelland's mother wanted him to feel a connection - a connection to something - and piano lessons seemed the easiest thing for her to offer her son. "There was a piano in our home and I really enjoyed playing it," recalled McClelland. As he began playing and growing a little older, he eventually became inspired by electronic music through, yes, children's educational television shows and cartoons. 
The use of trance as background music in British television programs was very prolific in the mid 1990s and early 2000s. At age seven, McClelland was watching one of these programs and was immediately drawn to the sounds that would set the stage for him to become one half of Liverpool, England's trance duo, Amos and Riot Night. 
"You're going to laugh, but I remember watching an episode of Scooby-Doo," McClelland said. "There was this scene with the gang being chased by this robot and I was drawn to the music." The song that was embedded into the episode was none other than Paul van Dyk's "Another Way," one of the most recognizable trance tracks to this day. 
"There was another program I always used to watch, too," remembered McClelland. "SMART was a program designed to introduce the audience to the visual arts and one of the episodes was them going to a dance studio to capture motion through drawings. The background music to this was Des Mitchell's "Welcome to the Dance." The other and the one that really started my journey into Trance was Ferry Corsten's remix of William Orbit's "Barber's Adagio for Strings." Now 23, McClelland laughingly said, "I didn't even know what this song was until I was 14!"
Through his teenage years, though, McClelland found himself the drummer in a couple of metal bands playing shows in and around Liverpool. "We were young and having a good time," recalled McClelland. "But, when things didn't go our way success wise, I reverted back to trance." A major leap for sure, but what McClelland did take with him from the band was the knowledge of proper song structure that would prove paramount in the years to come. 
McClelland met his now Amos and Riot Night collaboration partner, Paul Holden in 2011. "Paul was one of the people I just clicked with," remembered McClelland. "I met him and showed him a couple of demos. He invited me to come to his studio to work and the rest is history - it was as simple as that." 
McClelland also admits that starting out in electronic music can be a lonely time for young artists. The traditions of trance have been historically earmarked to bring people together to share the experience of listening and producing the music. Anymore, the industry has become cliquish, almost like high school, and it's clearly seen on today's social media platforms. It's a part of the industry that McClelland can quite frankly do without. 
"I have a love/hate relationship with social media in the 10 years I've been involved with it," McClelland unabashedly said. "I've gotten to know a lot of great people face to face through it, but the problem I have is that it can all be lost in translation. I have to be very careful with what I post because nowadays you can ruin a career by speaking your mind." 
Perhaps that's why McClelland was drawn to Sean Tyas. First, his remix of Gareth Emery's "Sanctuary" was very special to him as he realized that Tyas "designed all of his own sounds himself." Second, McClelland was awestruck in the fact that "not only does Sean do the whole euphoric 140 bpm trance thing, he also gets ballsy with very particular psytrance and drum and bass, a lot of breakbeats and even going through that whole electro house phase. He's proved his capabilities as an artist and he's the one I draw a lot of inspiration from." Lastly, and more importantly, McClelland confidently said, "Sean tells it like it is and I happen to agree with him on a lot of things." 
With their discography dating back to 2014, it wasn't until the 2017 release of "Parallel Worlds" that listeners really became aware of Amos and Riot Night. Like all good artists, it came through the tremendous support of their colleagues. McClelland tells, "I didn't know it at the time on what was to come but we had gone on to work closely with Sean and the one track that he played out all the time was "Parallel Worlds." We were very lucky and grateful in that regard."
Since then, the duo has gone on to place their next two singles, January 2018's "Interstate Four" and March's "Betrayed" (both non-vocal tracks) into the Beatport Top 10 with McClelland calling their successes "mind blowing."
Amos and Riot Night's uplifting sound has afforded them the luxury of combining their efforts with both vocal and non-vocal tracks. "We don't really have an M.O.," said McClelland. "Whatever happens happens, really." What the duo do take great care in, though, is the musicality of their productions. "It's very important to us," said McClelland. "We've always taken great care with our tracks and the songwriters we work with because the lyrics and vocal tone must tell a story and not sound cliché. That goes back really to my band days of having proper song structure." Evidence of this can be found on the duo's latest single, "Reunited" ft. Susie Ledge. 
The first vocal single released on Sean's Degenerate Records label, McClelland tells how the track initially wasn't meant to be a vocal track at all. He recalled:
Last year (2017) I reunited with old friends from Leeds who I went to university with. We went to watch Noisia play and after the show, I became very nostalgic and started to reminisce of old times with those friends. Being reunited with those nearest and dearest to you, no matter where they are now sparked me to sit down in front of the keyboard and compose. Ultimately, the project was put to bed. It wasn't until just before Christmas that I drove to Newcastle and went out with Claire Willis, Sue McLaren, and Sean Truby for dinner. Susie Ledge was mentioned and it was around the time that "Parallel Worlds" was being played by Will Atkinson on BBC Radio One and she liked what we were doing. We sent the project to Susie suggesting that a vocal could work in a particular section of the song and when Paul and I got the demo back, we were absolutely floored. The missing piece to the puzzle had been found - it felt natural! Susie didn't know the concept of the song other than the title and when we met for the first time she said that she would've written it exactly as we did - a great compliment, indeed!" 
With each single Amos and Riot Night release the support grows, but McClelland is quick to point out that releasing music isn't their main focus. Holden's family time is scarce as his job requires him to travel quite a bit, leaving his partner to raise their five-year-old daughter. McClelland has a full-time job as well and knows that just releasing music to please the instant gratification of listeners is not a part of their game plan. 
"Our production output is lower than other artists because the shelf life on a lot of releases is very short and we want to release tracks that can have their own lease on life," explained McClelland. "We have tunes that we could release but we feel that they're not ready. If we don't believe in them, why share them?"
With live performances a vital aspect of a successful career, touring internationally is a trying venture in terms of documentation. Amos and Riot Night are looking forward to securing the proper paperwork to perhaps begin a more outward bound schedule. "The offers really haven't come at a time where we could do it, so we haven't bothered with the paperwork," tells McClelland. "We'd absolutely love to play out more, and if the offers come, we'd get proper documentation as soon as possible!" 
When the duo does perform live they are careful to educate themselves by always having a conversation with the headlining act to keep the flow of the evening's entire performance steady. "It's important not to step on other people's toes," exclaimed McClelland. "When we're there as the guest of someone, it's very rude to just go off and play whatever you want." It is with this sense of respect that the duo hopes to gain more notoriety in the months to come. 
When I asked McClelland his favorite performance to date, he quickly pointed to an event where the concept was based on the film Kevin & Perry Go Large. "That night we played a lot of older tracks to set the tone for the remaining of the night. It was a fun night and a great education tool for how we look to perform in the future.