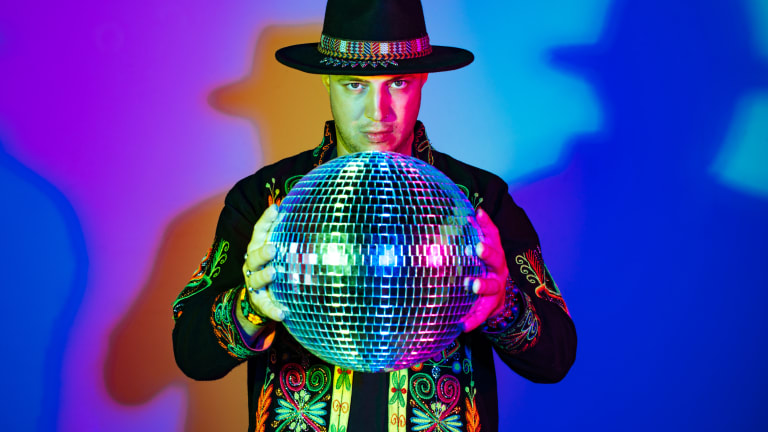 Why House and Techno Pioneer Anton Tumas keeps coming back to Lightning in a Bottle
Hint: It's not the lake.
Both purveyors and appreciators of techno and house music make the pilgrimage to Lightning in a Bottle [LiB] each year with an appetite for the vibes offered at the globally notorious Woogie stage. Some who attend the event spend their whole weekend there. But, not house and techno music pioneer Anton Tumas. 
He's performed everywhere. From the Mayan Warrior at Black Rock City to Desert Hearts Festival in Southern California, Tumas' is a hero to legends in the industry both for his gritty underground series SUBTRACT MUSIC and his keen ear which he employs to calibrate and correct sound systems as an audio engineer. Few have the discerning palate for sound that he does. Even fewer can actually help other producers deliver the music they conjure in their own brain too. Suffice it to say, when a guy like this frequents an event, whether a local weekly or an annual festival like LIB, it's never an accident. And when he does it year after year, he's definitely going to have his reasons. To hear a bit about the allure of Lightning in a Bottle through the ears of an expert, EDM.com caught up with Tumas to get his perspective.
EDM.com: How would you explain the difference in lineup curation between the Woogie and the Favela stages to someone who's going to LIB for the first time?

Anton Tumas: Before there ever was a Favela stage, Woogie was the sole house and techno stage at the festival, and one where I spent most of my time dancing. As LiB crowd has grown and diversified, so has the music at the Woogie, drawing on a broader range of dance music acts while sticking to the same genres it always has. Now, Favela brings many of the West Coast's vast local talent, and Woogie has a few as well (myself included) but curating mostly international headliners. Longtime Do LaB resident DJ Patricio is spearheading the Favela line ups since inception, and does an incredible job. The DJs there are right up there with the best talent from the Woogie, a true testament of how deep the talent of the West Coast scene is.

On top of that, I really like the sound system at Favela. It's a smaller setup that's very cozy and completely envelops you in the sound. Last year, Treavor Moontribe and I closed out the festival 2:00-4:00 AM, and the vibe was just bonkers. Since all the main stages close at 2:00, we literally have a monopoly on the dance floor at that time, and took everyone on a journey.
As an audio engineer, what are the major distinctions you notice when you go from the Favela to the Woogie and back?

It's easier to get great sound when you're covering a smaller area with it, and the Danley Sound Labs setup at Favela excels at this. Woogie setup is much bigger to cover its enormous dance floor, so the system has a lot more force, whereas Favela is able to reveal more detail and nuance in the music.
What's your involvement with the stages at LiB?

This year I'm just DJing and just relaxing, but last year we handled the audio recordings of the entire festival. 193 sets were recorded, and all the approved ones are now live on Do LaB's SoundCloud page. Was an enormous project to undertake, and I learned quite a lot from doing it.
Why do you spend so much time at the Favela, when you're at LiB?

First of all, most of my friends are there, and lots of the DJs are also friends of mine, so the vibes are non-stop. The dance floor also has a much cozier feel to it, and I really like how the sound is tuned there. We're basically all united in that little nook.
What's the weirdest thing you've ever seen at LiB during a performance?

I'd have to say it was seeing a speaker literally catching on fire a few years ago. When the driver gets blown, if they keep pushing power into it, eventually something has to give. It was quite a sight!
What's your hands-down favorite memory from LiB?

Seeing William Close & The Earth Harp. I think it was 2016, and that performance completely transported me to another realm. Was purely magical and really was beyond words.
Who are you excited to see this year?

DJ Koze, who's music I've been playing as long as I have been DJing. This will actually be my first time seeing him play in person. Also, Damian Lazarus, who's an absolute wizard behind the decks and is one of my favorite DJs, not to mention that he's joining the Subtract camp with a remix he just did for us. Also my dear friend and legend Doc Martin, who's making his debut at LiB, and is playing right after me on Saturday! Another West Coast legend, DJ Dan, will be playing at Favela. I just saw his debut at Desert Hearts and he absolutely crushed it.
What does LiB do that other festivals should do?
A vast community of people that has been built over the years on many principles of living and certain ways of doing things. Extreme attention to detail, never compromising, and of course one of the best teams in the world for production. It really makes all the difference and is truly inspiring.
All photos providecourtesy of Anton Tumas.
FOLLOW ANTON TUMAS:
Facebook: facebook.com/AntonTumas
Twitter: twitter.com/antontumas
Instagram: instagram.com/antontumas
Soundcloud: soundcloud.com/antontumas
FOLLOW LIGHTNING IN A BOTTLE:
Facebook: facebook.com/LIBfestival
Twitter: twitter.com/LIBfestival
Instagram: instagram.com/libfestival