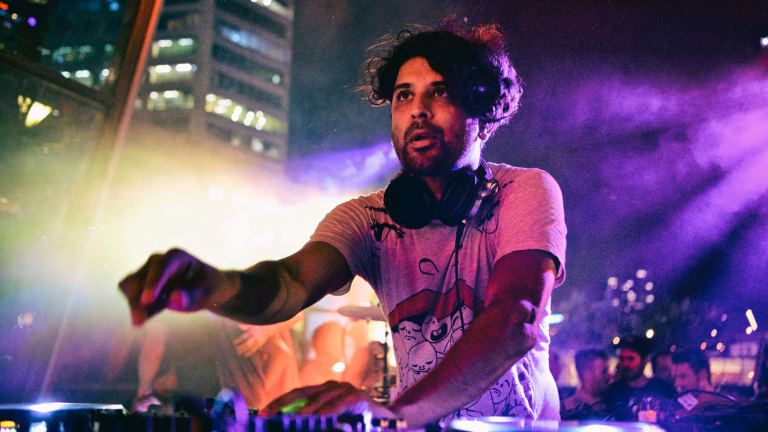 Atish Shares The Factors That Make for an Ideal Festival
Before heading to Barbados for Vujaday Music Festival this week, Atish shares with us his ingredients for a perfect festival.
Words by Atish Mehta
I've been lucky enough to enjoy a fair number of festivals over the last few years across all corners of the world, both as a DJ and as an attendee. I've observed there are a few key variables that make or break a festival experience for me, so I thought I'd share the top 5 elements that make my ideal festival.
1) The People
This is by far the most important aspect of any nightlife (or daylife?) experience for me. If someone threw a festival bringing Michael Jackson, Prince, and David Bowie back to life for 1 last performance, I would still have a bad time if some sleazy guys in the crowd were harassing my girlfriend. Everything is about the people. I've been to festivals where most of the musical acts were not my cup of tea, but I still have a great time because the vibes on and off the dance floor are so good, positive, and silly. The energy the audience brings is the biggest influencer on the overall experience.
I love any festival where my friends and I feel safe, where the attendees are looking to have a good time, where everyone wants to dance and be silly, and where the audience knows and respects the music.
2) The Music
The people are the most important vibe-setters, but the music is the main attraction. I love festivals that toe the line between booking acts I already love and exposing me to acts I haven't yet discovered. I love festivals that take risks by booking edgy acts that push people's buttons. I love festivals that balance the new school acts with the old school acts. I love festivals that program the acts with a logical musical progression to keep the stage energy gradually evolving.
3) Production
Sound, lighting, and stage design are essential to complement the music. These elements enhance certain feelings that the music tries to evoke. An underpowered sound system makes it tougher for the dance floor to get lost in the groove. An overamplified or poorly tuned sound system fatigues the listener's ears and makes him/her want to go home early.
At risk of sounding like a grumpy old DJ, I generally find that festivals go too far over the top when it comes to lighting rigs and stage production. Flashy strobes and highly dynamic lighting show off technical prowess and can be entertaining in their own right, but they usually divert me away from what's more important: the music.
I tend to prefer lighting rigs and stage designs that focus on a less-is-more aesthetic. Pink, blue, and yellow lights fading into each other without any flashes. A stage that blends in with its surroundings and doesn't try to draw too much attention to itself. An installation that implicitly says "You will enjoy the music so much that we don't need to distract you with these other things."
4) Logistics
How long do I have to wait in line in my car to get through the gates?
How far do I have to walk to get to the next stage?
How far away are the food vendors?
How long do I need to wait in line for a hot dog?
Is the festival's local town infrastructure ready to handle thousands of ravers?
Can I easily get a taxi after the party is over?
Can I safely get to my camping area at night?
The ideal festival experience is planned in a way where I don't have to worry about any of these things.
5) Setting
Ironically, one of the important aspects of a great festival is how I spend my time when I'm not at the festival. Inevitably, I'll need a break from the music, so it's nice to have places to decompress, sightsee, explore, and chill. Maybe I can meet some of the local townsfolk, try some new cuisines, go to a museum, or just nap on the beach. Whatever it may be, it's nice to have a way to "turn the festival off" to make sure I enjoy the festival to its fullest when I'm there.
Vujaday Music Festival takes over the Caribbean island of Barbados April 4-8th, 2018. Be sure to follow Vujaday to stay up on all the fun! 
Follow Vujaday Music Festival:
Website
Facebook
Instagram
Twitter
Follow Atish: