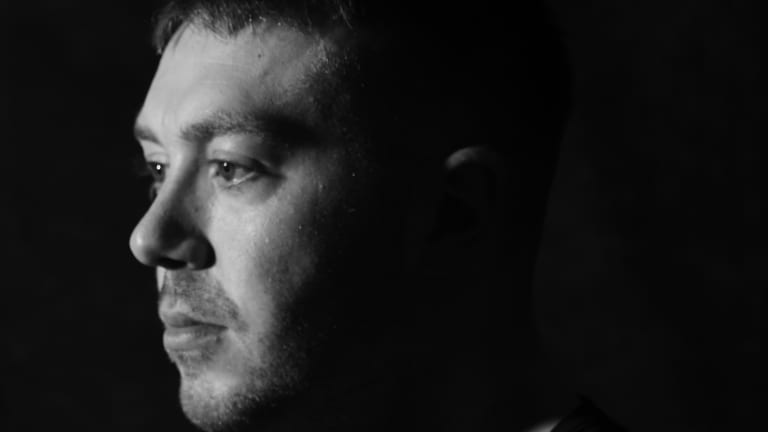 Autism Only Pushes Danny Eaton Harder To Inspire Others
The Wallasey, England producer aims to carry the Austim flag for the creative arts community.
"I'm only 24 and I've got my whole life ahead of me, but it's given me a huge boost of motivation to make something of myself. Everything I'm doing now, production wise, is for her," said the ear to ear grinning Trance/Techno producer Danny Eaton as his fiancé, Danielle-Louise is expecting their first child, Aubrey-Louise Eaton, any day now. 
Our conversation quickly turned from the joys the couple is sharing right now to a not so pleasant upbringing that Danny endured throughout his early grammar and primary school years. It was through the toe-walking period where doctors had his feet in casts fearing tendon damage. The period where Danny realized his difficulty with typing on a computer in class, only able to type words one letter at a time. The period when he was unable to read or write. It wasn't until age 13, very late in life, when Danny was finally diagnosed with Autism. 
"From an early age it was an ongoing battle between general practitioners and specialists to find out what was wrong with me," Danny explained. "Doctors kept passing the buck because no one wanted the liability of putting me on the wrong medication that might kill me." Drugs that treat Autism can be fatal if taken by a non-autistic person.
 Finally medicated, it helped Danny's incurable Autism but made his social and academic struggles much worse. "If I watched you build a puzzle I could do it, no problem," said Danny. "But with Math, Science, and English I had a very rough go at it." The prescribed anti-depressants and sleeping pills help with his anxiety during the day and counter all the medication changes he's had to endure but they make Danny groggy, which didn't help his schooling, and why Danny is nocturnal and does his most productive work during this time. 
Kids can be ruthless in school and not knowing what was wrong with him brought on huge amounts of bullying towards Danny. "I was the odd one out," he remembers. "I was always the 6'1" quiet kid in the class who never spoke to anyone even with the bullying until it reached the point of me getting hurt. But once I got hurt and threw my first punch back, fighting them with my level of pent-up violent outbursts, they never bothered me again." 
School teachers didn't know what to do with him either, so to make matters worse for Danny, they placed him in what can only be described as solitary confinement - a transition area known as "The Green Room" which is the equivalent of an American study hall, only alone. "I used to come in at 9 a.m. and stay there until 2 p.m. looking at books," described Danny. During those 38 weeks, he had no sense of self and wanted his life to end to the point of him being placed on suicide watch but with no assistance other than just being looked after. "It was like groundhog day every day," said Danny. (Think about it and you'll get the reference)  
Amazingly what made matters worse for Danny was when he got home from "school" there was nothing to do and the only shows on television were the daytime trashy, mind-numbing nonsense of Jerry Springer and Maury Povich to further his depression. "You watch that day in and day out and you're going to get ill in itself," exclaimed Danny. 
It wasn't until after funding went through for him to be transferred to a specialty school that Danny's life changed for the better. The new school taught him to read, write, cook and pushed him to his soon to be passion for music. Spending five years at the specialty school he was able to achieve his GCSE, the equivalent to an American GED. 
Leaving the specialty school he managed to convince and enter a local community college of sorts with 20 other music-minded students who had much higher qualifications than Danny on a month to month trial basis. Still battling depression and not knowing if he could complete the year-long course he kept "plugging along and not missing a day Monday - Friday" watching the course pick off his classmates one by one until he graduated with the highest distinction of music production the course offered. Danny had found his calling.  
Listening to Judge Jules' BBC's Radio One weekend program afforded Danny the opportunity to get excited about Trance. Through self-research and watching YouTube tutorials, Danny used what little money he had earned from his paper route to purchase software to begin producing samples on an old Windows computer. Coupled with buying Mixmag magazines and reading the articles, staring at the pictures over and over, Danny totally engulfed himself in the culture the best he could and quickly aspired to produce his own music. He still had difficulty, however, because he didn't know anything about recording labels or other DJ's personally because "I was still so isolated."
Fast forward to September 2017 Danny met Danielle and promptly asked for her hand in marriage on January 13, 2018, calling it "the best moment ever!" Just days after she said 'yes' the two found out that Danielle was expecting. "With Danielle, I am fully focused and amazed. You know you've found the one you love when you can just be yourself," Danny happily said.  Danielle is, in essence, Danny's confidant who keeps him focused on his daily tasks and aids with his spelling and social media content. "Even if it's a short piece I'm writing the anxiety sets in and I worry about people not being able to read it correctly," described Danny. "I often apologize in my posts straight away in the hopes that people will understand if something is typed incorrectly but Danielle helps me by letting me do it myself but catches the major stuff!"
Soon after meeting Danielle his first track, Concentration was finished without the use of templates, something Danny is firmly against but had nowhere to send it - again, he was still isolated from the outside dance music world. On a total whim, he sent a copy of the track to none other than Solarstone by simply guessing his email address. "He loved the parts and wanted to hear the track without the melody," explained Danny. "So, I rushed it off to him and he fell in love with it!" So much so that Solarstone played Concentration during a mix session on Armin van Buren's A State of Trance radio program. From there the track was tweaked and included on the September/October Pure Trance album before its original version was formally released on January 5, 2018. Unbelievably, the track peaked at number 11 on the Beatport charts. 
Self-doubt, stress, and anxiety are parts of Danny's Autism that will forever stay with him as he is always concerned whether people will like his productions or him. It's the nature of the beast with Autism and not so easily cured by people simply telling him, "Oh, don't worry about it." Since October 2017 "I've got my head straight and my feet on the ground and am eager to achieve my first ever DJ booking," said Danny. That's right folks, without playing one show he now has four singles to his credit all entering the Beatport Top 100 charts, an accomplishment few can match. "All I ever wanted was to get my name out there," exclaimed Danny. "I could stop playing music tomorrow and I'll be the happiest man in the world without playing a single gig because of what I've achieved." 
Danny does admit to playing the Autism card a little bit. "I want to come clean with it because it's an achievement for me of what I've done," said Danny. Autistic people can soak in practical information quickly and the puzzle piecing brilliance that is dance music production comes very easily to Danny and he hopes to inspire other kids in being forthcoming with their creative arts abilities. His fiancé, a photographer herself, is helping Danny begin the groundwork for "Keynote" - a community based sensory workshop program that will give Autistic kids learning tools to further their education process. Danny added, "People with disabilities can achieve great things in their life."
Though just in the beginning stages and with no financial support as of yet, Danny aims to create an album available only on Spotify for people to download with all the proceeds going to finance the community effort and has good advisors in the disability arena that can help him along the way. "Not that I need it but it gives me a reason to get out of bed nowadays," said Danny. "It gives me the motivation to help other people so that they can be taken seriously."