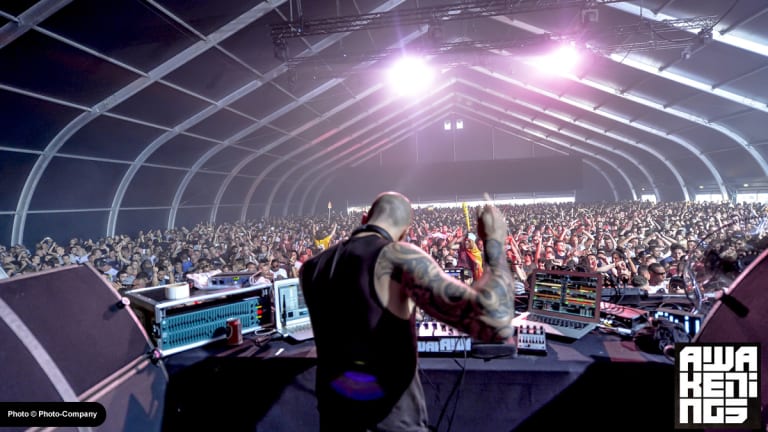 HERE'S THE TOP 20 TECHNO SONGS COMPILED BY FANS OF AWAKENINGS FESTIVAL
Awakenings Festival's Top 20 Techno Tracks of All Time
For the past 20 years, Awakenings Festival has served as the Netherlands premier techno festival.
To celebrate this upcoming major milestone, Awakenings asked fans to share their top techno tracks of all time. Over 16,000 fans from 88 countries voted for their top ranking tracks which has been compiled into a list of Top 1000 techno tracks of all time in a new book titled AWAKENINGS: 20 Years of Techno.

With the festival gearing up for it's 20th anniversary in Amsterdam this June 24-25th, we thought we should share the Top 20 Awakenings Techno Tracks of All Time.
Coming in at #1 is no other than Detroit Techno pioneer Jeff Mills' seminal track "The Bells" which appeared on his 2006 album Blue Potential. Despite being a living legend, America has been slow to appreciate Jeff Mills who has garnered international cult appeal across the world for his retro-futurist perspective on electronic music that always pushes the boundaries of musical innovation.
Ben Klock received the #2 spot with "Sub Zero" which lit up the underground when it was released in 2009.
Adam Beyer, Laurent Garnier, and Maceo Plex rounded up the Top 20 by snagging multiple spots on the chart, cementing their place in time as fan favorites.

Check out the full rankings below and give a listen to the full playlist compiled by Awakenings Festival for hours of nose-bleeding techno!
Top 20 Awakenings Techno Tracks of All Time
Jeff Mills - The Bells
Ben Klock - Subzero
Enrico Sangiuliano - Moon Rocks
Sam Paganini - Rave
Dj Rolando - Knights of The Jaguar
Oxia - Domino
Adam Beyer - Teach Me
Alan Fitzpatrick - For an Endless Night
Adam Beyer - Spacemen
Laurent Garnier - Crispy Bacon
Dax J - Wir Leben Fur Die Nacht
Bjarki - I Wanna Go Bang
Laurent Garnier - The Man With The Red Face
Green Velvet - Flash
Maceo Plex - Conjure Dreams
Joey Beltram - Energy Flash
Paul Kalkbrenner ft Fritz Kalkbrenner - Sky & Sand
Adam Beyer & Ida Engberg - You Know
Age of Love - The Age of Love (Watch Out For The Stella Club Mix)
Maceo Plex & Gabriel Ananda - Solitary Daze