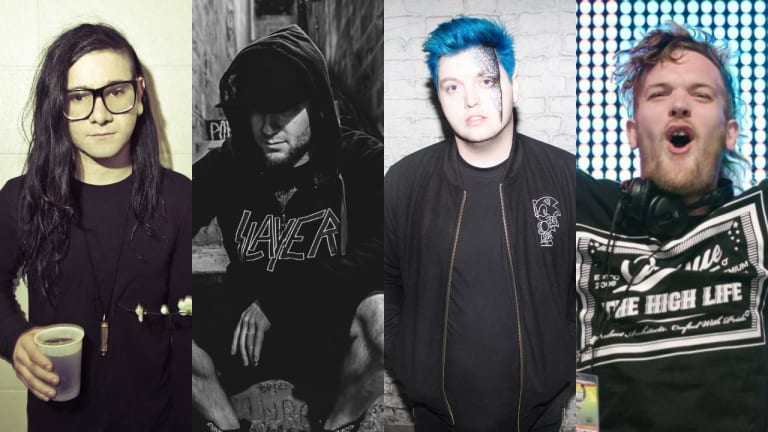 11 Dubstep Songs You Forgot How Much You Loved
We've compiled some of the greatest dubstep songs you may have forgotten over the years.
With great dubstep dropping every single day, it's hard not to be overwhelmed with the ongoing onslaught of bass. Luckily for you, we've compiled a list of eleven of the best dubstep songs you forgot how much you loved.
Lights - Ellie Goulding (Bassnectar Remix)
Before it became a mainstay in the EDM world, Ellie Goulding included the Bassnectar re-work of her track "Lights" on a remix EP dedicated to the single. The twinkling keys and ethereal vocals are crafted in such a way that makes one think they were recorded with this remix in mind, creating a tune that stands the test of time years later.
"Still Getting It" - Foreign Beggars ft. Skrillex
When Foreign Beggars joined forces with Skrillex for their track "Scatta" on Scary Monsters and Nice Sprites, the dubstep world immediately knew this pairing was lethal. A year later, the two dynamic acts would reunite for a track bleeding with early 2010's dubstep sound. Precise bars over the classic, growling Skrillex sound elevated "Still Getting It" to one of the best tracks in both acts' libraries, despite often being overlooked.
"Sweet Shop" - Doctor P
From the moment the signature piano from the beginning of "Sweet Shop" plays, listeners are instantly sent back to the days of arguing over the word "brostep" on YouTube. Doctor P's screeching highs over grumbling lows paired with catchy vocals put this track on the list of all-time Circus Records greats.
"Cracks" - Freestylers (Flux Pavilion Remix)
Speaking of Circus Records, it would be hard to make this list without including at least one Flux Pavilion song. With so many classic tunes like "I Can't Stop," "Bass Cannon," "Gold Dust," and more under his belt, it's hard to keep up. This is exactly why when his remix of Freestyler's "Cracks" comes on, the entire room shares a collective "oh my god" moment.
"Somebody to Love" - Rusko
Without the one they call "The Don," this list might have never been possible. Rusko's second album, Songs, is often discounted when talking about the legendary producer's legacy, even though it contains some of his finest tunes. "Somebody to Love" is the perfect example of his talent, encapsulating a fusion of both new and old school sound with wobbles you can only get from the source. 
"Doomsday" - Nero
Serving as the perfect opening track to their cinematic debut, "Doomsday" from the U.K. three-piece Nero helped introduce listeners to one of the finest debut albums in bass music history. 
"Existence VIP" - Excision & Downlink
A Megatron-esque intro warning humans that "salvation is reserved for those who pass the test" is truly something that only Excision and Downlink could deliver. What follows the ominous proclamation is the equivalent of all the fight scenes from the best sci-fi movies condensed into four minutes. Don't be surprised if robots invade the next Lost Lands when this one comes on.
"Sunlight" - Modestep
It doesn't matter how long it's been since you've listened to "Sunlight" - when it comes on, the lyrics will instantly come back to you. Modestep created one of the catchiest tunes in dubstep history, and close to a decade later, it shows no signs of being dethroned. 
"Centipede" - Knife Party
Equal parts nature documentary and dubstep, Knife Party's "Centipede" gave listeners a free science lecture before exposing them to bass-fueled chaos. Although they tested out several genres over the course of their career, this continues to be one of the hardest-hitting tracks in the duo's library.
"Crave You" - Flight Facilities (Adventure Club Remix)
Adventure Club's classic remix of Flight Facilities' "Crave You" is forever held near and dear to the hearts of dubstep fans around the world. Looking back at its legacy years later, it appears as though it inadvertently became a precursor to the sound dominating the current era of bass music.
"Experts" - SKisM
Last but not least is "Experts" from none other than the Never Say Die boss himself, SKisM. With one of the best music videos in dubstep history featuring a battling Zomboy, Skrillex, and Excision (and a decimated internet troll), the outrageous cinematics are only appropriate for a song of this scale.