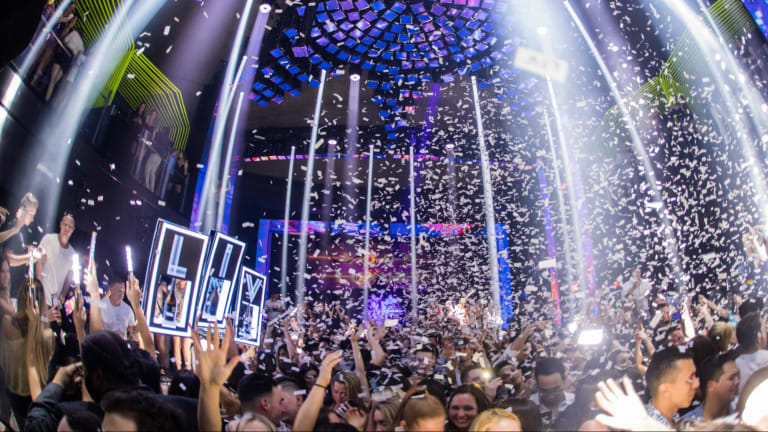 North America's Best EDM Events For NYE 2019
Here are EDM.com's top picks to ring in the new year.
The 2019 calendar year is fast drawing to a close, and after 350 days chances are you still haven't made good on your January resolutions. Fortunately, New Year's Eve 2019 is almost here. 
For one last night you've got a tailor-made excuse to set aside all your past year's - nay, decade's - disappointments and promise yourself that this next year will be best of your life. All the while, you'll surround yourself with fun-loving strangers, pulsating electronic music, and premium champagne and liquor as you dance all your cares away. The cure for your end-of-year blues is to flock to one of America's premier nightlife cities, with scores fabulous of party options to suit any taste and genre.
In hopes of bringing you a little more New Year's luck, here are our top picks for the best electronic music parties/events around the country for you and your friends to ring in the new decade. So grab a pen and pad, scroll down to your city of choice, and jot down a travel game plan for the squad. 
Don't forget to book your NYE 2020 tickets and tables on the Discotech Nightlife App ASAP. Despite what you heard, 2020 is not about hindsight, it's about foresight.
Chainsmokers NYE 2019 at XS Nightclub (Las Vegas)
Much like in 2017 and 2018, 2019 was once again the year of The Chainsmokers: #1 on Forbes list of highest-paid electronic acts; a couple more summer anthems-turned "Song of The Decade" candidates; headline billing at numerous top-line music festivals; a dizzying world tour logging dozens of sold-out arenas. Add to these accolades their lucrative ongoing standing residency at the world-renowned five-star Wynn/Encore Resort Las Vegas, and there's no question the lighthearted duo keep their top dog status as can't-miss EDM/pop crossover role models.
This past year alone, The Chainsmokers (real names Alexander Pall and Andrew Taggart) put on more than 25 supercharged Sin City performances for packed houses at various Wynn Nightlife properties. In the Grammy-winning group's third consecutive year as the anchor tenant and major entertainment draw for casino mogul Steve Wynn's eponymous flagship resort, they once again have the honor of leading the countdown to 2020 behind the decks at the iconic XS Nightclub, which is expecting more than 3,000 partygoers to fill up every square inch of its 40,000-plus square feet of partying space.
Purchase tickets here: Chainsmokers NYE 2020 at XS Nightclub (Las Vegas).
Rumors featuring Guy Gerber & Kaz James at EBC At Night (Las Vegas)
While The Chainsmokers event at XS will certainly cater to casual EDM (and even non-EDM) fans, the EBC At Night New Year's Eve event ought to attract more hardcore electronic music purists. 
The wildly popular Rumors promotions crew will descend from the four corners of the world upon Las Vegas to give deep house fans a premium party option in a more intimate setting for ringing in 2020. Formerly called Surrender, EBC At Night's most prominent feature is the enormous, green-eyed, bejeweled serpent lurking on the wall behind the club's main bar, alluding to the tempting libations and perhaps the greater temptations of Sin City itself. The venue features three fully stocked bars, VIP booths along the dance floor, cabanas and daybeds surrounding the outdoor pool (covered for winter), and stripper poles showcasing gorgeous go-go dancers writhing in perfect sync to the sultry, electronic beats.
Rumors NYE 2020 will showcase the prodigious talents of Guy Gerber, one of the most acclaimed Israeli dance music artists on the planet. Gerber rocked the house with a colorful set earlier this year at Miami Music Week, and Sin City is counting on his standout stage work to close out 2019 to be equally, if not more, entertaining. Up-and-coming Aussie DJ Kaz James - who Gerber recently endorsed with a fluid rework of his single "Through Your Love" - is also on the bill, and a back-to-back set is now expected as a pleasant New Year's gift for the fans in attendance.
Purchase tickets here: Rumors featuring Guy Gerber & Kaz James at EBC At Night (Las Vegas).
Cityfox Odyssey NYE 2019 & NYD 2020: Âme B2B Dixon, Hot Since 82, Sasha & John Digweed & More at Avant Gardner (New York)
Avant Gardner, located in the heart of Brooklyn, New York, is a massive, 6,000-person capacity, 80,000-square-foot entertainment complex. It includes several indoor and year-round performance spaces, festival-quality sound and lighting systems, fully stocked bars, VIP table areas, food trucks and vendor booths. Multiple elevated levels of performance viewing decks also offer one of the most spectacular views of the Manhattan skyline, particularly in the summertime around sunset.
The club's regular mission is to outshine the highly competitive metro-New York nightlife market and turn their space into a sprawling mini-festival across two city blocks, with lounges and creature comforts (yes, heat lamps) in addition to the entertainment provided on the state-of-the-art sound stages.
This New Year's Eve and New Year's Day, The Cityfox Odyssey returns to Avant Gardner for another marathon journey: 26.2 hours of performing artists (get it?) through four harmoniously vibrating rooms of music. This year's lineup is the biggest Cityfox has ever curated, with Hot Since 82 and Sasha & John Digweed among the stacked roster of artists manning your starship as you and your crew strap in for your 2020 Space Odyssey. All systems go! 3… 2… 1....
Purchase tickets here: Cityfox Odyssey NYE & NYD 2020: me b2b Dixon, Hot Since 82, Sasha & John Digweed & More at Avant Gardner (New York).
Marshmello NYE 2019 at LIV (Miami)
Ah, LIV. For years it's held the undisputed title as Miami's mecca of partying, its most coveted "see-and-be-seen" nightclub where celebrity sightings were as common as confetti showers. Tucked inside the ultra-luxurious Fontainebleau Miami Beach behind foreboding velvet ropes and security staff dressed in all black, LIV has always radiated an aura of opulent exclusivity and is known for providing an unparalleled, high-energy nightlife experience.
To ring in the new year, everyone's favorite fun-loving artist Marshmello - seriously, he has the American Music Award hardware to prove it - has been selected as LIV's featured New Year's Eve headliner, and the masked man plans to keep the mood light and free flowing with his bouncy, high-energy electronic pop tracks and remixes of 2019's best radio hits.
Marshmello, the second-highest-grossing DJ in 2019 to The Chainsmokers, will ensure that those partygoers with the means may indulge in the lavish atmosphere that has made LIV the top-running club in Miami for the past decade… and perhaps this coming decade as well.
Purchase tickets here: Marshmello NYE 2020 at LIV (Miami).
Mambo Brothers & Chicco Secci at WALL, W South Beach (Miami)
Miami has always been a meeting place and melting pot for Latin American cultures, so it's no surprise that the intimate and luxurious WALL - one of the Magic City's longest-running hotspots - has selected one of Spain's most internationally renowned electronic music groups to kick off 2020. The Mambo Brothers (real names Christian and Alan Anadon) were born and raised in the world's party capital of Ibiza. They have spent thousands of hours spinning at venues all around their hometown, including Cafe Mambo, which is co-promoting this New Year's Eve bash along with WALL.
Support sounds will be provided by none other than Chicco Secci, an Italian-born American transplant who is one of Miami's most well-known local DJs and has held residencies at famed venues all over the city since the prime partying days of Madonna, Sylvester Stallone, and other '80s legends. Expect a chic, well-dressed crowd with a noticeable Latino/Hispanic flair for this high-energy fiesta to kick off El Año Nuevo 2020.
Purchase tickets here: Mambo Brothers & Chicco Secci at WALL, W South Beach (Miami).
NERVO at WET, W South Beach (Miami)
Similar to how Wynn Nightlife is throwing two separate Las Vegas NYE nightclub events on its property for two different crowds descending upon the Vegas Strip, so too is the W South Beach offering a dual option for South Beach revelers. Fans of more mainstream electronic beats can head over to WET, the more expansive outdoor pool area of the W South Beach, to catch superstars NERVO close out 2019. WET Pool at W South Beach presents an iconic design and swaying palms to set the stage for an unforgettable experience, where the pulsating worlds of music, fashion and design meet contemporary luxury.
It was a banner year for the Aussie twins (real names Olivia and Miriam Nervo), who kicked off 2019 by announcing on New Year's Day that each of them were expecting a child. Soon thereafter they gave birth to two healthy babies, and they immediately resumed their breakneck, full-time global touring schedule, starting with Tomorrowland Winter in March. Their December 31st date at WET marks the 33rd and final show of the year for these two wonderful superwomen.
Purchase tickets here: Nervo at WET, W South Beach (Miami).
4B at Exchange LA (Los Angeles)
American electronic artist 4B (real name Bobby McKeon), who calls New Jersey home, will fly across the country for arguably his biggest performance to date. He will headline the New Year's Eve show at Exchange LA, which was voted the #1 electronic music venue on the U.S. West Coast by DJ Mag. 
4B will warm up for the NYE extravaganza with a planned set on December 28th at Audiotistic at the National Orange Show (NOS) Event Center in San Bernardino, some fifty miles down the freeway from the City of Angels. Then, it's on to the bright lights and big city for a featured billing on the grandest party night of the calendar year.
Inside of a historic landmark building that once housed the Los Angeles Stock Exchange, Exchange LA has been reimagined and renovated as a sprawling, four-story venue featuring multiple rooms, seven full-service bars, state-of-the-art lighting and sound, and a colossal LED screen display. The venue comfortably accommodates 1,500 guests while still tastefully paying homage to L.A.'s rich and opulent 1930s-1950s Art Deco past. It functions not only as a nightclub on weekends but also as an event space for award shows, premiere parties, corporate events, fashion shows, film shoots, and charity galas during the week. For locals and tourists alike, it's the place to be on NYE if EDM is your cup of tea.
Purchase tickets here: 4B at Exchange LA (Los Angeles).
Benny Benassi NYE 2020 at Temple Night Club (San Francisco)
When most electronic music artists dream big, they envision a decade's worth of quality productions, two or three mainstream crossover hits, and steady respect and praise from their esteemed contemporaries. Milan-born DJ/producer Benny Benassi already has two such decades under his belt. 
Benassi's fashionable, fun, and sometimes freaky sound first hit the charts in 2002 with his electro-meets-house smash single "Satisfaction." After several more years of building his reputation and honing his craft, Benassi experienced another acclaimed breakthrough. His remix of Public Enemy's "Bring the Noise" went on to win a Grammy in 2008, further enhancing his profile and leading to work with big names such as David Bowie and Madonna. After that, it was 2011's Electroman that featured some of his most internationally successful material: the Kelis-fronted "Spaceship," the Chris Brown-led "Beautiful People," and the Gary Go collaboration "Cinema." 2012 was marked by Benassi's production work on Madonna's MDNA, and 2013 brought "Dance the Pain Away," a solo single collaborating with the rarest of mega-superstars: EGOT (Emmy/Grammy/Oscar/Tony) winner John Legend.
After spending NYE 2019 as the headliner at Miami's WET at W South Beach, Benassi is heading west for 2020 to pan for gold like a '49er at San Francisco's glitziest nightclub, Temple Night Club. With awe-inspiring, fully immersive modern lighting and visuals - 50,000 addressable, floor-to-ceiling LED bulbs light up the main room - as well as a thumping Void Acoustics custom sound system for showcasing world-class electronic music talent, Temple shines and glistens above its Northern California peers. 
The main room is complete with three box suites and four mezzanine tables that hover above the main dance floor and comfortably accommodate larger group parties. One floor below the main room is LVL 55, Temple's futuristic lower level. Complete with fifteen VIP tables, a custom-made DJ booth, and open-format sounds, LVL 55 elicits an underground party appeal for guests to take a slight break from the electro beats for a dose of 2Pac, Dr. Dre, Snoop Dogg, and other West Coast hip-hop legends.
Purchase tickets here: Benny Benassi NYE 2020 at Temple (San Francisco).
Morgan Page NYE 2020 at PRYSM (Chicago)
History lesson, boys and girls: The term "house music" is said to have originated from a Chicago club called The Warehouse which operated in the late 1970s. The club's resident DJ Frankie Knuckles - whom fans refer to as the "godfather of house" - would use tape and a knife to splice together different disco records to create dance-friendly sequences to keep the party going longer and stronger for his patrons. House music was the first direct descendant of disco; it was intended to be "deeper," "rawer," and specifically engineered to make people dance.
Some forty years later, Chicagoans still take deep pride in carrying on the house music legacy they (allegedly) birthed - and PRYSM offers not only that, but contemporary sounds like big room, trap and dubstep as well. In 2019 alone PRYSM has showcased a who's who of the full electronic music spectrum. Legendary names such as Robin Schulz, Mark Knight, Thomas Jack, and Benny Benassi have graced the main stage, as well as headliners such as Green Velvet, Gryffin, Nicky Romero, and Borgeous. 
With a stacked NYE lineup beginning the night with some of the hottest local Chicago DJs and household name Morgan Page bringing the house down with the first set of 2020, PRYSM will usher in what should be another strong decade of Chi-town electronic music dominance.
Purchase tickets here: NYE 2020 at PRYSM (Chicago).
The Glitch Mob NYE 2019 at Temple Night Club (Denver)
Temple Denver - the newer sibling of the established and wildly successful San Francisco venture - offers a Mile High City nightlife experience that measures up well to any coastal market mega club. Upon entering, guests are immediately teleported into a higher dimension of nightlife. 
Theatrical lighting and production elements were conceptualized and designed for the entire three-story space to act as a single organism pulsating to the rhythm of the same heartbeat. Surrounding the dance floor are four VIP booths and a two-tiered stadium seating platform comprising eight VIP sections which offer a high-energy experience for guests who wish to be in the center of the action. The mezzanine level is complete with six tables overlooking the dance floor, whereas the third level offers five skybox tables that provide unparalleled and immersive views of the action in a private setting.
Temple has called upon Los Angeles-based trio The Glitch Mob (real names Justin Boreta, Ed Ma, and Joshua Maye) to help Rocky Mountain revelers ring in the new year. Their unique sound is self-described as "a relentless sonic assault on the dance floor of ferocious drums, catastrophic sub-bass, and sounds from another world, an unforgiving and punishing physical audio experience that will leave your body beat to the core and your soul wanting more." 
With an emphasis on making music with intention - music that is meaningful and spiritual - the group has forged a strong cult following since their debut in 2006. As evidence of their growing crossover from cult to mainstream, they have recently performed gigs at Coachella, Miami's Ultra Music Festival, and New York's Governors Ball. Their music has also been featured in the trailer for the full-length action film G.I. Joe: Retaliation as well as that of the global smash-hit World War I first-person shooter game Battlefield.
Purchase tickets here: The Glitch Mob NYE 2020 at Temple (Denver).
Klingande NYE 2019 at Omnia Nightclub (San Diego)
OMNIA Nightclub San Diego invites guests to usher in the new decade with a heavy hitting final month lineup that began with Steve Aoki and Crankdat and now wraps up with three more notable on-the-rise artists. Eager guests seeking to kick off the holiday festivities early at San Diego's most popular nightclub - down to every impeccable detail a mini version of its spacious, over-the-top older sibling OMNIA Nightclub Las Vegas - may enjoy the acclaimed sounds of NGHTMRE and Savi as a prelude to the madness. Then, New Year's Eve partygoers will ring in 2020 in a confetti-filled atmosphere paired with dizzying laser lights and a pulsating DJ set by French tropical house mastermind Klingande.
Visitors enter the club's main room, which boasts 8,000 square feet of ornate black, gold and dark walnut tones. Gold leather banquette-style booths surround the dance floor, and the signature black-and-gold custom wall covering and horizontal LED strips march to the beat of the music. For the best view of the club, VIP boxes line the 4,000-square-foot balcony that offers an exclusive vantage point of the dance floor below. Continuing to the top floor, a 7,000-square-foot open-air terrace offers a romantic New Year's garden scene under the stars, lined with tiered cabanas, sofas and enchanting greenery overlooking the Gaslamp District skyline.
Purchase tickets here: Klingande NYE 2020 at Omnia (San Diego).
More events, more genres, more venues, and more cities for New Year's Eve 2020 can be found on Discotech. EDM.com encourages partygoers to have a safe night out with friends, and of course, have a happy new year.
Follow Discotech:
Website: discotech.me
Facebook: facebook.com/discotechapp
Twitter: twitter.com/discotechapp
Instagram: instagram.com/discotechapp