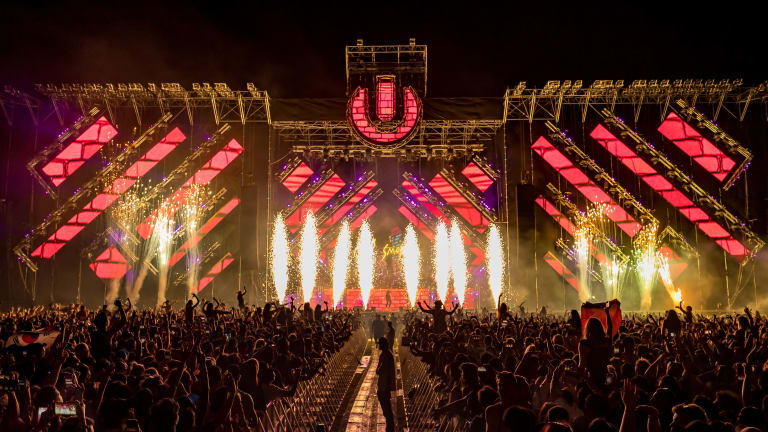 The Best EDM Festivals in Florida
Check out the top electronic music festivals in The Sunshine State.
With perennial summer weather, it's no wonder Florida consistently remains a top U.S. destination for travelers. Given the environment, Florida in more recent memory has become the home of numerous high-profile music festivals. The fact that Miami is widely perceived as a hotbed for dance music has especially helped Florida's cause. 
If you're a dance music aficionado, chances are there's a festival in Florida that will appeal to your tastes. We've spotlighted some of the top Florida music festivals to visit for dance music fans below. 
Ultra Music Festival - Ultra Worldwide
In the dance music world, there's arguably no higher stakes for an artist than delivering a top-notch Ultra Music Festival performance. That's because in its twenty plus years of action, Ultra has never ceased to fully captivate the attention of the dance music community. To experience Ultra's world-class stage production and moments fit for dance music history firsthand is an experience unlike any other.  
III Points
It's difficult to categorize the curation behind III Points festival, but the eclectic mix of hip-hop, rock, and underground electronic music succeeds in exposing a diverse audience of listeners to new tastes. From a dance music perspective, III Points encompasses three days of Boiler Room programming ensuring there's no shortage of the best in house and techno. The experience encompasses music, art, guest lectures, master classes and more, leaving attendees the opportunity to expand their horizons however they see fit. 
Sunset Music Festival - Disco Donnie Presents
Picture kicking off the summer festival stretch in Tampa courtesy of Disco Donnie Presents. Fans of Sunset Music Festival already know there's hardly a better way to spend Memorial Day Weekend. The festival's organizers do a great job of representing both up-and-coming and established talent across all genres of dance music, ensuring something will be here for every dance music listener.
Forbidden Kingdom Music Festival - Apex Presents
Forbidden Kingdom Music Festival is a newcomer to the Florida festival landscape - but it is positioned to become a big player in the field. For starters, it is filling a clear, and thus far mostly unoccupied lane in Florida, as a bass music-centric festival. Bringing some of the heaviest hitters in dubstep and trap to the waterfront has played to Forbidden Kingdom's favor thus far, and organizers are poised to rapidly scale this experience in the years to come. 
Okeechobee Music & Arts Festival - Soundslinger & Insomniac Events
Since its inception in 2016, tens of thousands of festival goers make the trip to Okeechobee Music & Arts Festival for a uniquely blended festival experience. In terms of its setting, the town of Okeechobee has only 6,000 residents - meaning the vast majority of the event's 35,000 attendees travel there from far and wide. Despite its remote location, the festival has had no trouble drawing in world-class headliners, and it also represents a robust multi-genre undercard. Aside from the music, yoga classes, habitable art installations and more round out this multi-faceted experience. 
Home Bass - Music Festival Trips
Taking place at the Grand Orlando Resort, Home Bass provides an ideal form of comfort to travelers seeking a destination festival experience. With poolside sets and after-hours performances indoors, Home Bass has all bases covered. The resort style experience provides all the amenities a traveler could need butting down on the stresses of planning and time management. It's also possible to commute to Home Bass, and the festival typically makes shuttle packages available to those not staying onsite.
EDC Orlando - Insomniac
Electric Daisy Carnival is a festival brand that is loved worldwide. Florida is fortunate to carry one of the more established versions of EDC, based in Orlando. Given the successful formula behind EDC's flagship Las Vegas event, organizers ultimately decided to bring their playbook to Orlando's Tinker Field where it became an overnight success. With much of the charm and resources of its parent event, EDC Orlando delivers on all fronts.
Suwannee Hulaween - Silver Wrapper and Purple Hat Productions
For those looking to spend Halloween weekend away from the frights and horrors of other festivals, Suwannee Hulaween is the place to be. The camping and arts festival has built an intimate community in the middle of an 800-acre plot, Spirit of Suwannee Music Park. The park has a rich history of hosting music events of all kinds since 1983. Suwannee Hulaween has a particularly strong focus on the live electronic acts, such as popular jam band The String Cheese Incident, who typically play Suwannee Hulaween each year. 
What's your favorite Florida-based festival? Let us know your own thoughts on Florida's festival scene on social media!