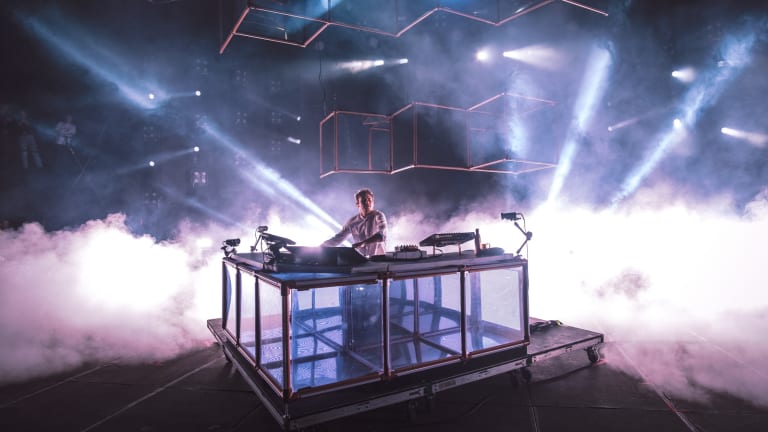 10 of the Best Future Bass Songs of the EDM Decade
A selection of the best and most influential future bass tracks from the last ten years
It's no exaggeration to say that the last decade has been monumental in bringing electronic music to the fore. Though EDM was once a niche subset of music, it has become the sound of a generation. From iPhone ads to Super Bowl commercials, electronic music is everywhere, and the genre responsible for piquing the ears of normies is none other than future bass.
More heart-thumping than house, and less ear-shredding than dubstep, future bass inhabits a space that renders it accessible to head bangers and pop heads alike. To honor one of the genres credited with bringing EDM to the big time, here are 10 of the top future bass tracks of the EDM decade.
1. "You & Me" - Disclosure (Flume remix) 
It would be no exaggeration to call Flume (real name Harley Edward Streten) one of the godfathers of future bass, and if any one track were chosen to illustrate his mark on the genre, it would be his remix of Disclosure's "You & Me." With its soft open leading into a crescendo of strings, synths, and scintillating vocals, "You & Me" catapulted the underdog genre into the mainstream, effectively guiding both Streten and EDM as a whole into the spotlight.
2. "Say My Name" - ODESZA 
At the start of their career, DJ superstar duo ODESZA (real names Harrison Mills and Clayton Knight) were developing a style essentially unheard of in electronic music. Their songs were an emotional soundscape of both electronic and acoustic sounds, with a strong focus on chopped and twisted vocals. "Say My Name" is no different, with its attractive melody and glitchy-glittery vocals, and it's one of the main songs that sent ODESZA to stardom.
3. "Innerbloom" - RÜFÜS DU SOL (What So Not remix)
What So Not began as a duo project with producers Flume and Emoh Instead (real name Christopher Emerson). In 2015, Flume left the group, and Emerson became the sole DJ behind What So Not. Since then, Emerson has become one of the strongest producers in the electronic trap scene. He brought his signature trap flavor to RÜFÜS DU SOL's house single "Innerbloom," creating an exotic future bass remix full of emotion and candor.
4. "9 (After Coachella)" - Cashmere Cat (KRANE remix)
Cashmere Cat and KRANE (real names Magnus Høiberg and Zachary Krane) are no strangers to future bass. Høiberg is often considered one of the early explorers of the genre, and Krane's rise to prominence came about through trap and future bass singles. Though Høiberg's recent releases have strayed from future bass, Krane's remix brought it back to the genre with his strong trap influence. 
5. "Roses" - The Chainsmokers 
Though The Chainsmokers (real names Alex Pall and Drew Taggart) have seemingly shed their EDM roots, their impact on electronic music's popularity cannot be denied. At a time when EDM's popularity was just starting to rise, Pall and Taggart released the infinitely catchy "Roses," enchanting millions of newbie-listeners across the globe, and bringing them into the EDM fold.
6. "Savage" - Whethan 
Only slightly older than future bass itself, Whethan's (real name Ethan Snoreck) rise to popularity began in 2016 with the release of "Savage" and other singles. "Savage" features the hard-hitting bass lines of Flux Pavilion, the clean vocals of MAX, and a subtle melody that has since become one of Snoreck's signatures.
7. "Light" - San Holo 
Though a relative newcomer to the scene, San Holo (real name Sander van Dijck) has quickly made himself one of the forerunners of future bass. In "Light," van Dijck skillfully melds bittersweet vocals with sparkly electronic notes, creating a sort of organic warmth so pervasive in his music.
8. "Last to Leave" - Louis the Child 
Yet another pair of impressively young producers, their meteoric rise to stardom has been as fast as their time in the industry as been short. Louis the Child (real names Robert Hauldren and Frederic Kennett) have been able to bridge the gap between Gen Z and electronic music. "Last to Leave" features the twinkling highs, emotional vocals, and exotic, warbling synths for which future bass is known.
9. "Alone" - Marshmello 
Though his music and persona may be divisive, it's undeniable that Marshmello (real name Christopher Comstock) has left a supersized mark on the electronic music industry. Arguably the biggest DJ on the planet, Marshmello is all but inescapable these days. But before he became the pop-EDM social media mega star, Comstock released music, including the hit single "Alone" in 2016. The track built on the popularity of his first single, "Keep It Mello," and has since seen 1.5 billion plays on YouTube alone.
10. "Feel Good" - Illenium 
Illenium (real name Nicholas Miller) is a recent artist who has taken EDM fandom by storm. Creating thousands of adoring super-fans who have dubbed themselves "Illenials," Miller draws adoring crowds wherever he plays. In 2017, Miller released "Feel Good" in collaboration with Gryffin and Daya (the vocalist of The Chainsmokers' "Don't Let Me Down"), a track rife with emotional melodies and lyrics, and organic arrangements of guitar and piano.