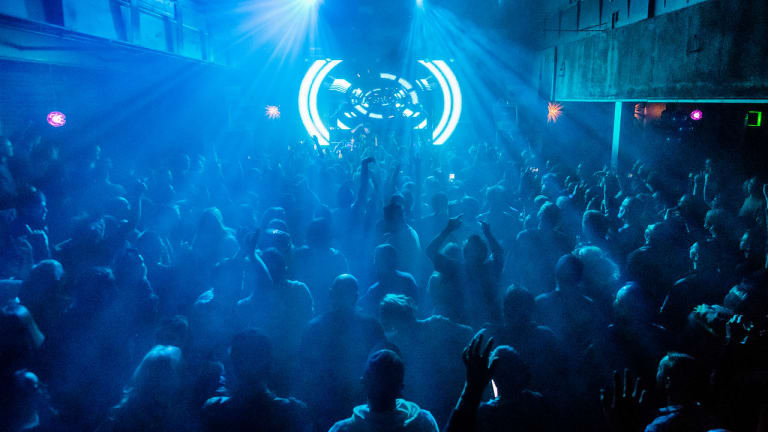 Beta Nightclub to Reopen by Summer 2019 as Beta 2.0
Beta 2.0 partners Brad Roulier and Mike McCray set the record straight on the club's evolution.
The space once occupied by Beta Nightclub is hardly recognizable. Salvaged boards and steel arches lean against the walls in haphazard piles where bottle service booths once sat. Only memories of the DJ booth in front of which throngs of Denver clubbers once gathered remain on the plane of dusty plywood where it previously stood.
According to the club's owners, though, the present state of affairs is necessary for them to stay true to their original mission.
Their plans for the establishment's late spring/early summer relaunch as Beta 2.0 call for drastic measures, after all. "We're going to be using at least 260 LED screen panels throughout the main part of the venue here," the club's partner, Mike McCray, told EDM.com in an understated tone during a tour of the unit at 1909 Blake Street. "Then we'll have approximately 240-250 additional light fixtures in here, so it's gonna be a pretty extensive rig."
"The lighting system Mike has come up with, nobody has seen it before," clarified Brad Roulier, the other main partner. "It's never been done, so he's talking humbly and modestly about the LEDs and fixtures but nobody's ever seen it before. He gave you the specs, but it's how the specs are put together, and how it's designed perfectly for the room."
Indeed, among the renovations is a lighting installation that will be the only one of its kind in North America. Justin Martinez of local studio WERKER will oversee furniture and interior design of the new space. While several of the major renovations are pending a final decision they've confirmed plans to take the DJ booth out of the upstairs lounge area. The outdoor patio will function as a second room in its place.
Below it, of course, will be the now controversial outdoor swimming pool. Earlier in the month, Roulier and McCray had to submit a drawing of the proposed addition to Denver's Landmark Preservation Commission which then found its way to Denver Business Journal. Speculation circulated that the pool would mire Beta's second incarnation with a mainstream crowd rather than catering to the electronic music stalwarts who previously filled its dance floors.
Roulier confirmed that they intend to tap into a new demographic - but not at the expense of alienating longtime supporters. The pool will only be open during daylight hours, and the festivities will transform at nightfall just as the sky does when the sun passes over the Rocky Mountains. Perhaps more importantly, it will make Beta one of only two clubs in North America to feature inground pools (aside from those that are part of a hotel).
"We'll almost have two different businesses," he said. "We'll have the daytime pool party staff and then the club. We had 107 employees before and now we'll be open twice the hours, so we'll probably be excess of 150-160 employees. We're figuring out how the daytime pool party staff interacts with the evening staff and how we bridge those times."
They've only filled a handful of those positions. After McCray became an official partner, he gave up his position as general manager to Andy Mora, who previously worked for nearby NATIV Hotel. Andy Cappelano and Phil Scilippa, both of whom were former Beta employees, will respectively fill the roles of assistant general manager and marketing director.
McCray expects more familiar faces to shore up the Beta 2.0 ranks in the months leading up to the club's grand reopening. "The remaining staff who were part of what made Beta amazing, I think their résumés and ability to get a job here stand on their own merit," he said. "There shouldn't be any problem with them getting hired back here because they were part of the original crew, but we're empowering the new managers to do their job and it's not going to be a favoritism thing."
In such instances, the new management will prove crucial to making objective decisions in the best interest of the business - especially when you take into account how deep McCray and Roulier's roots run in the local scene.
Roulier first made a name for himself as a partner of Denver rave promoter Together Productions in the '90s and then co-founded electronic music download store Beatport in 2004. McCray helped open a nightclub called Millenium in nearby Boulder in 1995, and after it shuttered its doors in 1999 he worked as an audio engineer for numerous establishments throughout the Mile High City.
In fact, sound was core to the Beta brand before it even had a name. When Roulier first approached McCray about the venture he famously asked, "Can you make the best sound system in the world?"
McCray, then famous for his expertise, was the only audio engineer Funktion One's owners allowed to install his own speaker system. When Beta Nightclub opened its doors to the public in 2008, few other venues in the world boasted such a setup. The destination quickly became a favorite among famous DJs, and in 2011 it was even named #1 nightclub in North America by DJ Mag.
After a nearly 11-year run, Beta's management announced last December that they would close their doors to the public the following month. No official reason was given for the closure, and to date Roulier and McCray remain tight lipped regarding the events leading up to their decision and Beta's subsequent farewell party.
"There are a lot of things that happen to a club over 11 years and you can fix pieces or parts, but the only time that you can close is the beginning of the year," Roulier pointed out. "We were hanging onto our legacy instead of being at our core, which is club culture evolving. Beta will never be finished, and was always gonna be evolving, but I think the last few years the evolution had kind of stopped."
"I think that for Bradley and my passion for what we've done over the past two to three decades, it just wasn't quite up to the standard that we wanted to present for our product," said McCray. "It was great 11 years ago - and don't get me wrong, I'm incredibly proud of everything this club has ever done - but it just felt that without a major, major reset, we couldn't get to the quality level that we really expect out of ourselves."
After discontinuing the club's operations, Roulier and McCray renewed their lease for another 14 years while weighing out a number of options. They courted investors as the rumor mills ran rampant with stories that the club was getting bought out - by Live Nation, Anschutz Entertainment Group, or another party altogether depending on whom one asked.
In the end, Roulier and McCray ended up deciding to remain at the helm. "There were people who were interested in the club for sure, but I think there will always be people interested in buying, partnering, whatever," Roulier said. "At the end of the day I think the best thing for myself personally, and I think Mike personally, and for what we do is to just keep it in house."

"There were a lot of different things that came across the table, but the end result was that we made the absolute best decision to maintain control of the whole club and be able to carry on what we did before," echoed McCray. "There would have been a compromise if we had gone a different route. It was important to Brad and I both that we maintain the integrity of the brand."
Much of what made Beta Nightclub a world-renowned brand will remain intact. Amid the construction debris littering the dance floor of the main room, the four Funktion One speakers stacks McCray installed 11 years ago still stand tall, for instance. After careful deliberation, he and Roulier decided to rebrand the nightclub as Beta 2.0. "We want to let people know that this is still Beta - but it is version 2.0," McCray said. "The new version is gonna be different and better, but it's still Beta. It's Beta to its core."
As far as what will change, Roulier and McCray are are still holding branding details and concept designs close to the chest. They remain confident that the Denver nightlife community will celebrate the club's evolution, however. Time will tell, they think, that demolishing Beta's beloved DJ booth will have been a necessary step towards elevating the platform they provide touring artists to a higher level.
Neither Brad Roulier nor Mike McCray are presently at liberty to disclose an official date for the grand opening of Beta 2.0. Following renovations, they expect to reopen the indoor club area and patio by late spring or early summer with the debut of the outdoor pool to follow shortly thereafter.
FOLLOW BETA 2.0:
Facebook: facebook.com/betanightclub
Twitter: twitter.com/BetaNightclub
Instagram: instagram.com/betanightclub