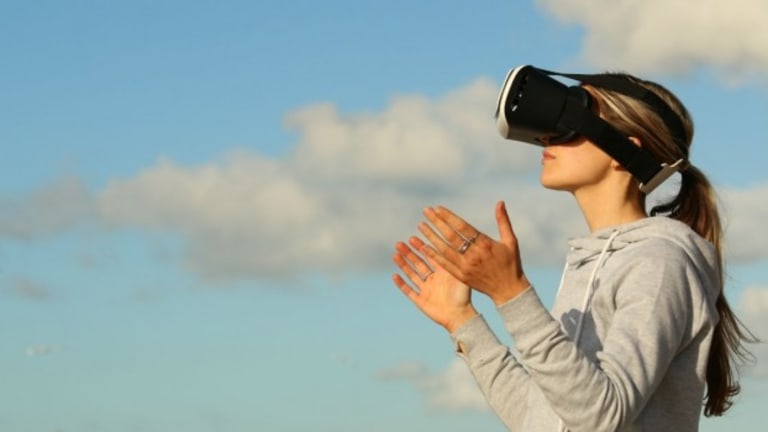 Bleeps & Bloops: A Look at Technology's Influence on Electronic Music [PT 3]
Let's enter the next dimension with our look into VR and EDM!
Technology is everywhere, whether it's your smartphone, your smartwatch, or even your refrigerator, we're connected in more ways then we can even keep track of! Every day we see a new device, and every day another device becomes obsolete. Innovation keeps this continuous state of flux going, and music does not just sit idly by. Since EDM is some of the most technologically-forward music, it is not surprising to see how much technology affects it.
Enter Bleeps & Bloops, our journey in exploring the wonderful world of technology and how it influences our favorite genre of music! From video games to virtual reality, EDM is changing every day! Get ready to dive into the digital world like never before, and see just how your music is changing!
For this feature we're plugging into the matrix and exploring the vast, digital worlds of Virtual Reality! From computers to game consoles, to cell phones, Virtual Reality (VR) is more accessible than ever. Virtual Reality has given us a whole new way to experience EDM, in ways we never thought possible.
Virtual reality has been around for much longer than you think. According to the Virtual Reality Society, the first modern day-style VR device was invented in 1950. It was a booth that you would sit down and place your head in, and watch short films. The first head mounted display, and first motion tracking system for VR were invented in 1960 and 1961, respectively. These two components are the key components of our modern day VR devices. In the 80's and 90's we saw more commercialized VR devices for viewing images or playing video games. Fast forward to the present day and we have incredibly advanced VR devices, used in everything from art, to medicine, to gaming, all the way to music and everything in between! As you already know, our focus will be on the music world, more specifically the EDM connection. There are many ways VR has been implemented in the EDM world, and we are going to take a brief look at some notable examples.
Virtual Reality Music Videos
Since their creation, musicians have used music videos as a tool to immerse the listener into their songs better than they can with just sound. Music videos help the artist create a visual world to accompany their music, and VR helps bring that world to life. They let the listener truly take a journey in a world designed specifically for that.
(You can interact with the video, even without a VR device)
One of the hottest acts in music today, Gorillaz, have raised the stakes and set the bar for VR music videos. The music video for their recently released single "Saturnz Barz" off of their album Humanz, made headlines for having the "biggest debut of a VR video". As NME explains, the video gained 3 million views in its first 48 hours, and at the time of writing is currently sitting at almost 9 million views. We can't think of a better medium for this virtual band who've always been ahead of the game in music videos. (I mean, they even had Bruce Willis in a video!)
Music videos and VR is a match made in heaven, and it brings us closer than ever to our favorite artists! Which brings us to our next section…
360° Concert Experiences
Have you ever really wanted to go to a show but you live halfway across the world? Chances are if you're reading this, you probably have had that feeling. Most of us have to decide if we can afford guacamole on our burritos, but flying internationally? That's not gonna happen. Thankfully, VR is here to help!
Artists have been utilizing 360 degree cameras, and recording or live-streaming, their sets. Now we can get the full concert experience from the comfort of our own home, and save enough money for guacamole on every burrito we get this year.
EDM superstars like Armin Van Buuren, deadmau5, and Hardwell, have all utilized VR. Armin worked with a company called YouVisit, and together they brought his Tomorrowworld set to life! Dutch superstar Hardwell, took things a step further and live-streamed his Miami Music Week set in full 360 degrees using virtual reality cameras. This is about the closest you can get to going to a concert without leaving the house. It's one thing to watch YouTube videos of your favorite artist's set, but to be able to be in the crowd and look around at the stage, and see other people, is another level of immersion.
The Future of EDM and VR
We can absolutely expect to see this trend continue, and we predict more and more artists will be entering the virtual world. As the cost of VR devices continues to decrease, more of the population will own them, and more artists and festivals will see the incentive in making 360 degree videos or live-streams.
In the future, we imagine a sort of augmented-reality concert experience. When VR devices eventually become smaller and cheaper, the possibility for a live event to utilize this technology becomes possible. Imagine a silent disco style event, but with VR devices given to every attendee. Artists would be able to change the environment of a show while they perform. You could go from listening to tropical house, surrounded by beaches, to dancing to dubstep with aliens on Mars, all from the push of a button. It sounds like science fiction, but this is all theoretically possible with this technology.