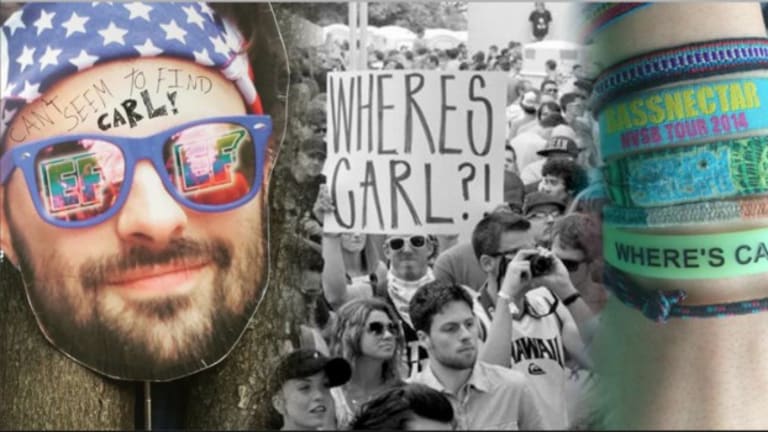 We Found Carl: The Story Of Festival Season's Most Elusive Partier
"If I had a dollar for every time someone asked me 'Where's Carl?'"
Some people say he wandered on stage naked during a String Cheese set. Others claim he was found wearing blue jeans, suspenders, no shirt and a Burger King crown. One man swears he bears a striking resemblance to Gene Ween.
There are tons of old wives' tales surrounding the legend that EDM festival-goers have come to know as "Carl" (or Karl, no one is certain). While there are numerous accounts of how Carl got lost, a few details are consistent. This acid-laced game of telephone dates back to Rothbury Festival 2008, where Carl got lost because he took some whack shit. And to this day, people are still searching for him.
After seven years, the cries of "Carl?!" still ring loud and clear over Mysteryland campsites, amidst Bonnaroo crowds, and perhaps most appropriately, through the entangled trees of Electric Forest's (formerly Rothbury's) Sherwood Forest. Carl-related totems paint the sky, wooks don "Where's Carl?!" shirts, and boozed up bassheads tell their friends about how they were there when it all went down. But were they really?
Is Carl a real person, or rather the spirit that lives within us all who comes to play when we lose our friends in a shitstorm of a crowd? Or is Carl simply festie-code for a guy selling drugs out of his backpack, another common theory shared by festival-goers

My personal search for Carl/Karl led me in two directions: One, to a man named Chris C. who was employed as a bartender at the J.J. Double Ranch in 2008. Another, to a man actually named Carl R., who hasn't been back to a major festival since Rothbury 2008 because of the social anxiety he bears from what went down that fateful June weekend.
Here are their stories:
"You know what a 'Hot Carl' is, right? Well, it's pretty disgusting," says Chris C. of Muskegon, MI. (For those of you who aren't familiar, Urban Dictionary defines a "Hot Carl" as a sexual act that involves putting saran wrap on a person's face and defecating upon it. Very high brow stuff.)
"Well the guys used to fuck with me in the kitchen and call me that, and it eventually stuck." Chris, who toured with Widespread Panic for two years and was part of the self-proclaimed "Nitrous Mafia," remembers bits and pieces of the night.
"I got way beyond flipped out of my mind at Rothbury, like, I was gone," Chris says. "I met up with my chick from Pittsburgh and she gave me some stuff that put my mindset in a different spectrum. I guess I was gone for a while and my friends started looking for me."

According to Chris, it started with a few playful yells of "Where's Carl?" but eventually influenced several bystanders from Sherwood Forest to join in on the hunt.

Chris remembers a crowd of people running toward him screaming, comparing it to a scene from a movie. "Everyone kept coming up to us and yelling, 'OH! YOU FOUND HIM!'" Chris says. 
While this story has a mostly happy ending, not everything worked out for Chris C. "I was supposed to show up for a bartending shift, and I didn't, so I guess the festival still got the best of me when they told me I was done," he says. When I asked him if he was wearing blue jeans, suspenders, no shirt and a Burger King crown that night, he got pissed. "Where do people come up with this shit? I was wearing a fucking tribal fucking hat and fucking graffiti clothing. I pop, lock and shit, I don't dress like fucking Jim Bob."

Chris C. doesn't "rage gas" anymore, "because that's bad juju." Today the happy father of two works in heating and cooling, saying that he was forced to grow up quickly following Rothbury 2008 and has not returned to the J.J. Double Ranch grounds since. "I haven't even seen what [the Carl story] has turned into. I would so like to go back and see how this has evolved and where people's heads are at with it," he says. "I'm dying to see it again." 
                                                            ...
But was that it? Carl was just some guy who got spun as fuck, forgot to go back to camp and was found safely by his friends later that night? It seemed like an anticlimactic explanation after the tall tale of Carl had been billed as hella epic. And that's when I discovered that there was an "Other" folder attached to my Facebook messages, and where I found a message from a girl named Bree L. who claimed that one of her friends was THE CARL. "Maybe you could talk to him, I dunno, he looks like Jesus," Bree said.
And so my search for Carl/Karl/Christ continued. Carl R. was also in attendance at Rothbury 2008, but his memories of the festival are much less clear. "The entire weekend was almost like a bad dream," Carl recalls. "It's actually very hard for me to hear my name called out now." His story starts out in a similar fashion: He met a girl wearing a tu-tu and fairy wings who handed him a "mystery capsule," which he took, attributing the questionable choice to being young and dumb.
The result was a two-day trip in a "dream-like state", as he describes it. "Being 'lost' was an understatement," he says. "I was physically able, but mentally, I was on another level. At times, I saw myself from a third person view, and I could feel the bass from the speakers slowly vibrate through my body like an extremely slow-motion camera speed." Carl says at first when he heard his name being called, he thought it was fun, but eventually his mind was unable to process the information and his trip took a turn for the worst, confusing the cries as a sign that he was in trouble.
Carl R. said that the only thing that helped was to listen to the music and keep moving, which means he never did find his friends that weekend. That is until a security guard found him near the front of the stage during EOTO's set and offered him a ride back to camp in his golf cart. Last year, at Shangri-La in Harmony Park, Carl R.'s story came full circle. "As we were walking past, a security guard said, 'wow it's been a long time, brother,' and I just thought he was being nice and kept walking, then he stood up and replied, 'You know how many people are still looking for you?'" He cites that as the first time that he was able to prove to his friends that he was the man behind the mystery.
Today, Carl R. is a CNA based out of Minnesota finishing his nursing degree. He says that his experience at Rothbury in 2008 changed his life, and he hasn't returned to the festival since. "I get really bad social anxiety in large crowds because I'm afraid I'll get lost," he says. "I probably will go back [to a larger festival] again someday but I need to work on my anxiety on a deeper level."
                                                           ...
After hearing the two stories, I began to wonder if it was possible that they were connected? Was it possible that Carl R. was simply hearing cries for "Hot Carl" throughout the weekend? Were both of my contacts full of shit (or covered in it, seran wrap included)? Or were the numerous accounts an affirmation that there really is a bit of Carl in each of us? Regardless of which story is true, or which one you choose to believe, one thing is certain: something mystical happened at Rothbury 2008, and the tradition of Carl will live on in that forest and at music festivals far and wide for many years to come, or at least until some guy named Sanchez gets separated from his friends.