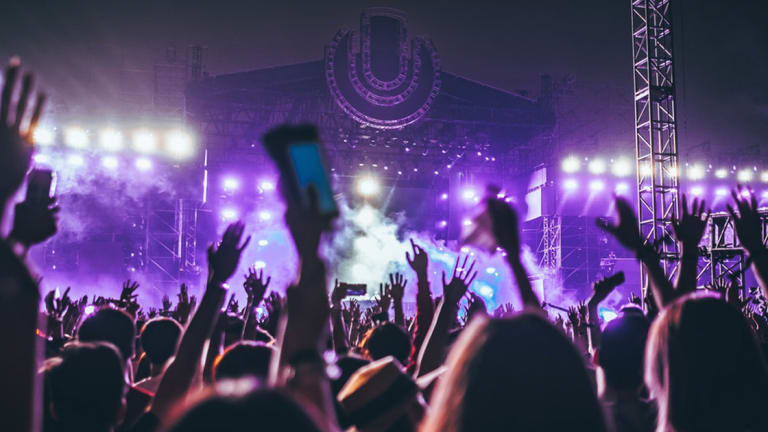 Some of our Favorite DJs Share the Craziest Thing that's Happened to them at a Festival
What's your craziest music festival moment?
You might think artists have it easy at music festivals. They just show up, play their set, get paid, and go to bed. Turns out, that's far from the truth. 
We asked some of our favorite artists to share their craziest music festival moment and as you can see... things got weird. 
"I had a good beach party by this awesome promoter, and he booked me again a year later. I turned up and there were only some middle-aged and elderly people sitting on tables - but there was a DJ booth set up with some dude playing. When it was my settime I started playing some records which didn't really work on the crowd. At some point the girlfriend of the previous DJ tapped me on the shoulder, saying her boyfriend was supposed to play all night. The guy was apparently too much of a sizzy to tell me himself when I took over. That, plus the fact I couldn't find the awesome promoter made me wonder…. I put on a long record, decided to call the promoter so I ran up the hill to get cellphone reception. Up there I could see the MASSIVE rave with thousands of people and lasers just 1 mile away. Didn't get the memo they moved to a new location…. Rushed over and had 10 more minutes to play before the party ended…"
"You won't believe it, but once we were at a festival where the whole campsite was divided by two gangs. Both had their own entrances and food courts and the paths were marked with differently coloured lines. Of course, attacks on the other side were not long in coming. With a very good friend's set, an argument broke out in the audience. Being part of the PLUR movement he wanted to prevent the rivalry and stopped the music. Since the argument did not break off, he decided to jump into the audience, but overestimated the stage pit and fell painfully on the barrier. He was really badly injured and the paramedics had to take him to the hospital quickly. Fortunately, he's well again. All those present were so shocked and at the same time touched that the gangs fell into each other's arms and the rest of the festival took place peacefully. Yeah... That really happened."
"Once upon a time I there was a magical music festival in the kingdom of Boomtown. One of the bands in this festival is a band called Too Many Zooz. Too Many Zooz performed and played an amazing set and all the people in the kingdom rejoiced, clutching their ale and enjoying they're magical fairy dust. The saxophone player, Leo P, performed with the heart of a lion, frolicking back and forth on the stage. After the show a beautiful princess snuck backstage in order to meet Leo P, for she had plans to spend a magical evening with him. Once confronted, Leo agreed to spend the evening together and she blew fairy dust into his face. This made Leo very happy.

They skipped around the festival holding hands and spreading peace, love, and joy. Over the night Leo had become quite fond of this princess and they had the most fun any one has ever had ever. They rode magical rides and drank ale until late in the night. When the clock struck midnight the princesses found evil fairy dust, the type that is meant for horses, not people. Leo warned her that it was not a good idea but she assured him she knew what she was doing. Instantly, she took too much evil fairy dust and was possessed, unable to move, talk, or see. She was in a hole.

Leo was now alone, terrified and unable to do anything. She began talking gibberish and didn't even know who he was. She was in the middle of a big crowd, so he had to carry her over to a small park in the middle of the festival. He asked for help but there wasn't much anyone could do, only time could make the fairy dust go away. As it got later, it got colder. The princess was wearing simply a gown and became very cold. Leo was very valiant and selfless so he gave her his coat.

The princess slowly came back to reality but could still barely move. At one point, Leo had to fight off a few hooligans in her honor. Many hours passed and one of the royal guards told them they had to leave because the park was closing. Leo helped the princess walk in the freezing cold for she could barely stand by her self and was still in between reality and the spell cast on her by the evil fairy dust. They traveled through the festival and eventually made it to the welfare fairy godfather. The princess was finally able to sleep and after a few hours the spell wore off. Once she awoke Leo made her promise never to use evil fairy dust ever again. They parted ways but still write each other to this day."
"My worst experience at a show was when I played a big festival in Leeds, UK. At that time "Riverside" had just exploded and, truth be told, I was on cloud nine. A huge hit, mad festival and I was loving the crowd, my set and myself. The set was coming to an end and I decided to go out with a bang by hyping up the crowd even more. I climbed on top of the DJ booth and had planned to cheer the crowd on, then jump off to mix in my last few records. I danced and walked back and forth on the booth, and there was a lot of smoke from pyro, which made me kind of lose sight of where I was exactly. So when I jumped back off, I did not land behind the decks, but more to the right, with my legs straddled across a stage barrier and the full impact of the fall in my crotch! The pain was excruciating and I barely managed to get off the barrier and crawl back to the decks. The next couple of minutes I gasped for air and almost cried, trying to not show anybody in how much pain I really was. I managed to finish the last few records on auto pilot, and I was extremely happy, when I could finally get off stage and collapse. This taught me not to be too cocky on stage and to always check for objects that can hit my crotch!"
"I played the local stage at Stereosonic a few years back and had a really early set time at like 1 pm. I was working as a swimming teacher at the time and my shift finished at 12 pm leaving me an hour to get there, get in, and play. Naturally, I was out till the early hours of the morning the night before and I was quite dehydrated and under the weather at work in the morning and the day of the event was like a 45-degree day so boiling hot. Anyway, I hadn't eaten or drank any water, so I got there played my set had heaps of fun and as soon as I got off I went to go watch DJ SNAKE on the MainStage. I got there and fainted right in the middle of the dance floor. I woke up in the medical bay really embarrassed surrounded by security asking what drugs I was on. Not a high point in my life."
"Our funniest experience was at Creamfields last month where I (Gaz) was almost stitched right up. As soon as we arrived at the festival, I got out of the car to make a phone call. Next thing I know I'm being rushed by a bunch of security guards who are shouting at me saying "you've just dropped this bag here, we've seen you just get out the car and drop this bag!". They were basically accusing me of ditching my non-existent drugs! I'm there, alarm bells ringing, trying to convince them that it's not my bag (which is totally wasn't). They march over and open the bag only to discover… dog shit. We were in absolute hysterics! Classic!"
"I was in Miami for the Music Week and Ultra Music Festival. At the Nervonation party at SLS, I was hanging with my friends Michael Feiner and David Allen and we got talking to The beautiful Nervo together with Paris Hilton, Quintino, Chuckie and many more.

Once the set was done we were very hungry so, together with Michael and David, we went to the outside restaurant at the SLS. Our table neighbours started to smoke a huge Cuban cigar and seeing as Michael is such a healthy guy (lots of Kung fu, no meat, he drinks just a little and absolutely does not smoke), he was almost dying. He kindly asked the guys to stop smoking. They stopped but also recognized him and started to chat with him until, somehow, they convinced Michael to improvise / jam on his saxophone. Michael is an excellent and super talented musician who loves to play, so he played for 10 minutes. Before we knew it, Michael had attracted a huge crowd at SLS and, don't ask me how but they convinced Michael to smoke a cigar. The icing on the cake was that when the waiter came to our table, he gave Michael a little envelope and said: 'this is from those guys who just left". Inside, there were one thousand dollars addressed to Michael!'"