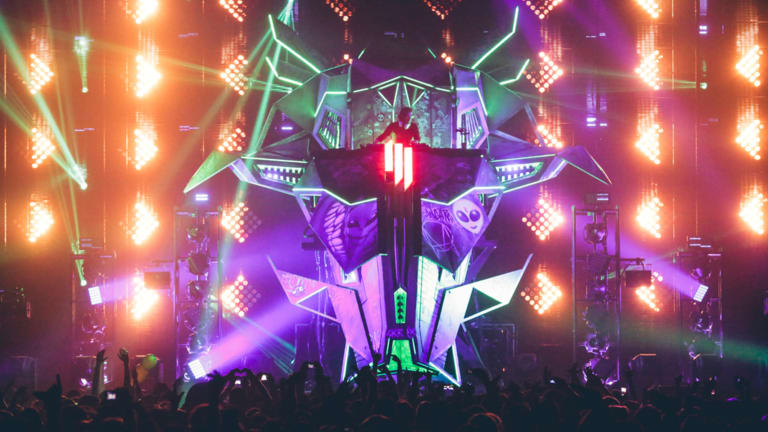 We asked: What Was the Craziest Show You Have Ever Witnessed?
Enter some of our greatest concert stories!
As fans and music lovers, shows play a major part in how we express ourselves and connect with people who share the same passion. It doesn't matter if it's a festival set with another 10 thousand people, or a sweaty basement where you're one foot away from the DJ, everyone has some really notable concert experiences that have shaped them in one or another way. Whether it's the night they raged the most, or the night they were part of a show that went down in history, it's always fun to look back to those memories. That's why we asked part of our EDM.com staff to share some of their most notable concert experiences.
Saad
My wildest show would have to be Webster Hall's final club show earlier in August. Skrillex was the main act, with Ekali as direct support, and a very special Dog Blood (Skrillex b2b Boys Noize) set. Skrillex played until around 6 in the morning, playing through a myriad of genres, and tracks both new and classic. Leaving the venue at the brink of dawn was a surreal feeling; a proper send off to a venue that means so much to me, and to New York's electronic music scene.
Alya
The craziest show I went to would be Lana Del Rey's show 3 years ago in San Francisco, California. Her fans were a bunch of wild animals! People were trampling over each other to get towards the front and one guy even broke his arm! People were also passing out like flies, it was scary! The irony is that from all the shows I've attended, (mostly EDM) her show was definitely the craziest! Lana's fans don't mess around!
Nick
Skrillex in Columbus on his first Mothership Tour was by far the craziest show I've ever been to. It was right around the time Bangarang came out and American dubstep was dominating EDM. From the moment 12th Planet opened the show it was pure insanity. The music was on point, the stage was unlike anything I've seen at the time, and they even brought out the then-local superstar Machine Gun Kelly. The artists and crowd were going so hard I specifically remember having to stand on my toes, look up and get some air in my lungs. After the show I had to throw out my shirt because it was covered in sweat, beer and whatever else got on me in the crowd. If I didn't know any better I'd say Skrillex was trying to kill us with that set.
Miljan
Every year for Halloween, Drop Sensei organization brings the Eatbrain Night event to Novi Sad, with many amazing drum and bass or neurofunk artists. Everyone comes masked, and there are always all sorts of crazy outfits. Last year, I was going there straight from my work, and I haven't got the chance to come home or get a mask. Lucky enough, my girlfriend was an official photographer, and I remember having a backstage access. So, I basically went there and used some of the decoration for making a mask. Do I have to mention I was looking like a complete idiot?

Anyways, I remember hanging out with some great people, meeting some of the artists, and enjoying some great sets by Maztek, Signs or Aggressor Bunx, but at the end, it wasn't the highlight of the night. Favorite part would definitely be going around the town and using public transportation at 4 am, carrying a huge carved pumpkin in my hands.
Konstantinos
Back in May, we (the promoter team I'm part of here in Athens, Greece) had booked Ekali to play a show as part of his European Spring Tour. I was super excited for the night; mostly because I admire Ekali as an artist and as a person, and I had also heard he takes a lot of pride in his live performances. Unfortunately - or so we thought - things didn't go too well in terms of attendance, mainly because of how the scene works here and also due to the show being on a Thursday, and Ekali's "crowd" ended up being around 25 people. He didn't mind at all however, and went on to destroy us for about 90 minutes. Witnessing one of your favorite artists deliver a set just for you and your friends was surreal; the vibe was just so personal and intimate, and we all felt so connected by the music. We hung out with Nathan after the show and talked about all sorts of music stuff; such an interesting experience. 
Devin
Years ago when I was a baby raver I went to an all night massive in the meatpacking district of Detroit. The lineup was heavy for the time, featuring Dirtyphonics, Stanton Warriors, Juan Atkins, etc. It was a frigidly cold day in January hovering around zero, and my friends and I had drove 70 miles from our college town to go to this not entirely legal party that was supposed to go until sunrise.

So we're there all having our fun when probably around 1am as Stanton Warriors was on we see some commotion behind the decks. There's several large dark figures on stage and they appear to be yelling at the DJ. He's got his hands up trying to talk with these people when suddenly the lights come on and the music suddenly cuts.

It was the cops.
The 5-0 has sent in an underage kid to buy booze at the bar and the bartender had served the young customer giving the cops the right to barge in and shut down the party. At a time when Detroit was the murder capital of the country and the crime rate was terrifyingly high, 10-15 cops came to bust down the door of a rave to cash in on some money they could get from issuing out a handful of Minor in Possessions. (I often wonder how many other 911 calls went off in the city that night that weren't answered because the cops would rather bust a bunch of white kids throwing a party.)
So they split the crowd up, everyone over 21 had to leave the party while my friends and I who were under 21 had to get in line. One by one they gave each of us a breathalyzer to check for our Blood Alcohol Content so that they could issue out expensive tickets. Of course, because it's a rave and we're all angelic children (lol, not) we hadn't gotten our kicks from drinking that night. So of the 100+ underage kids that blew, maybe 5 MIPs were issued.
But the night didn't end there.
Because we were still eager to get our groove on, we decided to hit up an afterparty that we heard was going on at a massive industrial complex. We rode up a freight elevator and found ourselves in a dark warehouse space that consisted of a few party store disco lights, a generator (to run said disco lights) and a lot of nitrous tanks. Everyone was either huffing on balloons or laying zonked out the ground in a K-hole, while DJ Dan was burning up records in the corner. As a 19-year-old kid from a rural town, this dark underbelly of the after-hours scene was an entirely new thing for me to witness…particularly sober. Needless to say it was a weird vibe.
When we eventually decide to leave the cold dark loft to start on our 90-minute drive back to our apartments, we go outside to find out that one of our friends had locked his keys in the car. Standing out in the howling bitter cold he kept trying to break into his own car in a shady neighborhood of Detroit as we laughed at how ridiculous the whole night had become. Eventually, we all piled into one car and waited while he called triple A (shout out to suburban parents) and waited for a locksmith to open the car.
Finally we made it home at about 10:30am from probably the most ridiculous night that any of us had ever had.
Be sure to share with us some of your craziest concert experiences as well!