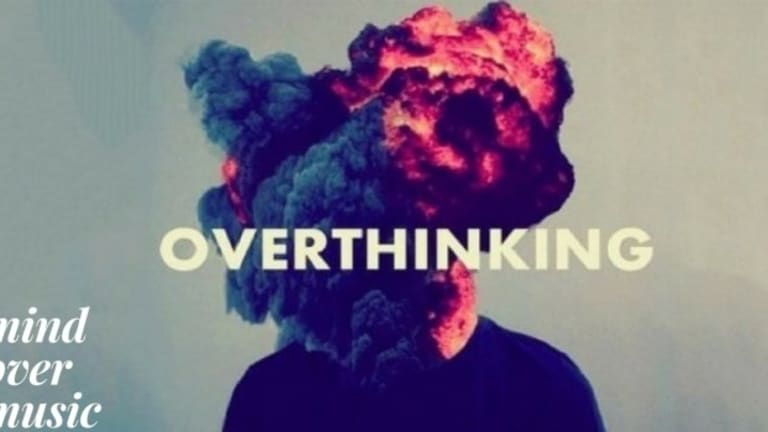 Why Depression Doesn't Have To Kill Off Your Creativity
Things can always get in the way, but there is always a way out!

Welcome to the first Mind Over Music of 2018. This piece will act as a follow up to the feature that we did on how you can battle anxiety and depression. Please know that this isn't medical or psychiatric advice; it's important to always do what works the best for you. Everything stated in this and in previous articles are just examples of tactics used to benefit my personal management of stress, anxiety, and depression.
Before we start off, check out this inspirational tweet by none other than Getter.

Now, I'm no doctor, but having experienced this stuff first hand, do allow me to give my take on how you can turn sadness into something productive. In my previous piece I went into some factors that might make you depressed when you enter this field or any creative field. It can be many different things really, like constant rejection, things not working out or going your way, not being able to make something good, going through constant writers block etc. But the main thing that stands is, you can either let this situation bring you further down or you can train yourself to channel these thoughts into making something good. So, let's start off by 3 things you can incorporate today and train your mind accordingly to stop letting the sadness squeeze and drain you your creative juices.
1. Self Affirmations
Self affirmation is a self help psychology technique which can work wonders if you can learn how to properly incorporate it in you life. The most important thing about self affirmations is to stick with them and repeat them on a regular basis.
First, just take a deep breath and clear your mind off anything negative. Sit down, take a pen and a piece of paper and think of 20 things that you think will inspire and motivate you. If a stranger gave you a compliment, what would be the most satisfying and invigorating thing to hear? It can be anything & as simple as "I'm the best" or "I'm successful" etc just to state a few. Once you've written down your affirmations, commit to saying them to yourself before you dive into your creative work. It's important to say these lines to yourself and seriously mean it, not just because you read to do it somewhere. Say these lines loud again and again until you've induced so much positivity in yourself that no negative thing can be of any concern to your creativity. I've been practicing this for about a year and it has helped me a lot during the times I felt sad and had no motivation to do anything.
2. Let Your Brain Communicate With Your Heart
When you're down, it can be because of many reasons. Maybe you're not getting recognized for your music, you have issues at work, relationship issues etc. It's really easy to get worked up that we lose sight of the whole reason of why we are making what we are making in the first place.We lose perspective; we tend to mix our creative vision and drive with our stubbornness and anxiety about a certain situation. Crippling self doubt often leads to below average results when we're acting creatively.
So if you're struggling with life, instead of giving up on your creative projects for the time being, its best to let your mind flow with your heart and make what your soul says. By allowing yourself to feel what you're currently feeling and channeling it into your creative work, you'll be able to relate to your emotions much better. Also you won't feel like "you couldn't make anything." This situation often arises when we force ourselves to complete a project and work on something when we totally aren't in the correct mindset at that time. Just let your hands be the physical medium for your brain and emotions and let everything flow naturally.
3. Stop Living So Much Inside Your Head
Being an ambivert is the best. You have the qualities of both an introvert and an extrovert, but if the qualities are not balanced and you incline more to the introvert side, then it can be easy to get trapped in your own thoughts. When we are so much into our own thoughts overthinking might take control of the situation forcing us to lose sight of what our actual dreams and goals are. We tend to think of things and situations that could happen – maybe it's rejection, maybe it's fear, or anxiety. For many of us, however, the worst possible scenario that we cook up in out heads won't happen in reality. Trust me, sadness caused due to overthinking has made me waste hours upon hours when I could have been doing something productive. All of the little anxious details that I spent energy toiling over never actually happened. So whenever I find myself in situation like this (which rarely happens now, cuz ya boi trained his mind with some self affirmations) I simply say to myself "You're letting your subconscious take control of your main thinking system, nothing like this will happen. Stop letting your head do all the work for your heart."
Overthinking has honestly wasted so much of my creative time and energy. So, if you're in the same boat, just remember, you created that scenario and it will only come to life if you manifest it. Sure, things can seem hard and if you can't really work anything out, just leave music or what you're doing for a few hours or even a day. Sit back, watch some Netflix, look at some dank memes, laugh, talk to a friend etc. Try to avoid triggers that force your brain to enter a constant state of negativity, which will end up draining every piece of creativity you have.
Some of the greatest music ever written or composed was created our of loss, heartbreak, and tragedy. Sadness is one of the most powerful emotions that we can feel, and learning to channel that creatively can no only help you to process your own feelings, but help you connect with your strongest creative source.