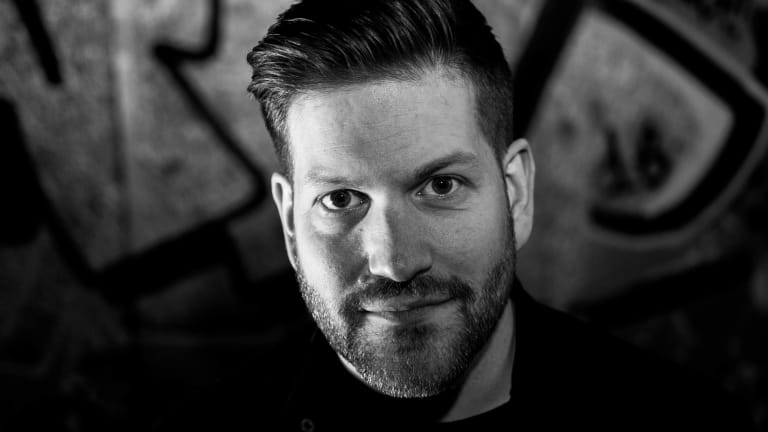 Dan Stone Aims To Deliver More Fables With His Ever-Growing Label
His first feature article in over 15 years, the producer is reinventing himself, again.
"I often think about my vinyl days," reflected Dan Stone as he spoke of frequenting his local record store and purchasing 20-30 records. "We always found a way to find tracks we wanted to play - that was a buzz back then." Today, though, advancing technology and social media have created a saturated market because everything is so easy. "There's no hype anymore," Dan said. "And there's no right or wrong way to do it but it's easy for those of us who have seen the earlier days and who have worked hard to find the tracks and get that buzz to now have it be a bit of a formality of having it in front of you on a screen."
And is the saturation causing music genres to be almost blanketed together as to not get lost in Beatport's mix? Dan believes it's a subject that needs addressing but holds steadfast that Trance is still planted to its original roots saying "When you take away the b.p.m. aspect it makes the question a bit difficult to answer. When you produce a track at 138 or 140 (b.p.m.) it's pretty easy to tell what it's going to be (tech or trance) so there's still a good definition for Trance but it's at a point now where (the industry) is completely saturated. I obviously have that task at hand to produce great tracks and I know there are great (tracks) out there but I believe that there may need to be someone who comes in to shake it up a bit, someone like an Arty - a fearless producer with a distinct sound, but it's tricky."
Dan's road to delivering great tracks began without him ever really playing any instruments growing up. His mother is a solid pianist so there was always a piano in their home. "Maybe that eased into my mind, inspiration-wise," said Dan. During his youth it wasn't popular to be a producer, rather a DJ and Dan landed his first residency at age 18 in his hometown of Norwich in Norfolk. Working the commercial dance clubs, playing warmups for the main residents for a number of years, Dan then decided to pursue playing music full time and held three residencies a week and worked as a guest mixer at a local FM radio station calling it all "quite a bit of fun!"
Performing at the clubs, Dan played numerous genres from Garage, Funky House, Hard House to Trance saying, "I always had a love for Trance. When tracks like For an Angel and Greece 2000 came about, that's what made me want to pursue Trance properly." With this commitment came the task of Dan ridding himself of the commercial dance and radio stereotypes by playing local Trance nights and numerous underground shows in Norwich but knew that the next step was to take his music to London. 
Eager to play, Dan headed to Trance night events at venues that featured artists like Ian Betts and Adam White at The Fridge in Brixton and most memorably, Heaven where he played his first London gig in a back room. Gradually, this turned into the thought of Dan producing his own material around 2005 and where he met two people that would change his life forever. 
The world of dance music is a community with the majority of artists reaching out to their colleagues for advice and help. Dan proudly names Mark Dearden (Marcos) and John Stembridge (JK Walker/Apogee) as two highly respected artists in their day who were right at his doorstep and offered their expertise to a young man eager to learn the production side of dance music. His first major signing, Made in Bahrain (Anjunabeats) put Dan on the charts and was the beginning of him honing his own sound and putting his footprint into the Trance scene.  
From there Dan continued full-throttle perfecting his craft for the next four to five years with releases on Armada and Enhanced before finding his music back on Anjunabeats in 2009 with his tracks Fahrenheit and Mumbai.  Dan was now reaping the rewards by working alongside Nitrous Oxide, Daniel Kandi, and 7 Skies for a good couple of years. 
Anjunabeats then moved into the US market and started a direction toward a more progressive EDM format that Dan decided to follow. And although looking forward to new challenges and influences he almost comically said toward the end of this road that "I was kidding myself." What Dan had suffered from was a typical fear of the unknown of moving to another label and wanted the security blanket of Anjunabeats. He was comfortable, so he thought, but in reality, he was burning himself out by forgoing his now signature Uplifting style to keep up with the new style of his label and nearly quit the scene all together saying, "It wasn't me."
"I remember one day I put up a Facebook post asking what people wanted from me and everyone said 'Uplifting.' And at that point, in 2013-14 is when I went back doing what I knew how to do," said Dan. Hence his rebirth and Dan signed back with Enhanced giving him full reign on his productions. 
Since March 2017, after leaving Enhanced, Dan is now solidified with his own Fables label which he co-founded with Ferry Tayle. A sub-label of FSOE, Dan and company are concentrated solely on producing tracks that are purely Uplifting with big melodies.
As with all artists, though, the yearning to try new things can be a tricky venture. "There's always a balance between what I want and what my followers want," Dan explained. March 2018's Lease of Life, was one of those tracks Dan chose to produce differently as an experiment. He was looking for "a breath of fresh air and loved it!" It was well received from producers like FSOE co-founder Fadi Wassef Naguib (one half of Aly & Fila) calling it "one of his best tracks ever" and was a top 10 release.
The 2017 Trancepodium awards ranked Fables the seventh best Trance label and the imprint's self-named radio show also ranked seventh best - an incredible feat to achieve after just over a year in such a saturated market. With four Number 1 tracks to F credit already, Dan is upbeat with the possibility of taking label nights on tour in the very near future showcasing their already award-winning work.
Dan's remix of Aly and Fila's single, We Control The Sunlight is due out July 27, 2018, and is the most anticipated remix since April 2015's See The Sun, his career game changer that got him signed to FSOE in the first place. Dan is overwhelmingly excited to showcase this remix and the live performance of Aly & Fila playing Dan's remix can be seen below:
And through all this, is the message Dan has for young producers: "Forget about trying to be alongside trends and just write tracks that you love because it does show in the end." In hindsight, Dan feels that it was good for him to experience that rock bottom to completely find his true identity and that the Uplifting sound was his.