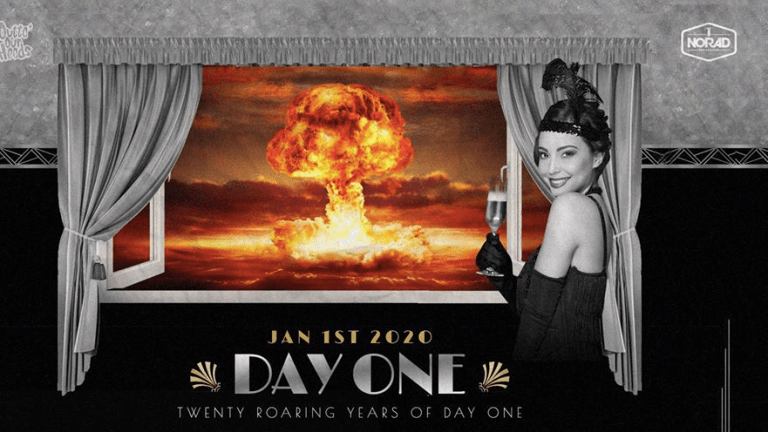 Day One Revisited: Denver's Only 20-Year Running 7:00 AM New Years Party
Some things only get better with age.
Dance music fans in Denver have perhaps too many New Years options nowadays. Revelers will flock to Decadence in the tens of thousands, not to mention gatherings at nightclubs like Temple Denver and dress-up affairs like Resolution NYE. Despite recent warehouse venue closures, a number of after hours events will await those who carry on into the wee hours.
With the city's underground scene thriving more than ever, though, the most seasoned partiers will invariably wind up in the same place after the sun rises for the first time in 2020. Day One has started at 7:00 AM on January 1st for 20 years in a row, and against all odds the unorthodox event brand appears to be in its prime.
The 2020 edition will mark the third time it's taken place at Bar Standard, a mainstay among Mile High house and techno enthusiasts. This year, organizers have adopted a Roaring '20s theme - a clever way to usher in this century's '20s. Split between four dance floors connected by what feels like a labyrinth of stairwells will be local veteran DJs like Greg Eversoul, Mental 69, Schmid-e and Diverse in addition to fresh faces like Emyli Dahlia and T-Rav. Christian Martin will return as the main floor headliner as well as a TBA headliner for the drum and bass/breaks room.
At the time of Day One's inception, however, Y2K hysteria had limited partygoers' options. Many feared that calendar formatting bugs would lead to a widespread technological breakdown at the turn of the millennium. Oddly enough, this gave the party's organizers a unique need to satisfy in the Denver nightlife ecosystem.
The inaugural event was the brainchild of promoters Thomas Heath, Kenton Schawe A.K.A. Nutmeg and Chris Irvin, the latter of whom continues to host some of the city's grittier parties today. Even in his 40s, Irvin exudes the crude sort of punk rock swagger and DIY purism that you would expect from somebody who's intentionally reveled in obscurity throughout electronic music's pop culture peaks and valleys. Having played records and thrown parties since the '80s, he founded a production company alongside the late DJ Dizzy called Outta' Our Heads (OOH) in 1996 to go against the grain of more established local promoters.
"In the early days OOH always strived to bring up new local DJs who didn't have a shot with the 'big' rave companies of the day, but who had serious talent," Irvin told EDM.com. "Dizzy and I named it OOH as we were 'outta' our heads' to go against the big four companies of the time: A&E, Together, Poorboy and Roofless or Odyssey, who had control of the Saturday night party scene."
Given OOH's underdog sensibility, it made perfect sense for them to explore avenues that other operators wouldn't touch as the turn of the millennium approached. "I was the guy who figured out that all bars/nightclubs could start serving booze legally at 7:00 AM since clubs had to be closed from 2:00 AM to 7:00 AM," Irvin said. "Y2K paranoia had all the 'big' promoters in town scared off the date. All the kids were coming into [now shuttered record store] Soulflower asking, 'Where's the NYE party?' No venues were available for an all nighter, so OOH came up with a better plan: Start the party at 7:00 am when it's legal."
"The idea for the first one was simple," Heath told EDM.com. "It was the beginning of a new millennium and I knew everyone wanted to party like it was 1999. No one would be satisfied with only partying until dawn. OOH would be the only ones ballsy and crazy enough to bring that kind of party."
The first Day One took place on January 1st, 2000 at The Roxy Theatre in Five Points, which was among Denver's more crime-riddled neighborhoods at the time. Whereas recent installments of the event run from 7:00 AM to 7:00 PM, the debut edition extended all the way until 3:00 AM the following day. The concept was successful enough to return year after year, and before long it had taken place in downtown locations like La Boheme, Opal and Kasmos. Countless local DJs have played Day One, many of whom have since passed away. In conversation, Irvin made it a point to pay respect to departed selectors like Byron Holstine, KC Allen, DJ Cue, and the aforementioned DJ Dizzy.
The concept also attracted its fair share of copycats, according to Irvin. "Several other groups have tried to throw a similar party starting at 7:00 AM against us, even stealing our name sometimes," he said. "They have all failed."
Heath would move to Las Vegas in 2008, leaving Irvin and Schawe to helm the annual party on their own. After a few more years of enduring the headaches that came with such a subversive event format, Irvin looked to Schawe to assume full control in 2011. Schawe was up to the task. "Seeing and experiencing Breakfast of Champions in San Francisco was what really inspired me to turn Day One into a much bigger event," he told EDM.com.
The only problem was that Schawe had already committed to hosting a New Years Day event at La Boheme (where he was a resident DJ at the time), but Irvin didn't want to host his party at a strip club. Hot Mess, as it was billed, ended up taking the place of Day One in 2011, but still with many of the original resident DJs.
Meanwhile, Preston Douglas had begun hosting New Years Day events in friendly (and, at moments, not so friendly) competition with Schawe. Douglas was a longtime promoter and employee of Beta Nightclub who left to open his own techno/house-focused space called NORAD Dance Bar in 2012. He called his own New Years Day party Do It Again, and made a habit of luring Christian Martin to his establishment after Schawe had been the first to book him for the 2012 edition of Hot Mess.
Schawe ended his tenure with La Boheme in 2015, though, and was no longer legally allowed to use the name "Hot Mess" for his New Years Events. Being that Douglas had teamed up with Irvin on a one-off Day One event at NORAD in 2013, it made sense for them to revert back to the brand that brought them all together in the first place. Douglas and Schawe first teamed up on the 2016 edition of Day One at Beauty Bar (which has since rebranded as Your Mom's House). After that, they relocated to Milk Bar in the basement level of Bar Standard and then expanded to the rest of the venue starting in 2018. Owing to their combined efforts, the event has grown from 600 attendees to roughly 1,000 in recent years.
For all that has changed, the magic that made Day One unique from the beginning is still alive. Even amid a saturated market, tickets to the early-morning dance party practically sell themselves despite the event's stripped-down production values and emphasis on local talent. As usual, Schawe and Irvin themselves will perform at the 2020 event to an audience of familiar faces in Denver's underground dance music scene. They've played no small role in bringing up this tight-knit, multigenerational chosen family to know the difference between substance and hype, and the resulting dance floor energy is palpable.
As the final tracks ring out from warehouse party sound systems across the Mile High City on the morning of January 1st, 2020, the party will just be getting started at Day One. Tickets and additional information on this year's festivities can be found via Eventbrite.