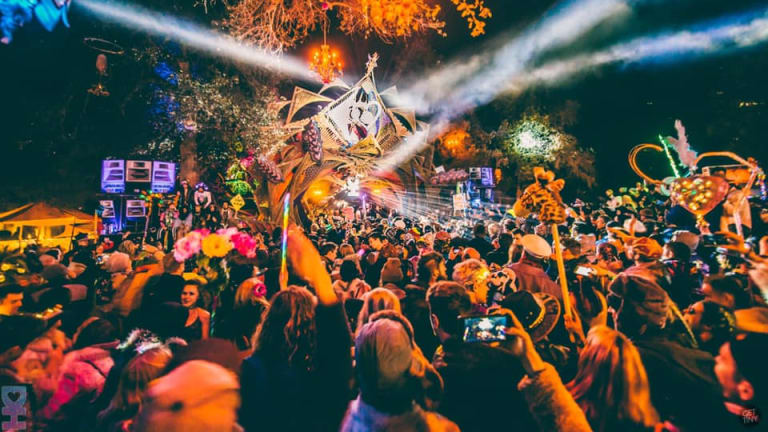 Desert Hearts' Next Generation House Music Dynamos: Lubelski, Rybo and Rinzen
Headed to DH Festival? Missing these sets is simply not an option.
Before Desert Hearts (DH) was an iconic house and techno music festival - or even a label - it was a family. And just as families do, they grew. They cemented a relationship with their fans and the family strengthened their bonds through a rigorous tour schedule and before long founding members Marbs, Porkchop, Lee Reynolds and Mikey Lion distinguished the crew as one of the most flavorful bookings on house and techno event lineups, both for their Neapolitan-style family sets and for their stylish but approachable appeal. It was a gaggle of weirdos, whose combined gravity pulled other weirdos into the mix. It was a story of communal romance and it proved that just like the pop-up wine and cheese tradition that takes place at the festival, some things are just better together.
First, Rybo joined and was doing major shows, performing at the festival, touring with the DH crew and participating in B2B performances on tour. Jake Lubell is a skilled electrical engineer turned tune craftsman who later joined the fray as Lubelski in 2016. His single "Favela Funk", which collaborated with Rybo, became an instant hit. Following a clear chemistry behind the decks and in the studio, Rybo and Lubelski eventually teamed up later in 2018 start the record label Percomaniacs. Most recently, Rinzen, a house music producer at the intersection of cinematic scores and cutting-edge techno has also been working on music with Desert Hearts residents Marbs and Evan Casey.
Timeless Moments
Rybo, Lubelski and Rinzen, like others on the lineup, are charged with stewarding the vibe that puts Desert Hearts at the top of every house or techno lovers bucket list. That's no easy task, but the setting is so comfortable and supportive that when talent takes the stage they do so with a fun-loving vigor. It's a signature aspect of the event that cooks into experiences at the stage.
Of his smash-hit performance at DH last year Rybo said "For me there's no better feeling than parting the sea of people on the Desert Hearts stage and plugging in my USB to share my music. It's like everyone there has my back and helps me builds the vibe and energy of my set. Desert Hearts is a no-VIP festival so you don't really get that feeling anywhere else other than DH events."
Lubelski echoed the love of moments at the event with a fond memory, telling EDM.com: "I love the energy of the people and being in the open air. I remember performing one year and someone told me they were gonna have me arrested on 1,000 counts of killing it. I was honestly crying of laughter at that point. " Recalled Lubelski, "Even when I'm not playing, someone always ends up putting me in tears. I've also had the privilege of playing both day and night time sets over the years that I've been a part of the family. It's a beautiful sight looking out at those smiling faces on the reservation, all their for the music and the raging good times."
Headed into his first year performing at the festival after attending a number of times in the past, Rinzen recognized "community" as an important factor in the success of the event.
"I really admire the community that Desert Hearts have built over the years," he said. "It's unquestionably one of the most loving and receptive communities in our scene. It's inspiring to be a part of it, both as a fan and now as a performer." Rinzen reflected. "Witnessing the growth of the DH family over the years has inspired me to think about my own artistic vision and the type of community I want to create around my music."
Going Further
While not to be mistaken for newbs to the crew or to the house music scene, Rybo, Lubelski and Rinzen's descent onto the singular stage at Desert Hearts Festival 2019 definitely represents a completely new L.A.-based generation of emerging house music leaders. Within Desert Hearts culture the trio signifies that the already strong label is getting stronger. They also serve as a reminder that Desert Hearts is more than a magnet for the brightest up-and-coming talent. The family pushes those artists to elevate their game as well.
Lubelski described the extra attention that goes into his preparations for Desert Hearts Festival.
"I mostly just wing it when I'm playing a set out anywhere but at Desert Hearts I know I have to bring my A game," he said. "For the entire month leading up to the festival I'm feverishly working in the studio to make new tunes and polish up my existing one before heading out there. I want to bring the trippiest and grooviest tunes I'm capable of. It's one of the best feeling to play a new one out for the first time on the reservation and have someone ask me "What track is this??"
Conversely, Rybo digs deep to go beyond his limits. When asked about his experiences performing at the festival, he said, "I feel like [when performing] everyone at Desert Hearts puts a lot of trust and faith in your music allowing me to really push the boundaries of my set and try things I probably normally wouldn't play. [At other festivals], I usually just put together a giant playlist of my favorite tracks, both original and by other artists and just really feel out the vibe of the crowd."
When EDM.com asked about his upcoming set, Rinzen said: "I know what a special opportunity it is to have control of the DH decks for two hours." 
After Dubfire and Sharam rinsed his upcoming track "Helix" for the crowd at Coachella Music and Arts Festival's infamous Yuma tent during the official Coachella 2019 Livestream, anticipation around his set has been peaking.
Rybo, Rinzen, and Lubelski can all be experienced in the sweet embrace of Desert Hearts Music Festival this weekend, April 26th to April 29th at Los Coyotes Indian Reservation. Rinzen performs at 6:00 AM on Saturday. Rybo is on at 12:00 PM and Lubelski takes the decks at 2:00 PM to set the stage for the infamous Desert Hearts fashion show. 
See you on the dance floor!
FOLLOW DESERT HEARTS
Facebook: facebook.com/WeAreDesertHearts/
Twitter: twitter.com/DesertHearts
Instagram: instagram.com/deserthearts/
Soundcloud: soundcloud.com/desert-hearts-records/
FOLLOW RINZEN
Facebook: facebook.com/rinzenmusic/
Twitter: twitter.com/rinzenmusic
Instagram: instagram.com/rinzenmusic/
Soundcloud: soundcloud.com/rinzen
FOLLOW RYBO
Facebook: facebook.com/rybomusic/
Twitter: twitter.com/rybo_music
Instagram: instagram.com/rybomusic/
Soundcloud: soundcloud.com/rybo_music
FOLLOW LUBELSKI
Facebook: facebook.com/lubelski
Twitter: twitter.com/lubelskimusic
Instagram: instagram.com/lubelski/
Soundcloud: soundcloud.com/lubelski