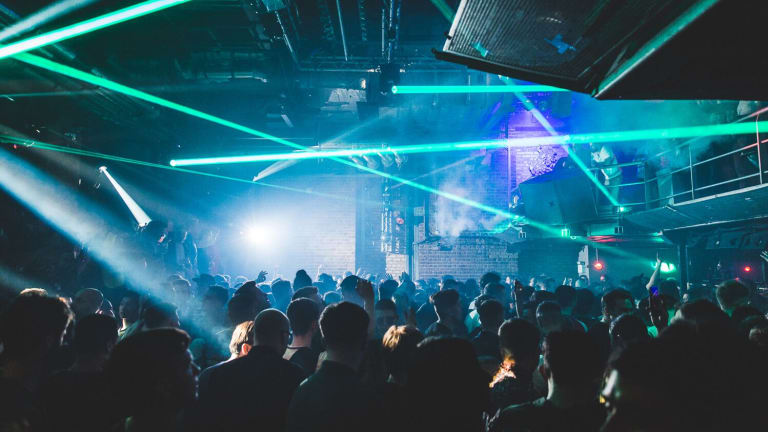 DESTINATION NIGHTCLUB: FABRIC LONDON
From a meat storage facility to a true clubbing behemoth – a look at one of the world's most iconic clubs.
A BRIEF HISTORY
London is widely regarded as one of the world's leading spots for the most authentic and grandiose clubbing experiences. As the capital of England, the city has long been a hotbed for cultivating underground talent whilst hosting the world's biggest dance music acts.
Fabric nightclub has played a huge role in giving upcoming acts their big break whilst also providing the stage for the premier names to indulge crowds with their turntable talents.
When former distribution professional Keith Reilly and ex-hotelier Cameron Leslie decided they wanted to open a club, which focused solely on the enjoyment of the music, they never intended on creating such a gargantuan venue.
At the time there were a few raised eyebrows when they chose a former meat market as the destination for this new dance music mecca. Opening its doors at a similar time was Home, which enlisted Paul Oakenfold and Danny Rampling as their resident DJs and launched an extravagant advertising campaign. There was supposed to be no comparison but Fabric became the heartbeat of London's nightclub scene, providing a truly left-field arena to everything else in the city.
Home and many other clubs came and went whilst Fabric continued to grow, soon attracting the world's biggest artists on a regular basis.
Over ten years since it opened the club did temporarily close it's doors due to financial problems and delayed upgrades to the nearby tube stations but within a month the club had received fresh backing.
19 years since this abstract setting first landed in Farringdon, it now attracts some of the biggest London crowds every weekend, rightly staking a claim as the ninth best club in the DJ Mag's annual Top 100 poll.
VIBE CHECK
As soon as you walk through the doors there is a certain mysteriousness that hits you, owing to the building's former use. The best nightclubs are the ones which whisk you away from the often mundane confines of reality into a magically obscure parallel world.
Walk into Room One and you will feel a million miles from your usual surroundings, the high-tech dancefloor ensuring the music pulsates through your entire body with overwhelming clarity. Anybody that has ever visited this titan of London's nightlife scene will know just how grand a place it is.
Weaving through the mystical layout of the place adds to the aura of the experience and really does provide an uplifting stimulus for the senses.
GENRE SPECIALITY
Ever since the club first opened back in 1999 the aim has been to provide an arena for all kinds of dance music, rather than just putting the most popular styles on a pedestal.
Which evening you decide to visit will determine the types of sounds you will hear. The last Friday of each month is reserved exclusively for bass-orientated carnage as FABRICLIVE caters for a wonderfully diverse mix including drum & bass, grime, and dubstep to name but a few. Over the years figureheads from each genre such as Fabio, Skepta, and Simian Mobile Disco have all demonstrated their creative talents as part of the iconic event series.
Saturday nights have traditionally been all about house and techno but you will also see acts explore a wide range of other sounds including disco and electro. Whether it's live performances or DJ sets you prefer there are ample chances to see both exciting underground prospects and established icons such as Ben Klock, Robert Hood, and Seth Troxler.
If you are looking for a party to finish the weekend then Fabric is also the place to be, with the WetYourSelf events promising an equally exhilarating experience. Whilst it may have been 2009 before Sundays became another fantastic reason to frequent the Farringdon venue, the shows have constantly delivered quality music courtesy of a diverse and less prominent roster of acts.
EVENTS TO WATCH OUT FOR IN 2018
Congo Natty
If you like jungle music then it is almost certain you will have heard of Congo Natty AKA Rebel MC. The Londoner produced an album, which centered on a unique blend of underground hardcore techno and dub basslines, helping to lay the foundations for the jungle sound we know today. Also joining him on 25 May are true 140bpm tastemakers in Kenny Ken, Potential Badboy, and Remarc.
Whilst the line up in Room One is almost certain to provide an awe-inspiring showcase of all things UK bass, Bingo Bass head honcho DJ Zinc will take you on a true musical journey in Room Two. Over three hours expect to hear the hugely diverse producer waver seamlessly between the best of breaks, basslines, and funky grooves.
Subsoul x Jacky & Friends
What started out as a music blog has quickly grown into one of the most vibrant UK music labels, attracting huge players throughout house, garage, and bass.
On 1 June be prepared for a mix of established and upcoming artists as UK house heavyweights Route 94 and Huxley are joined by the hugely talented Eli Brown. The Bristolian is quickly demonstrating his stunning versatility as a producer, conjuring up some of the edgiest house records after already making countless drum n bass floor fillers as one half of Loadstar.
Step inside Room Three and you will be greeted with a similar house extravaganza as the producer with quite possibly the best mustache in the whole industry, Jacky, makes his first appearance at Fabric. After making his debut on Elrow back in 2014, the Newcastle-born artist has since made waves in the house scene, attracting an esteemed list of admirers including Jamie Jones, Steve Lawler, and Richy Ahmed to name but a few.
9 OUT OF 10 – A WONDROUS CLUBBING MECCA
For almost two decades this venue has provided a decadent landscape for the world's biggest producers, right across the musical spectrum, to mesmerize crowds. If you are in need of a truly captivating sensory experience, then you can't afford not to visit this musical labyrinth in London. Playing in this world-renowned club is a huge rite of passage for many artists, most of whom hold it in the highest esteem.