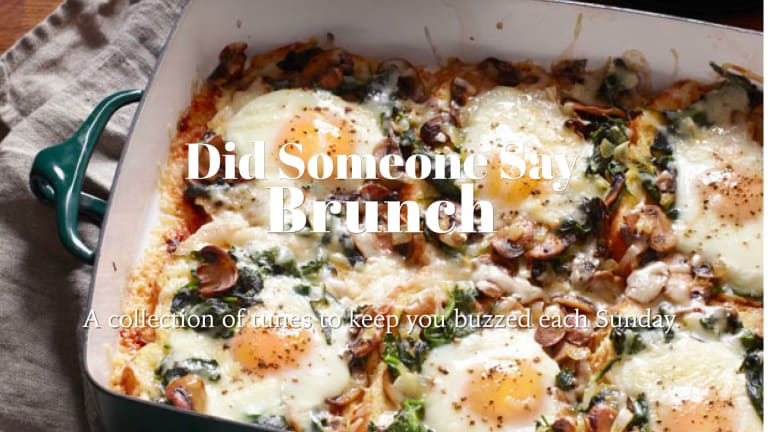 Enjoy The Last Few Hours of 2017 With Did Someone Say Brunch
Looking back at our favorite vibes of 2017.
It's been yet another year full of experiences, memories, and of course full of music. With all the reflections that come at the end of the year, all music lovers can never go without also reflecting on their favourite releases and tracks of the last 12 months. So, in this week's Did Someone Say Brunch? Special, I have handpicked 20 of my favourite tracks of the year, from Medasin to Louis Futon and Griz to Misogi, all filled with mixed vibes to get you 100% ready for New Year's Eve. 
As always, we also have another killer brunch recipe for you, Mushroom-Spinach Baked Eggs, that you can prepare while listening to this week's picks.
Ingredients
2 tablespoons extra-virgin olive oil, plus more for brushing
1 small onion, chopped
1/2 pound white mushrooms, sliced
Kosher salt and freshly ground pepper
6 cups baby spinach (about 6 ounces)
6 slices potato bread, lightly toasted
6 large eggs
1/2 cup whole milk

3/4 cup shredded gruyere cheese 
Directions
Heat the olive oil in a large skillet over medium-high heat. Add the onion and cook, stirring occasionally, until golden, about 8 minutes. Add the mushrooms and cook, undisturbed, until they begin to brown, about 2 minutes. Add 1/2 teaspoon salt, and pepper to taste; continue cooking, stirring occasionally, until soft, about 4 more minutes. Stir in the spinach and cook until wilted, about 2 minutes. Remove from the heat and let cool.
Brush a 9-by-13-inch baking dish with olive oil. Arrange the bread in the dish in a single layer with the edges slightly overlapping, then spoon the mushroom-spinach mixture on top. If making ahead, cover and refrigerate overnight.
When ready to bake, preheat the oven to 350 degrees F. Crack an egg onto each piece of bread; season with salt and pepper. Pour the milk evenly over the top and sprinkle with the cheese. Bake until the egg whites are set, 25 to 30 minutes.
Till next week, enjoy!
Photo courtesy Con Poulos
Recipe courtesy Food Network Magazine