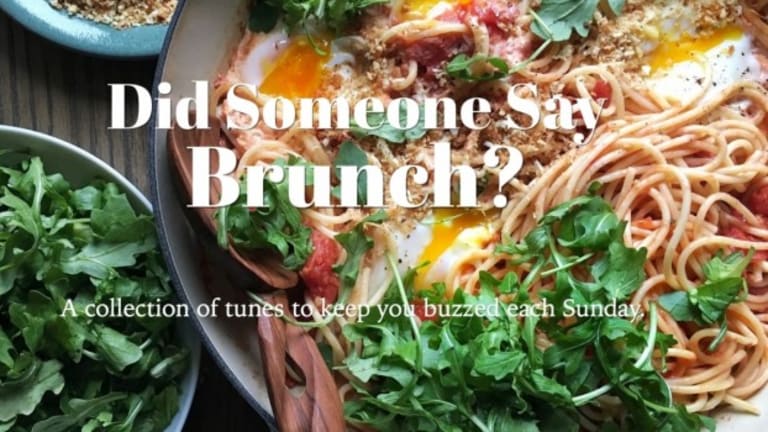 Fly Away With This Week's Did Someone Say Brunch
The perfect soundtrack to get you vibin' on a Sunday.
It's only human for everyone to want to chill and zone out on a Sunday, especially when you know you've got a whole week ahead of you. Here at EDM.com, we've took in upon ourselves to provide you with a killer brunch recipe every Sunday, as well as some of the best vibey tracks to keep the mood going and cure your potential hangover. So, without further ado, let's get into this week's selections and recipe Spaghetti with Eggs and Garlic Breadcrumbs.
INGREDIENTS
extra-virgin olive oil
2 garlic cloves, grated
kosher salt
1/3 c. panko breadcrumbs
1/4 c. chopped fresh parsley
1 lb. spaghetti
1 28 oz. can whole tomatoes
Black pepper
4 Eggs, room temperature
3 c. arugula
DIRECTIONS
In a large cast iron pan heat 1 tablespoon olive oil over medium heat; cook 1 garlic until fragrant, about a minute. Season with salt and add breadcrumbs, stirring occasionally until golden brown, about 2 minutes. Transfer breadcrumbs to a small dish and mix with parsley; set aside.
In a large pot of salted boiling water cook spaghetti according to box directions until al dente.
Meanwhile, in same pan heat 1 tablespoon olive oil over medium heat, and saute remaining garlic until fragrant, about 1 minute. Gently crush tomatoes by hand and add to pan. Season with 1 teaspoon salt, 1/2 teaspoon pepper and simmer on medium heat for 5 minutes. Keep warm while spaghetti finishes cooking.
Drain spaghetti and add it to tomato sauce. Mix together using tongs to ensure all pasta is well coated in sauce. Increase temperature to medium-high heat and crack in each egg. Cover pan to steam eggs until the whites are cooked and the yokes are still a bit runny, about 5 to 7 minutes. Serve spaghetti in the cast iron pan and top with fresh arugula, olive oil, salt . Sprinkle toasted garlic and herb breadcrumbs over eggs just before serving to keep them crunchy.
Till next time, enjoy!
Recipe courtesy of delish.com