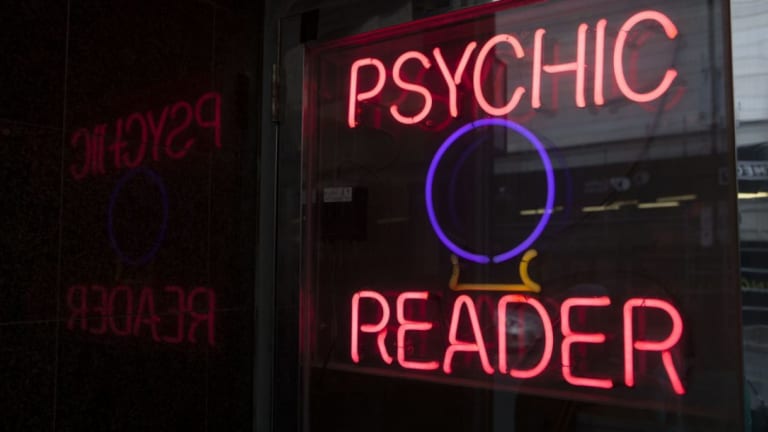 The Psychic is In: DJ Tarot Card Serves Up Your Coachella Weekend Fortune
Is your intuition trying to tell you something about your Coachella weekend?
Ever wish you could see into the future and know exactly what kind of mess you'll get yourself into next? If so, you've come to the right place. DJ Tarot Card is here to help you prepare for the madness that is Coachella. 
After channeling the power of the EDM gods, the stars have aligned and given me this reading into your Coachella weekend. 
The Fool - Open-mindedness 
Surprisingly this card is not describing how you act after a few too many drinks in the beer tent. This card represents open-mindedness. Sure, this awesome act that you've seen is playing again and they'll probably still put on a great show, but did you skip your student loan payment for the month just to see the same acts? Step outside the box and try something new. After all, there's so much great music outside the main stage. 
King of Wands - Desire
This card represents your wants and desires. For example, you'll want to finally be responsible for once and not spend tons of money on merch that you don't need, but after the festival, your desire will be to never open your wallet again. Have fun and live it up, but remember, your landlord probably won't accept a piece of paper that says "IOU was at 'Chella, fam" instead of your rent payment. 
Two of Swords - Conflicting Ideas 
Whether you go solo or with a group, you will encounter many conflicting ideas. "Do I take another shot of tequila even though it's not even 2 PM and I'm already too drunk?" "Do I go with the group and see some top 40 hip-hop act? Or do I fly solo and see my favorite DJ?" You will face many decisions like these and you will have to search within yourself for the answer to these great questions. 
Side note: When searching within your heart for the answer to Coachella's great questions, remember that your liver is close to your heart, so go easy on the liquor this weekend.
Two of Cups - Union of Souls 
This card represents the binding of two souls that happens at every concert or music festival. It represents that moment when everything around you fades away and you're singing your favorite song and you make eye contact with someone in the crowd doing the same thing. You instantly throw your hands up and point at them, and just like that, you two are best friends for eternity. 
Let's just hope this happens during an appropriate song, it would be quite awkward if you make eye contact with someone while screaming The Weeknd's lyrics and thinking about how much you miss your ex. 
Happy Coachella!