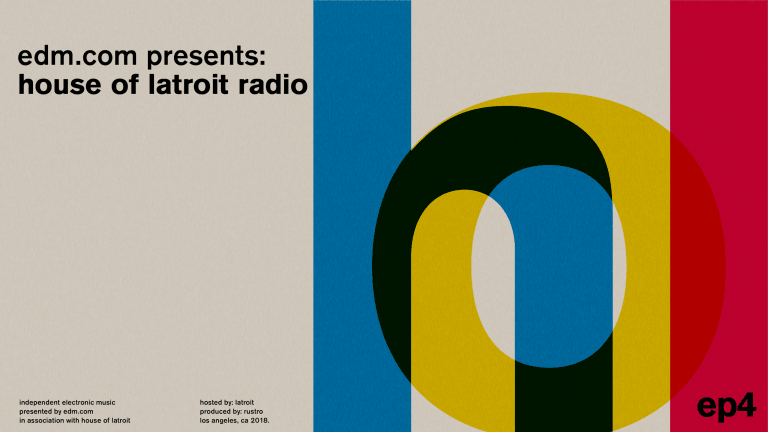 Doors Open to the House of Latroit Radio
House of Latroit Radio
Dennis White, also known by his stage name Latroit, has been making serious strides this year with his music career. On January 28, 2018, Latroit accepted the Best Remixed Recording GRAMMY for "You Move," originally by Depeche Mode, at the 60th GRAMMY Awards. 
Following that win, Latroit has focused much of his energy on creating a new radio show that would encompass a wide variety of house music. The radio show is still young, but it's maturing at a rapid rate! One of the episodes was 2nd in the #electronic chart, 6th in the #edm chart, 7th in the #deep house chart, 7th in the #tech house chart as well as 9th in the overall #house chart on the streaming music service Mixcloud. Latroit has joined us today to take a deeper look at how this vision came to life:
"How did you create the overall image of the radio show you wanted, and what is your ultimate vision for it?"
"The House of Latroit was inspired by fashion brands. The House of Versace and The House of Dior. We always saw ourselves here as that fashion, culture, and art forward facing entity. Music for us is the most important component of what we do, but we like the interaction of music with fashion and art. I really love discovering underground dance music artists and that street-level music no matter the art form or producer. I hope people enjoy the listening stance of House of Latroit Radio. The educational aspect of this is not necessarily what they are listening to, but who they are listening to. I feel a responsibility to the scene because I have done well in my life with dance music, and I think that I can help the next generation of producers come up and I have a real passion for providing opportunities for up and coming producers in life in general, and this show particular."
"Why is House of Latroit Radio Show only around 30 minutes instead of offering the public an hour-long show?"
"I personally listen to a lot of music shows and podcasts and I cannot remember the last time I listened and paid attention to a show longer than 30 minutes. That to me is a workable and functional listening experience when a show is about 30 minutes. I think it is easier to relate to people during a 30-minute period of time.
 "What is the hardest part when recording House of Latroit Radio?"
"Pronouncing these god-damn artist names! Every show there is always some name I fumble on and it happens all the time. I had to figure out a name live during one show. There is this one artist name from House of Latroit episode 004 that is spelled MNNR but pronounced manner."
"How do you ultimately come up with the decision of which tracks get picked for the show?"
"I go for the vibe of sound for each show. Some shows will be a little techier and then another show will be deeper house. Honestly, whatever my vibe is that day. So, what will happen is EDM.com has a collection of artists that they have signed as a label and I pull from that. Then we will put songs together in a session and that is the show.
"What are some stand out tracks from House of Latroit Radio Episode 004?"
"There is an artist named ATLAST who has a track called "Feel the Power" and I start the show off with it. He does a really a great job with the track. Wallmers has a track called "Moon Dancer" and it's a bass house track and then introduces this piano house style at the end that I find really cool. There is a kid name Otnovsky that has a track called "Burning Down" and he is f****** amazing and only has 380 followers! I have been supporting him for years and I love his track that I feature in this episode.
"Stepping away from House of Latroit Radio for a little. What is new with you and your music?"
"I just remixed a classic from the mid-2000's called "As the Rush Comes" by Motorcycle as a part of Positiva Records 25-anniversary remix collection. "As the Rush Comes" was a classic from a group from Motorcycle that was a side project of Gabriel & Dresden. This was a particularly fun project for me because I have known Dave Dresden since 2000. In 2000, he was a DJ on Groove Radio and he heard a song I did under a different project and passed that along to Pete Tong and he liked it so much he started playing it a lot and based on that he ended up introducing him to Josh Gabriel and just like that Gabriel & Dresden was founded. There has been so much history between Dave and I, so it was great to be invited to remix that "Motorcycle" song and interact with Dave. The remix came out on May 4, 2018, and it is the first remix I have done post GRAMMY win and I am pretty excited about it."
House of Latroit Radio is helping take the underground producers in dance music to new heights. Each show delivers something new and is a breath of fresh air to the scene. House of Latroit Radio has two new shows every first and third Friday of the month. For all of the latest information about House of Latroit, make sure to follow him on his socials and join the conversation on Twitter by telling him what your favorite track from each show using #HOLradio.
Listen to House of Latroit Radio Episode 004 below:
Follow Latroit:
https://www.facebook.com/LatroitLife/
https://twitter.com/latroit
https://www.instagram.com/latroithouse/
https://soundcloud.com/latroit