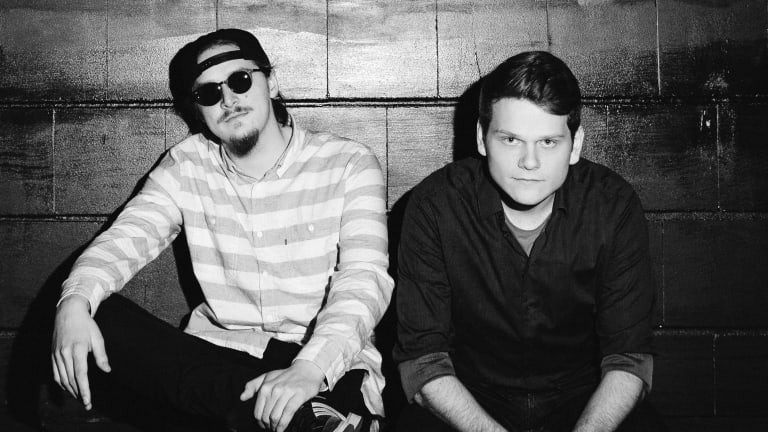 Dredging Identity, Germany's Donkong Envision Bright Skies Beyond The Clouds
Breaking Through is a conversational series highlighting the stories of rising dance music artists.
Author Note: Germany's bass duo Donkong, comprised of Chemnitz's Thomas Küchler and Mannheim's Johannes Schlump will be referred to as Donkong throughout this piece. 
When a genre of music is the prevailing go-to for clubbers, artists not associated with that genre find it difficult for promoters to book them especially when the number of venues in your country showcasing international talent is limited, creating impedance for the artist's identity or worse yet, the inability to find one.
"Germany is very hip-hop oriented at the moment," says Donkong. "With music laying around and a scarce club scene, we're trying to figure out our audience and we don't feel we were very strategic in finding one. Business wise that's our biggest problem, but we think it could be our biggest strength."  
Donkong though, are not rookies as one may initially perceive, building a solid discography of three EP's, various original singles and remixes since their 2012 inception. Their music, including the popular track Animals, has been heard well over 3M times on Spotify alone and with the debut of Identity Mixtape released to coincide with the May 25, 2018 release of their fourth EP, Invaders, the mixtape is a Thank You, of sorts, to Donkong's fans as well as a tool to showcase their newly self-discovered sound (hence the "Identity" title) to potential recording labels featuring unreleased material:
Admittedly, mistakes were made with the inability for their music to be properly showcased partly due to outside influences such as being invited to play all important festivals only to learn that due to their location and expense, the promoters abrogated those offers. Others were due to producing a full-length album with no audience or platform for release, reducing the duo to releasing singles. Donkong also admits self-induced errors by releasing material at the wrong time but in fairness, hindsight is 20/20.   
With their unique brand of bass, Donkong has held a loyal following but with expansion concerns, one might simply ask, "Why not move?" But as with anyone, we sometimes forget that artists are people, too with real lives and circumstances proving difficult to just pack and go.  Already separated by 600km, Thomas and Johannes have built a long distance relationship with their music and followers. "The internet is great," Donkong proclaimed. "But you still have to meet people face to face," citing the interpersonal communication side of the business. 
As with many aspiring artists, side projects keep the rent paid with Donkong providing soundtracks for companies such as Duplo and Adidas combined with producing numerous remixes while taking advantage of the opportunity to expand both musical and personal identities, explaining that:
"We enjoy being with other people. "There's a part of you that wants to be a part of them and their art - you build up a trust with an artist and as fans ourselves, connectivity is something held very personal to us."
Conversely, Donkong's business side of receiving record company remix requests of unknown artists began to question the validity of the remix and more importantly, their values. "It didn't feel right and sometimes the song wasn't better. We want to do the music we like but not to do music that just pays the rent," Donkong emphatically said. 
When the duo is recording, Donkong enjoys incorporating a bit of humor into some of their themed productions while targeting a larger goal saying, "We're having fun! Not all music has to be big and critical, there are better places for that than in club music. We hope, as a duo, to help the culture grow in Germany and maybe it's to our advantage to be some of the few doing (bass music) it."
The story does get better for Donkong. Their latest single from the forthcoming EP, Bassline Junk is a solid release with Thomas providing the distorted vocals on the track. And with the duo's performance at the German Eine Liebe festival they are unrelatedly engaged in negotiations with a different, larger label optimistic of the concentration with the duo's fanbase extension inside of Germany as well as integrating elements into their live performances, "but it's feast or famine with the bookings," Donkong said. "It's tough." 
Donkong is humbled though with their achievements thus far. "We're privileged to be doing this full time for three years," the duo proudly said. "We are so grateful for our fans! We know there are other artists that are less fortunate."
Eager to begin a new chapter in their quest to become relevant in the German bass scene, or lack thereof, they realize maximum public exposure is achieved through live performances and look forward to that opportunity a new label may bring them.
 "We're excited to tour," Donkong exclaimed. "We've got our bags packed and are ready to go!"