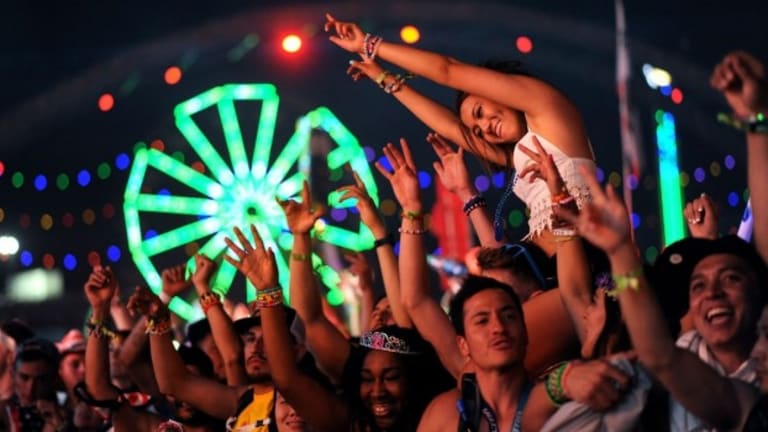 Scientists Investigate Electronic Daisy Carnival for the First Time
Lead author Noah Little shares the first ever scientific study into the mindset of some of dance music's biggest fans.
This article is a summary of the first scientific investigation into Electronic Daisy Carnival. Published in the Journal of New Music Research, and I am the lead author. I have included the abstract of the article below to read for your enjoyment. It's free of cost because it's not the final version; publishers own it for 18 months. So until then, abstract it is!
...
EDC is one of the top music festivals in the world; likely the most famous in North America. For three days the desert in Nevada becomes engulfed by raging Electronic fans who dance from sunset to sunrise.
I wanted to understand the role of this experience on people's lives and how it impacted them in the long term. Not solely that they had a great few days out in Vegas, but deeper social and psychological effects. Why they wanted to attend, what their festival experience consisted of, and how they reflected on this experience once they returned to their lives. Specifically, was there any changes they noticed in themselves.
I interviewed both rookie and veteran EDC attendees to determine differences in their EDC experience and to gain insight from various perspectives.
The three themes emerged include: Escape, Community, and Self-Reported Changes
First the themes of escape. Individuals were motivated to attend by the ability to physically, socially, and psychological escape. We all want to escape the pressures of our daily lives. Be it school, work, bills, traffic jams; we look for an escape. Several of my participants mentioned the escape motivation. People reported the ability for EDC to act as a purgatory of the world. EDS is where people could be as they wanted, dress how they chose; without the fear of societal judgment or constraint. These conformity stressors may be a daily cause of concern for individuals and consequently, adds to the desire of attending this kind of festival to escape these societal constraints. Furthermore, the ability for the festival atmosphere to dissolve classism, race, occupation, and nationality was another factor driving attendees to EDC.
"Everybody just has good vibes; there's no hate, you can be gay, lesbian it doesn't matter whoever you are we're be still going to love you. I think it's the culture like nobody judges you, everyone is there to be themselves. " (Participant 2)
Second, was the discussion of community. Participants reported EDC contained an intense sense of unity, and all members upheld mutual respect for each other, with a strong desire to interact. Importantly the desire for peace, love, unity, and respect; commonly known as PLUR; was ever present at the event. Attendees at EDC believed PLUR serves as the glue for the large crowd and is instrumental to the atmosphere it provides. "Come in peace or don't come at all," a participant mentioned. EDC isn't a place for fighting or thievery. Love, community, friendship, and experiencing the spectacles of the moment is what EDC prides itself on. Their adoption of the PLUR values while at this event had led them to a particular type of interaction and behavior that is expected or perhaps organically occurring at EDC. There is some amount of encouragement from the event organizers to behave in this manner as well. Another theme discussed by all participants was the enjoyable social interactions incurred while at the festival. Throughout the interviews, participants continually exclaimed the joy of being with others, family members and meeting new people.
"No matter race, no matter from where you're from, social standing, everyone has that common I guess denominator or core value. Where we all can respect each other, we can right off the bat start talking to each other. Like, there's no preconceived ideas about the other person, and you can automatically relate to them like you've known this guy, you feel like you've known them forever, this understanding, of each other." (Participant 6)
Thirdly, the lasting benefits people attained from attending EDC. A primary goal of this investigation was to explore the beneficial outcomes of attending EDC. Interestingly, individuals can achieve peak experiences by using music. Following their immersion in this festival atmosphere, it appeared the individuals had taken up new values, following their exposure. The adoption of PLUR values was a typical statement from individuals when they reflected on their music festival experience. EDC participants reported a restored faith in humanity and a greater respect for their fellow man. The observed behavior and positive interaction was exclaimed by many during EDC and were seemingly held onto and changed the outlook on life by our participants following the festival.
"It's more of a lifestyle than anything, it's a way of life and I have taken it to heart big time. I've always been a really relaxed and cool person, but you know, I've had my issues where I've gotten frustrated and been an asshole. Especially after EDC and looking back on it, these issues don't really matter. I mean it's like, why sweat the small stuff, so you kind of take the experience from EDC in Vegas and you apply it to the rest of your life, you let it influence you in a positive way". (Participant 4)
Next, some of our rookie members believed this festival to be in their top five most significant experiences in their lives, while others believed it was among the top three. For instance, individuals compared this experience to be as important as being told an intimate partner loves them. Others participants stated that what they experienced at this festival was vastly different from previously attended music festivals. The descriptions by our participants depict this experience as a monumental, and self-important event in their lives. Providing additional insight and support that these experiences possess the potential of lasting impact on its attendees; as they believe it to be among their most significant life event. I think many readers of this article can reflect on their music festival experiences as monumental in their own lives, and among the most meaningful experiences for them thus far.
As a final statement, this quote encapsulates the EDC experience.
"I think, the vibe of the people in general, made it like, forget the amazing music, the amazing visuals, the huge production, it was the people that made it memorable man, just everyone being nice to each other, you know what I mean, having some respect for each other. It was really bizarre at first, but when I look back at it, it makes sense, because they are trying to live out that PLUR lifestyle, and I think that's what totally made it, the people." (Participant 9)
The motivation to complete this research was after the experience of attending my first electronic music festival. Like many of you readers; I too felt the intense connection with others while immersed in this positive environment. I decided to commit to this research topic after discovering the lasting impact these events have on individuals and that of myself.
I'll see you soon.
Noah Little
Cover photo courtesy of Wally Skalij for Los Angeles Times
*Editor's note: Photos have been added as supplementary content to the original published work.