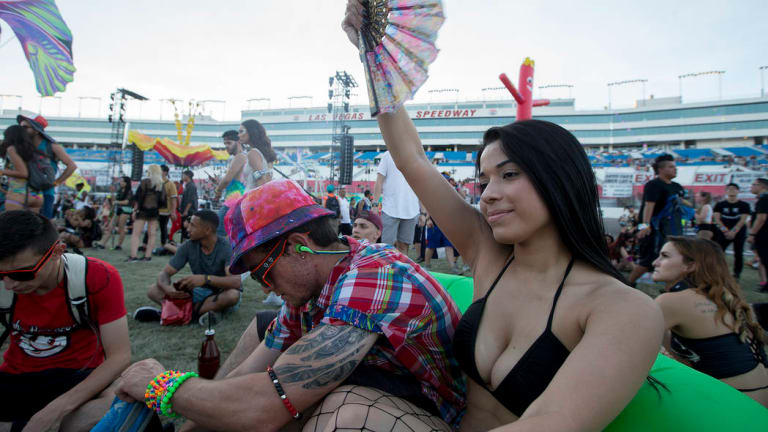 DON'T Forget These Festival Necessities for EDC Las Vegas
We are here to help you pack.
In one week, all EDM lovers will be dancing their hearts out at one of the biggest festivals of the year, EDC Las Vegas. Organized by the visionary Pasquale Rotella, this highly anticipated festival will bring in almost half a million music enthusiasts, and eight spectacular stages! With all this excitement filling us up, it's easy to overlook some necessary items to bring to EDC. Don't worry, we are here to remind you of the 
Spotify Playlist
That will be a long flight or car ride without some heavy hitters for the big festival. Start curating now and hype yourself up for an epic weekend!
Bandanas, Bandanas, Bandanas
Vegas is another word for dust. Not really, but it's essential to have at EDC. If you don't bring one, do you actually rave?
Portable Charger
Wait.. make that 2 portable chargers. Your phone dying at EDC is equivalent to a lost puppy on the side of the road. Pretty dark.
Ear Plugs
Unless you want to be deaf by 30, it is smart the take preventative measures and bring those bad boys. 
Food's Cool
Most forget food is a thing at festivals. If your driving, make a Costco run and get a bunch a food to keep you going throughout the weekend. if you're flying make a quick pit stop at nearest grocery store. If you forget, You'll have less stamina at the festival and you will definitely be feeling like a sick, malnourished human the following week. 
Fanny Packs Got Your Back
For girls and guys, fannys are your best friend. You don't need to hold them and you don't have to worry about losing something ever again. 
COMFY SHOES
You will be walking until dusk to dawn. LITERALLY. Be smart and bring walkable shoes or else you will have.
Good luck and happy EDC!