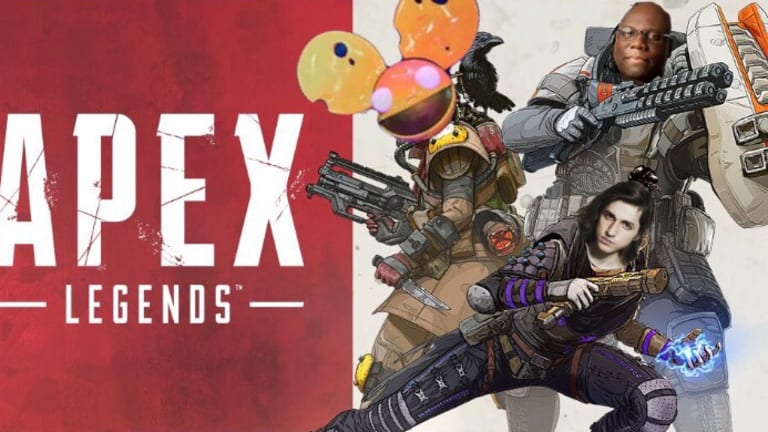 The Perfect EDM Artist to Soundtrack Every Apex Legends Hero
These Apex Legends characters go hand in hand with music by some of EDM's biggest names.
For the past couple months, millions around the world have decided to ignore all their responsibilities to play this year's video game sensation, Apex Legends. 
In typical addicting video game fashion, it starts with a "come on dude, just one more game" and spirals into three days of no showering, Uber Eats for every meal, and concerned phone calls from loved ones. Rent, hygiene, work, and school can wait when all that matters is those sweet, sweet wins. 
If any of the above sounds like you, let this be your guide to picking the perfect music to accompany your weeks-long gaming binge.
Below is one artist for every character in the game, to serve as a starting point for your perfect Apex Legends playlist. Disclaimer: this probably won't make your teammates play better, but at least you'll enjoy the music while you try not to lose. 
Octane - Excision
When you choose a character that acts as if he mainlines Monster Energy Drink, you need something loud, aggressive, and energetic. Luckily for you, dubstep is the answer to all your playlist troubles. Excision's discography is the musical equivalent of the dinosaurs from Jurassic Park fighting to the death in a recording studio - but instead of a typical dinosaur, they're robots and they're on fire. Quite literally the perfect music for someone consuming a near-lethal dose of energy drinks.
Caustic -  Rezz
"A mad scientist hellbent on corrupting the masses with their latest evil concoction" could describe both Caustic and Rezz. With her demonic space music, we're unsure if she's actually trying to make it in the music industry or if she has other, more sinister plans. Start with "Space Mom" if you really want to amp up the darkness while playing as the mad scientist.
Mirage - TroyBoi
If you're going to choose a character that's all flash and has an unimaginable ego, you're going to need some music to really gas you up. Some high-quality, flashy trap music courtesy of TroyBoi will get you in that perfect mindset to play as a character who probably has a picture of himself as his wallpaper. Be careful, after listening to a song that says "bitch, I'm awesome" a few times over, you might be inclined to post one too many mirror selfies on Instagram. 
Bloodhound - deadmau5
Known for their arsenal of gadgets, Bloodhound possesses some of the most high-tech equipment in the Apex Legends world (besides the talking robot, of course). deadmau5' knowledge and interest in technology is well documented, therefore, it's only appropriate to listen to music produced on some of the world's best production equipment. Also, like Bloodhound, deadmau5 shares the same fascination in massive, LED-encrusted helmets.
Pathfinder - 1788-L
At this point, we're not 100% certain the mysterious 1788-L is actually a human. With song titles like "H E X," "R U I N," and "A B Y S S" almost robotically stylized, one could believe that the dark and mechanical bass he produces is from some sort of electronic music entity. If you're going to use a robot as a character, it's only fair to start with music that may or may not have been created by a robot.
Wraith - Virtual Self
One of Apex Legends' most popular characters is Wraith. She's dark and brooding, hears mysterious voices, and travels between dimensions with bursts of light and sound. Sounds a lot like Porter Robinson when he became Virtual Self, doesn't it? Accompany those voices in Wraith's head with the voices in Porter's. 
Lifeline - ODESZA 
As the only healer in Apex Legends, you'll be tasked with keeping your team afloat when they get banged up. Maintaining both your team's spirit and health is no easy task and you'll require some uplifting music to help your mission go off without a hitch. ODESZA makes the perfect blend of uplifting and inspiring music ideal for raising morale after a tough fight.
Bangalore - Eric Prydz 
Bangalore (unrelated to "Bangarang" by Skrillex) is a sharp, laser-focused soldier who will do anything to complete the mission. When you take the role of one of the game's most dangerous players you'll need music that will help you maintain that focus and keep your edge. Eric Prydz' intricate, rhythmic production will help you stay sharp and get you on track to getting more wins than your friends. 
Gibraltar - Carl Cox
When you pick the shielded Gibraltar you make a promise to defend your teammates, no matter how clueless and misguided they might be. Considering Carl Cox is still giving the younger generation a chance to experience what dance music was like before they were born while simultaneously helping others grow their careers, he's the perfect choice. 
Wattson - Boys Noize
Wattson is a character who has harnessed the power of electricity and uses it to conquer her enemies. Boys Noize has also harnessed this power but instead of fighting in an arena he uses his electro-skills to decimate the dancefloor with his special blend of pounding beats.