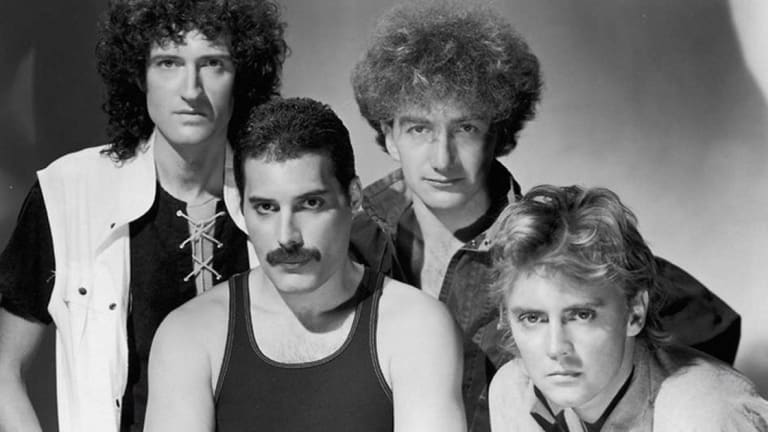 The Best EDM Remixes of Your Favorite Classic Rock Hits
We're throwing it back with remixes of Queen, AC/DC, Nirvana and more!
It's a tricky business when it comes to remixing classic hits because, well, they're pretty much masterpieces already. Though, you have to give these remixers credit for trying to pay homage to these great hits in their own way. 
There aren't many out there to begin with, but we've compiled the best classic rock remixes that you're either going to hate right off the bat, or find the direction it was taken in really interesting and maybe even dig it. Hopefully it's the latter. 
Here's a teaser of some of our selections:
The Police - Roxanne (Stereocool 'Red Light' Remix)
Notably, one of The Police's most popular songs, "Roxanne," is in the Grammy Hall of Fame and considered one of the greatest songs of all time. But it didn't actually do so well when it was initially released. The band was pretty shy about playing the song in general because of how it was much slower and melodic than their other tunes. But after much support and a record deal, they released it on A&M Records in the UK in 1978. It didn't chart, but when it was released in North America in 1979 it blew up and turned into the hit we know today. It was even re-released in the UK where it finally made it into the charts there too. 
Queen - Another One Bites the Dust (Bambi Remix)
Michael Jackson actually played somewhat of a part in the creation of Queen's "Another One Bites the Dust." He told Freddie Mercury that they needed a song that the crowd could all dance to, and so when their bassist John Deacon played this disco sounding riff, Freddie went right to work on making it into the ever popular song it is today. Once they were done, they played it for Jackson and he told them it was going to be a hit -and he was right. After they played it at a couple of concerts, Jackson suggested they release it as a single and it went on to win an American Music Award for Favorite Rock Single. 
Nirvana - Come As You Are (Evokings Remix)
After the surprising success of "Smells Like Teen Spirit," Nirvana was on the fence about releasing "Come as You Are" as the next single from their second album Nevermind. Kurt Cobain was worried that it sounded similar to the Killing Joke's "Eighties." Of course, the Killing Joke wasn't too happy about it and it's debatable whether they filed an actual lawsuit or not. However, joke's on them because two years before they released "Eighties," The Damned released "Life Goes On," which also has that similar riff.
The Rolling Stones - Gimme Shelter (Zeds Dead Remix)
The Rolling Stones' apocalyptic track "Gimme Shelter" was emotional enough, but what really made it even better was the last minute addition of Merry Clayton's chillingly powerful vocals. When they were doing the mixing in LA, the producer came up with the idea and, even though it was midnight, he called Clayton to come in and record her vocals. Pregnant at the time, Clayton still got out of bed and went to the studio. She ended up doing it in three takes and everyone, especially Mick Jagger, was ecstatic with her intensely emotional delivery of the lyrics. Sadly, on her way home from the studio she had a miscarriage and some say it was because of the exertion from the studio session, but no one really knows for sure. 
Aerosmith - Dream On (GRiZ Remix)
Everyone knows Aerosmith's most iconic song, "Dream On," but you might not know that it's actually the only song on their debut self-titled album that Steven Tyler used his real voice for. Like anyone who hears their voice on tape, he felt very insecure about it and that's why his vocals for the other songs were lower and sounded like soul music singers. Either way, Tyler's vocals are amazing and "Dream On" was just the start of his trademark screams.
If you liked what you heard so far or didn't find your favorite classic rock song in this teaser, totally check out the rest of our classic rock remixes playlist!