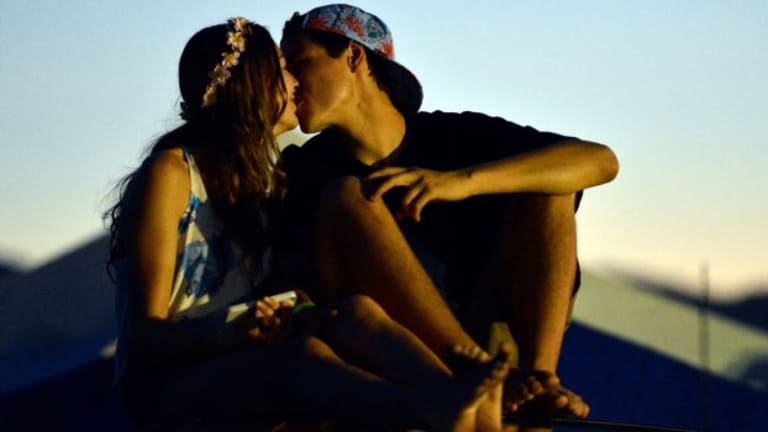 What Your Favorite EDM Genre Says About Your Sex Life
EDM has a time and place for any intimate setting
Music and sex have gone hand in hand since the dawn of time. Classical, hip-hop, rock, EDM, you name it - someone has probably banged to every genre of music out there. It sets the tone for foreplay, it harnesses the energy of the buildup, and it even provides the tension/release of the climax - what's not to love?
EDM has a unique place in every fan's love life, and depending your favorite genre, it can say a lot about your moves under the sheets. We collected some of our favorite genres and determined how it best relates to your sex life, so take a read and see how it all breaks down:
Deep House 
Doggystyle is your best friend. You have one thing on your mind and one thing only - the bass line. The bouncy nature of its drums immediately taps into your animal instincts, and it urges you to want the deepest penetration possible. You better believe that DJ Hansel was talking about his sex life when he said "go one fucking deeper!"
Classic House
Let's just say you're a sexpert. Whether the pace is fast or slow you know how to find the sweet spot on the dance floor (and off). You're no stranger to the rhythm know how to pleasure your partner. Believe us – no one is complaining! 
Nu-Disco
This genre has fans spending most of their time on the dance floor with their special someone. Making out in public all night and continuously getting down with your partner is par for the course before hitting the bedroom. With Nu-Disco, foreplay is your best friend and you want it to last as long as possible. You are all about the swerve and grind, and when those trumpets come in, you better believe the funk shall be within you.
Trance
Whether you admit it or not - you're a cuddler. Super intimate and into your emotions, you are more about the romantic, sweeter parts of a relationship. You are all about spooning and candle-lit dinners, and will most likely be found staring up at the stars, holding hands, dissecting your partners brain long into the night. That isn't to say the sex isn't good, just try not to cry when it's over.
Trap
To all you elbow-jockin, head-rockin players out there, missionary is your swag. With both partners in complete control, it's easy to keep your trap hands going as the ebb keeps flowing, know what I mean? "Trap sex" is all about being confident and forceful, but still keeping that intimacy from the eye-to-eye contact. Talk dirty all you want, but please don't pull out your gun and pop off when it's all said and done.
Hardstyle
Sex, sex, and more sex. No need for chatting, no need for foreplay. Hardstyle fans get straight to it, 0 - 100 real quick. All you're thinking about is any and every position you are physically able to do, and you are desperate for it. Once you get it though, it's rough, it's loud, and it lasts all of 3 minutes and 40 seconds.
Dubstep
Half-time, double-time, any-time. Dubstep fans are into the nitty-gritty, power versus pleasure sex that usually leads to breaking every lamp, chair, and table around. One thing we've learned from our time in the scene is that your "grime" face is your "O" face, so the more melted the face, the more melted the... well you get it.
Drum and Bass
Similar to other high-bpm genres like dubstep and hardstyle, drum & bass is that genre that doesn't quit, which means you won't either. The energy and persistence needed for a full night of drum & bass-debauchery says a lot about your stamina in bed, and the aggro-nature of its sound means that you won't be so forgiving about it either. You may enter the bedroom one-two stepping, but you better believe you'll be limping by the time you leave.
Techno
You're a freak. There's no sugar coating it. Just like techno, you're experimental and innovative in the bedroom. Whether your fetish is BDSM or you just like "to slap on it a little," you're totally comfortable with your sexuality.