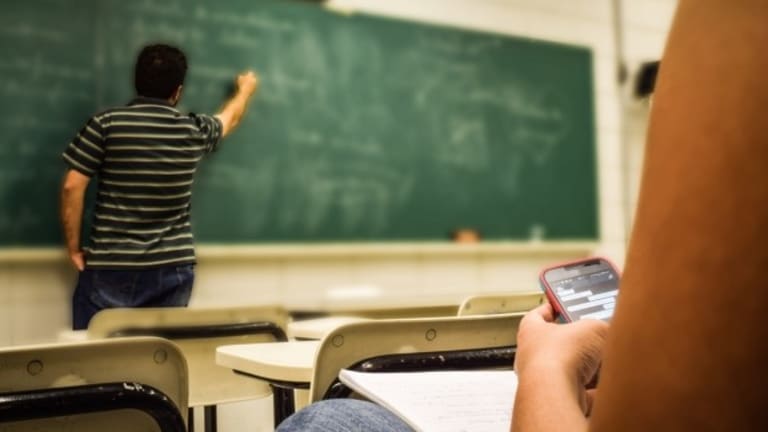 If Your Favorite EDM Labels Were High School Cliques
Which table are you sitting at?
Welcome to your first day of EDM High School. You don't really know anyone but thats okay, you're pretty personable and EDM kids definitely won't be judgmental...right? Wrong. You've entered a warzone. You must pledge allegiance to a clique or they'll eat you alive. But don't worry, the EDM.com crew are the nice seniors who will show you the ropes. Here's our rundown of some of the cliques you'll encounter in the halls.
OWSLA
At first glance you might think these are the goth kids, but you could not be more wrong. Even though they're wearing black from head to toe, they're the farthest thing from non-conformists, they're actually some of the trendiest kids in class. They all claim to be emo and wear '90s metal shirts despite the fact that they've never cried to Chiodos after a breakup or even know who Dimebag Darrell is, but it's cool because their dad's are super intoMetallica. They all worship this skinny guy with cool hair who used to be in a band or something. He was kind of edgy back in the day but now he's one of the coolest kids in school and they're all trying to replicate that. TheOWSLA crew decided to get into anime to seem a little edgier, but, when someone outside their clique tries to talk about a show with them, they scoff and call them a nerd.

mau5trap
Always gets the highest grade in class, even though they barely try. Really into cryptocurrency and Twitch streaming. They are absolutely the nerds of the school but no one messes with them because they'll probably hack your computer if you do.
Dirtybird
They judge their classmates who listen to pop music even though the only reason they discovered tech house is because they drove five hours to go see Marshmello headline EDC. They've been known to unironically say "it's time to go if you don't dig techno" when new kids try to sit at their table. They believe they are the true defenders of the scene but also believe that techno was created in the 2010 in California.
Spinnin' Records
These are the really cool European kids in school. They're better dressed, more attractive, and drive a nicer car than you. All of them have really exotic names and come from places you've only seen in movies. Despite having unique names, all of their work sounds pretty similar and you start to wonder how they keep getting some of the highest grades in the class. Hates the Ultra kids.
Ultra Records
The bitter rivals of the Spinnin' Records crew. They're almost identical to their rivals but they weren't blessed with a smooth European accent. They both play football but the Ultra kids would rather play the version where you get brain damage instead of the version where you run around for 90 minutes and only score once. If these tank-top clad bros would set aside their differences they'd realize they have a lot in common with their European counterparts.
Mad Decent
Always wearing a Jamaican soccer jersey, playing hacky sack, and listening to reggae. They never cared about being popular, but they became the coolest kids in school for that very reason. Well... that, and the fact that their older brothers sold weed to everyone in the school.