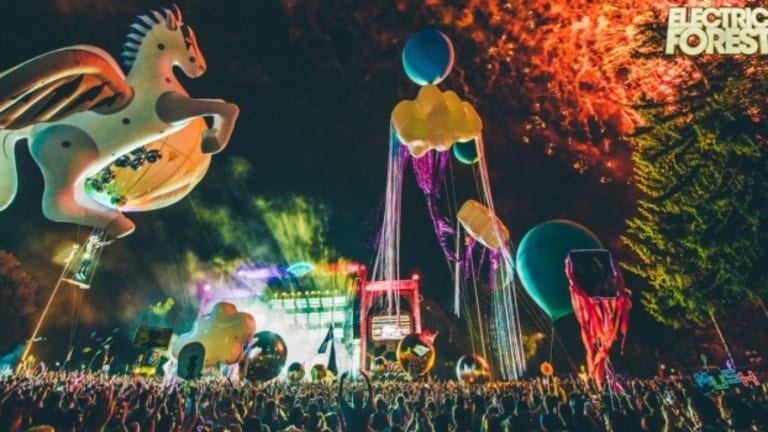 Losing my Electric Forest V-Card Pt1: You Don't Find the Forest, the Forest Finds You
Have you ever been to Electric Forest? We have, and it's a magical place ✨
I felt like I was strapping in to plunge down the Kingda Ka for a week before the festival - the week it finally dawned on me that this was really going to happen and I was about to have the time of my life. I'd heard about this place, the Electric Forest, world of weirdness and wonder and endless great music; in 2011 and dreamed of going for years, but was never able to get there. Because, you know, life.
Fast forward six years and my long-held dream was about to become reality. That thing about the longer you wait the better it is … truth. I believe life gives us the things we need right when we need them and I knew this was a gift coming my way right on time. So, I made a few simple intentions before the trip: to go with the flow, to be present, to SLSL, and to enjoy every moment, which is exactly how things went down.
Not to say everything went perfectly. I would have prefered to not have my phone stolen right before Bassnectar's set on Saturday night, complete with all my new contacts from the weekend (except one trippy story you have to read Pt 2 to find out), photos, interview recordings, Ganja White Night's wobblicious set at the Tivoli at sunset, and any ability to capture the rest of my experience in digital form. But even that was all part of it, part of the experience I was meant to have that weekend.
The thing about it is, there are no accidents, the Forest teaches you that. Or at least, it taught me that. When we're open to anything, the right things find us.
Like the perfect camping spot right next to the owners of Double JJ Resort who run an all-night gas-station style food stand with some of the best (and cheapest) food in the whole place. Not to mention the hardest working wooks I've ever seen. When you arrive back at your tent after 10+ hours of raging and get to stuff your face with hot fluffy breakfast biscuits, $6 burgers and pizza you praise the festival gods for shining their lasers on you.
The absolute circus that was Bassnectar's set on Saturday night felt like a dream, and not just because reality was getting a little gnarly. When I returned from my solo venture into the Forest phone-less, which felt like deep sea diving without a cable, our simple 3-hammock perch had turned into a full blown Cirque du Soleil, with hammocks 6 stories high and guys in Aladdin pants shimmying 20+ feet to get above the crowd. I gazed up waiting for a trapeze to fly through the air and then remembered where I was - the Forest of course. Where anything and everything is possible.
And then there's the sheer joy of dancing til you drop for four days straight. My body was exhausted by the end of it, but from pure bass-filled bliss.
Truth be told, there are too many Foresty moments to count, or even write about. The best ones were 100 percent when I met a stranger who became a friend, a friend who became family, or bonded with my squad on a muddy dance floor.
At one point, after wandering around the Forest barefoot for over an hour and wondering if the bottoms of my feet were still there, I stopped to lean on one of the friendly Forest trees and took a long look around. I was here. I was in it. The magic was happening and I was a part of it. No matter what, that was … is, incredible. In that moment all I could find was gratitude, and I've since realized, we're in that Forest every day. It's called life. There may not be shape-shifting treehouses or LED angels dancing around us or Prize Kart dance parties at 3am (most days), but this experience we're in right now is the greatest festival of all.
So I can sing "Happy Forest!" every day and mean it. Because every time I look at the plastic feather dangling from my wrist I remember that it's awesome just to be here, the world is full of magic and overflowing with people who make my heart dance to the beat of LOVE.
So yeah, if you haven't, you should go to a festival. It does a body (and soul) good.
Cover photo courtesy of Electric Forest