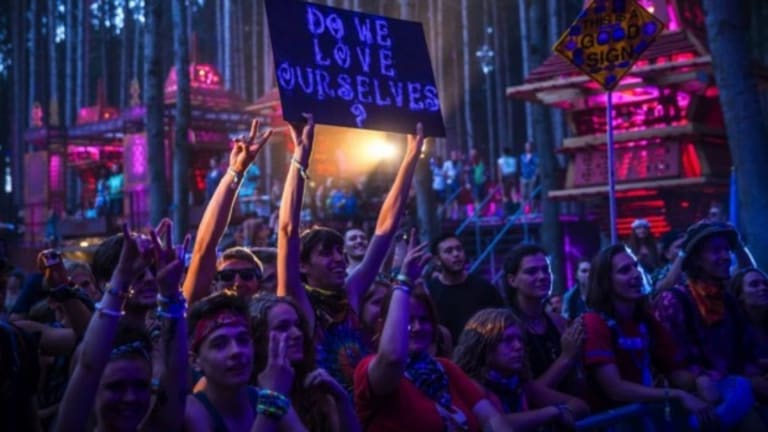 Losing my Electric Forest V-Card: I Found my Soulmates in the Forest [Part Two]
What is it about Electric Forest that is so magical? Writer Terrisa Coobs describes her experience...
Now I get what people mean when they call the forest "home."

At home we're free. Free to be and dance and explore and laugh and cry and rage and love and wobble, without judgement (this guy knows). Free to open up to the possibilities of every day without fear and full of wonder. Free to be exactly where we are and nowhere else, even if it's pouring rain and turning the dance floor into a muddy mosh pit. At home we wish for nothing more than what we have in this moment, except, to find our friends! How in the name of Lorin Ashton did we lose them?
The Forest gave me lots of treasures this summer: Sophia, Kassy, Jake, Cory, Molly (an actual person), Gus, Emily. These are a few of the cool ass kids I now call fam. We're meant to be, and I know cause the forest threw some miracles our way to make it so.
The first day of the festival, this spunky little sprite came running through our camp, plopping down on the blowup couch for a three minute power nap. I think I was the only one who noticed her and as quick as she came she was gone. "I'm Sophia, thanks for letting me use your couch. Happy Forest!" "Hell yeah, see you in there!" I yelled back as she pranced away. I hoped so, but yeah right.
Six hours, two interviews, four sets and who knows how many drinks later, I'm wandering around with my girl, Jill, exploring the forest when who's voice do I hear? That same little sprite, running up to me: "Bebeeeeeee! It's you!" We hadn't exchanged numbers or anything, just happened to find each other at the same place in time amidst 35,000 other people. We raged together for the rest of the night, through a downpour at Above and Beyond and a few other sets I don't remember much about except that I was having a blast with friends who were strangers that morning.
The next day my phone was lost, and for the rest of the festival I didn't see Sophia or any of that crew. After replacing my phone when I got back, none of my contacts, pictures, videos, texts or calls showed up from the past week, even ones I'd gotten before the festival. I was devastated. The only evidence I had of our connection was a polaroid we snapped at the top of the Observatory stage at Thriftworks. A few days later I was scrolling through my messages to see where things left off and my heart skipped a beat when I saw Sophia Forest nestled between two conversations that hadn't updated since a week before I met her.
Even technology is part of the magic. The Forest always finds a way.
Like the time it recreated this scene for Jake, Cherry and me on the last night of the festival.
Somewhere between the silent disco and Ganja White Night's epic second set at the Jubilee stage, our new friend Cherry went missing from the crew. His phone was dead, so we spent the next two hours scanning the crowd for his bobbing blonde head. We checked the macaroni stand, water stations, porta potties, no dice. As the stars came out and the forest lit up, my friend Jake and me made a last forest wish: to find Cherry. It wouldn't be the same raging the last night without him.
Eventually, we decide to leave the rest of our group to go on a rescue mission. Leaving in the middle of FKJ's set, we plunged into the forest in search of our spirit animal. The night before we'd chased the White Rabbit around the forest together and Cherry bought a mini kaleidoscope at one of the shops. "Let's check there, he liked that place" I said to Jake. We grabbed hands and made a beeline for the Colorado Kaleidoscope Company (Jake and I are both from Colorado, btw).
No sooner did I walk into the vendor mall and turn the corner in the direction of the kaleidoscopes than Cherry turned around to meet my searching gaze. Every Forest butterfly, hooper and sick drop congregated in my stomach at that moment. We ran to Cherry in complete disbelief, swirling from the excitement of not only finding our friend, but vibing so perfectly with each other and the forces of the Forest.
Cherry made us matching pendants to remember our little miracle and celebrate our new Forest Fam.
From the beautiful new friends I met to the ones I came with and grew closer to, I couldn't have asked for a more perfect first forest.

We tend to think of vacations and festivals and shows as an escape from reality, but I think they're actually reuniting us with reality. The mind blowing, incredible, miraculous reality that we lose touch with in the day to day. But it's there. It's always there, we just need to remember it, to summon the magic to us and ourselves to the magic. When we do, we'll find soulmates all around us.
After all, we're what makes the Forest home. Families who rage together, stay together. ✌