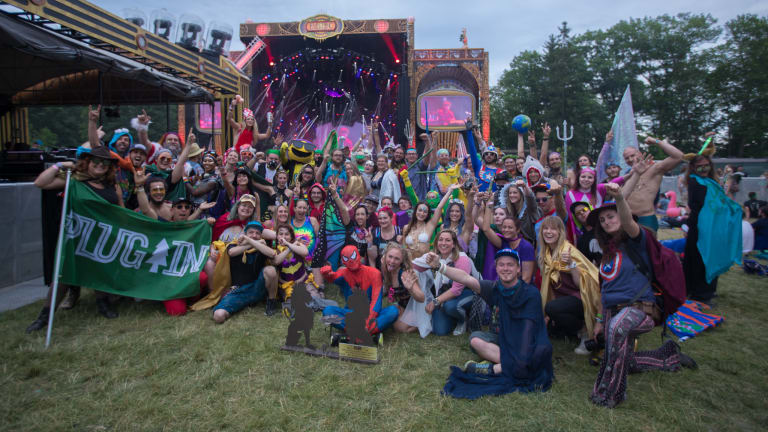 How Electric Forest Catalyzes Community Action with The Wish Machine
Fans put a wish in and a positive impact comes out.
If you pull back the curtain of neon trees and laser-hued bliss at Electric Forest, you'll find a wizard. Well, it's more of like a family of magicians, but Madison House Presents are tirelessly working year round to level up the experience so that returning Forest-goers and newcomers alike have even better moments year after year. 
Finding a lot of true Forest moments occur in participation, the team sets out each year through the Plug In program to activate fans of the event so they take the belonging and inspiration they conjure and share at the festival along with them when they head out into their communities back home. Perhaps the most intriguing and innovative among the Plug In programs is Electric Forest's Wish Machine.
To better understand its beginnings and learn more about what makes the program so enamoring to fans, we talked to the good folks who lead the project behind the scenes at Madison House Presents, which is the company producing the event in collaboration with Insomniac.
What is the Wish Machine?
Don't let the fun name fool you. The gravity the Wish Machine represents as a solution to the problems local communities face is unprecedented because it draws dreams into reality. The way it allows those who want to get involved to write their own job description is liberating as well.
"Before we would get random inquiries or ideas from fans via customer service or online digitally, but we didn't have a mechanism to propel those ideas necessarily. That's actually what it is. It's a mechanism to support the big dreams, ideas, and projects that people have," said Darcy Johnson, who is the director of branding, partnerships and marketing at Madison House Presents.
It didn't all happen overnight, though. It was conceived in 2014, and had to incubate for three years before being born. Now the Wish Machine heads into its second year. With more than 5,000 wish applications in each year the project is proving itself to be an unparalleled bridge for fan engagement and community action. When a "wish" is submitted through the online form, they're collected and compiled into a spreadsheet based on actual feasibility. Then they're sorted and categorized until a team is ready to look them over and decide which wishes will get granted.
"The purpose of the wish machine is to amplify peoples actions," Jake Frommer, a marketing coordinator working on the Wish Machine Project told EDM.com.
The Forest Listens
From collaborating on a record-setting Flash Mob of Superheroes with String Cheese Incident to offering safe spaces for women, wishes run the gamut. Sometimes people ask for tickets or for artists like Glitch Mob or GRiZ to play a secret set. A lot of those who submit their wishes each year ask for support impacting their own local community, like Aiden, who gave burritos and mp3s to the houseless or Ashley, who brought art therapy to her local veterans home.
"It really stems from super hyperlocal community-based changes people want to make in their area." Frommer told EDM.com. "At the core of it, it gives anybody a voice."
Between the twenty-six Plug In programs that compel involvement in and outside the festival, the Wish Machine is without question the most broadly interactive. In 2018, it racked up 45,000 volunteer hours of service in local communities, while funneling more than $75,000 into charities and community improvements across 20 countries.
"People really do recognize the community and the presence of being at Electric Forest and they want to bring it out into the world." Frommer explained. "They want to share that with people who may not get a chance to go to the festival."
Like a tree that falls in the woods, at festivals those dreams typically end up in the purgatory of an inbox somewhere, so nobody ever hears them when they fall. Most don't even make it in the air because fans don't think they will be heard anyway. At Forest, the same isn't true because in the Wish Machine leadership can digest that input and drive it forward in a way that is real, tangible and makes a difference.
The Difference a Wish Makes
As a known masterpiece of event production, much of the festival and music industry looks to Electric Forest (as they do to Coachella or Electric Daisy Carnival) for measurable successes, inspiring concepts, and processes they can crack and reverse-engineer to eventually "get it right." Learning and improving in a way that stays in touch with fans is always at the center of these efforts. It's the holy grail, and the Wish Machine serves as the feedback loop between fans and festival that otherwise may never come full circle.
"It was an open source opportunity for fans to come up with the wildest ideas they could." Johnson Explained. "This program is really endless because it can grow truly by the imagination and determination of the fans. It really is driven by what fans are interested in doing and we've been really blown away by the wishes people have."
When viewed as a catalyst for good, the Wish Machine appears to have a profound future ahead of it because if it successfully impacts other communities the way Electric Forest changes lives, then the festival is already making history. In this way, it helps those who attend the event reach further towards a world where instead of struggling to coexist we're learning to co-thrive together.
Thinking of the novelty in this sort of leadership among festivals, Johnson pointed out that "One of the things the industry as a whole could learn is listening to your fans and their ideas. You know?" She went on, "We don't always have to be the voice."
With this sensibility at its core, the Wish Machine offers Electric Forest a rudder we all steer together to democratize their impact. It's a refreshing idea in a business that so frequently pushes the experience when the greater impact could be made by putting some of that energy into helping fans create their own. It shows an opportunity for growth, and a riveting option to attend Electric Forest for those who are willing to earn their way by doing local work in the spirit of it. It also pioneers a new business model for festivals, where conscience isn't just part of a marketing strategy. It encourages those in the community to ask, to try, and to engage at a grassroots level when they hope to see a change.
"Every single person who has submitted a wish has put themselves out there", Johnson reflected. "And I think that's a beautiful codex into this humanity of living and being a part of our planet." 
FOLLOW ELECTRIC FOREST
Facebook facebook.com/ElectricForest/
Twitter twitter.com/electric_forest/
Instagram instagram.com/electric_forest/
Youtube youtube.com/c/electricforest/
Soundcloud soundcloud.com/electric-forest-official/