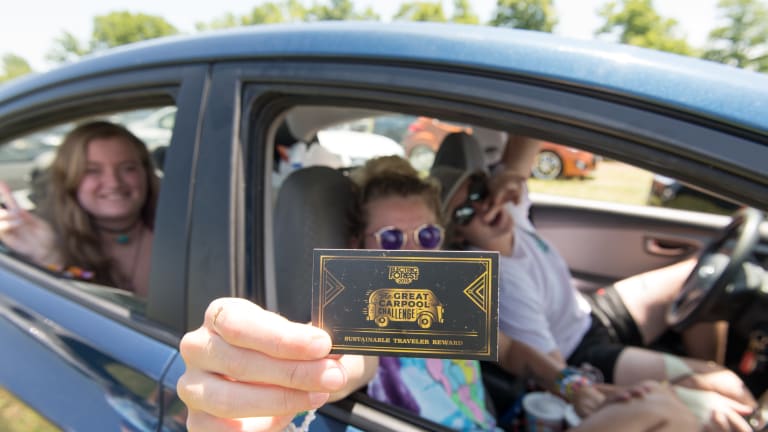 Electricology 101: How Electric Forest Tackles Sustainability
Don't look now, but picking up your trash at festivals just got a lot more fun.
From hauling to sorting to diversion and more, trash isn't always an easy problem to contend with at festivals. Like the saying goes: it's a dirty job but someone has to do it. 
At a lot of music festivals, sorting stations are the norm and it's not particularly uncommon for littering to be met by wagging fingers and public ridicule, but at Electric Forest greening efforts take on a completely different approach. In addition to being as personally rewarding as tidying up your bedroom, picking up a little rubbish here and there at Rothbury's gem of an event actually leads directly to a chance to win a variety of prizes. 
That's not all, though. The organizers have been working with the National Forestry Service to guide their efforts since coming to the property. They're also gradually putting bigger investments into the site where the festival takes place to lessen the footprint left behind while ensuring that the net impact of so many people on the site is counterbalanced by positive investments like water wells and solar-powered irrigation in the fields. 
The end result makes for a cushier campground during the event. Horses who roam the terrain have more space throughout the rest of the year as well. Last year, Electric Forest announced the plan to upgrade more areas while reducing the event from two weekends to one. The plan is already jumpstarting encouraging conversations about things like permaculture projects and alternative power grids.
To learn more about the progress of those initiatives, the ongoing sustainability efforts of the team onsite, and the tough job of keeping the venue clean, we took a golf cart ride with Rachel Wells-Norton, co-owner of High Five and the department head for the world-famous Electricology program at Electric Forest. She explained the refreshing approach engineered to give everyone who does litter the benefit of the doubt while incentivizing anyone already inclined to do the right thing.
A Strategy for Prevention
Built around a framework used for educating students in Grand Rapids schools and cafeterias, "Electricology is a marriage of services and needs," explained Wells-Norton. "It's a whole lot of fun, too." 
In street festivals and academic institutions the High Five program boasts a 92% diversion rate, but what's even more encouraging is young children actively sort their own waste. In fact, even kindergarteners do it all by themselves, so not only is it possible to teach young people to lessen their impact on the environment - it's actually easy enough that anyone can do it. When you have the waste of a temporary city to contend with, as is the case with Electric Forest, it's certainly still a beast. Just a different one.
The most recent numbers available (from 2017) show figures like 34.5 tons of food waste diverted to enrich local soils, which was forty times what had been collected in the year prior. Further accolades include 3.5 tons of used vegetable oil transformed into biodiesel fuel with a local partner, Earth Additives. 7.35 tons of food (14,700 meals were recovered and donated to a local teen support program called Western Michigan Teen Challenge. They also recycled 23.6 tons of metal and 21 tons of cardboard; donated 1,400 lbs of campground tents, tents, pillows and blankets to the Crystal Valley Care Fund; and gifted 1,600 lbs of creative materials to the theater department at the local Whitehall High School.
At the end of each day, the results are as easy to see as looking on the ground. Sure, some trash still does end up in the wrong container or become litter. When we asked about it we expected to hear about the 24-hour churning of a sorting zone or the diligent efforts of a "green team," but at Electric Forest they had neither. Wells-Norton explained that there are other systems in place to deal with those issues, like the eco-points leaderboard and the Prize Cart.
"We don't set up a massive sorting zone for this because a lot of this program is based on the idea that prevention is more cost-effective than reaction," she said. "Instead of us just reacting and sorting this out, we are actively trying to teach our community what a sustainable waste stream looks like."
Walking around the grounds, we looked at the contents of one trash can after the next, always noting the effectiveness of what Wells-Norton described as the first in "three thresholds of interference." The first was a highly detailed system of signage with color codes and common examples of items that would be sorted, like cigarette butts, plastic water bottles, cups, and plates. 
The second threshold is an operational arm of Electricology called Gemini. These are the team members who come to inspect, bag and haul the waste into a production area. They also run the full site cleanup and turnover. 
In the third threshold, the team runs interference one last time by removing and separating any contaminants before the waste is recycled, composted or sent to the landfill.
The prevention strategy applies to vendors too. Of their role in creating and diverting waste, Wells-Norton said: "Anywhere the festival is providing something in the way of food we're making sure that all your forks or plates are compostable - even our straws and toothpicks are bamboo."
EcoPoints and People
Next we went to the front gates to get to know the Electricology station. It's here that fans earn EcoPoints, a sort of currency and ranking system rolled into one for Electric Forest's greenest champions. Each one is redeemable for vendor prizes, artist giveaways, and meet-and-greets that encapsulate memories that would last a lifetime - like a hot-air balloon ride with the Disco Biscuits, a treetop tour with members of the Forest production crew, or special access to a secret party sponsored by Michigan-based brewery Bell's. "Anyone who has a draw for why we want to be here we want involved too. Also, there's nothing you can purchase here but you can pick up some trash and win it." Wells-Norton noted. The fact that there were experiences curated not for dollars but for people who came to the Forest with the intention to keep it clean is a refreshing approach to greening the industry.
Electricology has evolved to keep up with changing needs of the forest, but since its inception in 2012 it has always remained a key stitching in the fabric of the environmental culture of the event. As fan numbers have increased over the years, "The ethos has been the same, it's just that the family has grown, the infrastructure has grown, and Electric Forest has grown so much and we're very fortunate that they've decided to prioritize the growth of our program right along with it to ensure that it maintains this level of cleanliness." That's another key distinction that makes Electricology successful. Where some events introduce a program and run it the same every year, Electric Forest is reassessing needs, taking on new goals, and bringing in more of the best talent Michigan has to offer.
"Our Site Ops team are some of the best in the world. They are incredible what they can do for us." Wells-Norton thought aloud as she drove us through a puddle that had collected in the rain. Over the years the site where Electric Forest is held has experienced a number of severe weather conditions, and that stacks up challenges for the site ops teams, who are charged with the colossal task of bringing dying trees back to life, keeping slopes and run-off areas safe, and maintaining and upgrading the functionality of plumbing, solar and power systems.
"Electric Forest has programs that they employ to expand the workforce, using local labor and supporting high school sports programs," Wells-Norton said. "They've propped up multiple veterans programs, to find employment for returning veterans in the community too. Site ops is badass here. They're intelligent and cool, and a lot of them are women."
With strong talent, efforts have shifted to prepare for the long term. "We're building permanent structures and irrigation systems on the site now," she said. In addition to regrading the Tripolee stage and surrounding area, which has had complications as a result of weather over the last few years and developments onsite, the festival aims to appeal as much to the local communities as it does the international music lover. "Some festivals want to leave a legacy of art, but this one also leaves water wells and creates light and power for people."
Positivity with the Prize Cart, Competition with the Leaderboard
When the main stages shut down each night, there's inevitably trash left by the crowd. The prize cart makes a game out of collecting and sorting it.
"We are picking up our stages in five minutes with our fans. We've got bags and prizes and we've got fun songs to dance to," Wells-Norton said. "It really is that easy. It's so simple, but on our end it's a ridiculous ballet of production cues and building art cars, and getting teams around the site." 
In action, it's a growing amorphous blob of human energy clutching at the ground to the tune of a song that seems somehow reminiscent of a turn-of-the-century game show. In addition to trusting fans to sort their own waste and thanking them for it, the Prize Cart takes the memory of participating to a whole new level with a chance to get a keepsake for the effort - along with a ton of laughs. Ultimately, the Prize Cart motivates people who already had good intentions and deflates any negativity or resistance that may surface from people who don't want to participate with the sting of FOMO.
In the final moments of a Prize Cart set, the impact on those who participate can be observed on their faces as they say things that once would have seemed backward, like "I don't have any more trash to pick up." With any luck that positivity becomes a ripple. Another way that ripples are created at Electric Forest is by their Eco-Points Leaderboard. To foster another level of green super fan, the Leaderboard challenge encourages micro-detailing and a strategy to collect and transport waste efficiently. 24 teams of them operated inside the venue for 2019 and each singlehandedly collected tons of waste with eco points in the thousands.
Together the two initiatives address peak moments where cleanup efforts are needed the most, while simultaneously incentivizing super fans who want to go above and beyond in their effort to keep Electric Forest beautiful. "We are transforming crowds into custodians." said Wells-Norton.
Through healthy competition, a zany pop-up experience, systematic gratitude, and a whole lot of trust, Electric Forest is bringing wide and unprecedented appeal to the task of cleaning. We eased into a parking spot to finish the tour. Wells-Norton looked up from the road. "We build these places to get inspired so the world is a prettier place when we leave this one," she said. 
FOLLOW ELECTRIC FOREST
Facebook facebook.com/ElectricForest/
Twitter twitter.com/electric_forest/
Instagram instagram.com/electric_forest/
Youtube youtube.com/c/electricforest/
Soundcloud soundcloud.com/electric-forest-official/