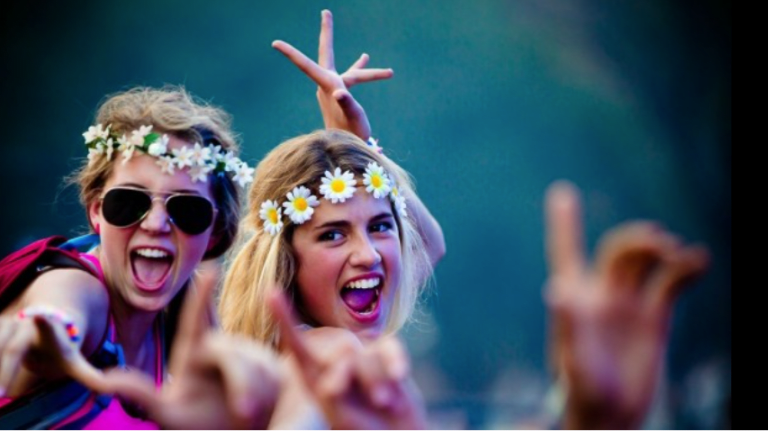 MAKE 2017 THE YEAR YOU IMMERSE YOURSELF WITH A NEW FESTIVAL EXPERIENCE!
Music festival season is finally upon us and we could not be more elated! Memories are the most valuable commodity you can possess in your life, which is why a music festival should certainly be on your to-do list this season!
Music festivals embody the greater things in life including music, friends, food and community – forming an unforgettable experience you can hold with you forever. Not only do festivals give you live music, but they give you the special opportunity to escape reality with your closest friends for several days. It is an immersive experience everyone should invest in, filled with happiness, gratitude and most importantly - love.
Here is a list of beloved music festivals that have given me the most worthwhile experiences! And although they take place primarily on the west coast, you don't need to be a California native to find an enriching experience that will leave a lasting impression on your mind, body, and soul. Fuel up for adventure by taking a positive attitude with you so you can immerse yourself wherever you go!
1. COACHELLA VALLEY MUSIC AND ARTS FESTIVAL
Coachella Music Festival, held in for two back-to-back weekends in Indio, California, is one of the most popular festivals in the world! With its notoriety, this festival has manifested into more of a lifestyle event. The festival has evolved into an event appreciating not only music, but fashion, food, and activities as well. There is something there that can accommodate almost everyone - making it a festival I look forward to every year regardless of the lineup.
That being said, Coachella is always known to bring out the big guns each year with their lineup often setting the stage for acts that are going to rule the airwaves for the rest of the year. When it comes to setting trends and predicting what's gonna be the next big act, Coachella is leagues beyond any other event.
2. CRSSD MUSIC FESTIVAL
Located in the sunny and gorgeous San Diego California, CRSSD Music Festival is the chill vibe you want to hold onto forever. With a venue right along the ocean and a reputation for heavenly sunsets, this unique festival is a hidden gem that resonates with me immensely. With deeper sounds from some of the burgeoning names in house and tech-house CRSSD Festival is a destination event that you don't need your passport for! This spring already hosted names like Sonny Fodera, Moon Boots, and of course the Dirtybird crew, but if you're itching to check out San Diego you better pinch your pennies until next year!
3. OUTSIDE LANDS
At San Francisco's iconic Golden Gate Park, Outside Lands is a festival unlike any other. Surrounded by giant red woods and your greatest friends, this festival has a coolness that is infectious. From legends such as Elton John to rappers such as G-Eazy, the diverse talents make this a festival made for everyone! The eclectic lineups have always given me the emotions of joy and nostalgia - making this a festival that stays very close to my heart.
4. ULTRA BALI
There is no greater feeling than being in a beautiful foreign land surrounded by people from all over the world collectively together for a universal language - music. This powerful moment of unity is a feeling everyone should experience if they choose to travel and broaden their festival horizons, and that can definitely be felt at Ultra Bali. You also get a view of the beautiful Bali beach, an extraordinary view. Did I mention there is a pool you can hop in a well? Start planning that once in a lifetime trip!
5. SPLASH HOUSE
If you want to say you have attended the greatest pool party of all time, you might want to grab a ticket for Splash House. This 2-day pool party extravaganza takes place in Palm Springs, California – cultivating an intimate yet raging party in the desert. This festival creates a unique experience with two hotels accommodating the attendees as well as the festival itself! This creative touch gives this festival so much character making it a personal festival favorite - Go take a splash!
6. LIGHTNING IN A BOTTLE
With an energy that is contagious, Lightning in a Bottle is a festival filled with art, expression, and love. The spiritual festival in Bradley, California cultivates a community with only the nicest people truly appreciating music and art. This utopian style event shows you the greatest of human nature – making it a festival that will touch your soul.
The greatest take-aways I get after attending a festival is gratitude. These sporadic adventures remind you of the beauty in life, sometimes hard to find in the hustle and bustle of daily life. Things come and go but these experiences will permanently be instilled in your heart forever. The best days of my life thus far have easily been at music festivals. Make 2017 the year you invest that money and immerse yourself in the ultimate music festival trip!