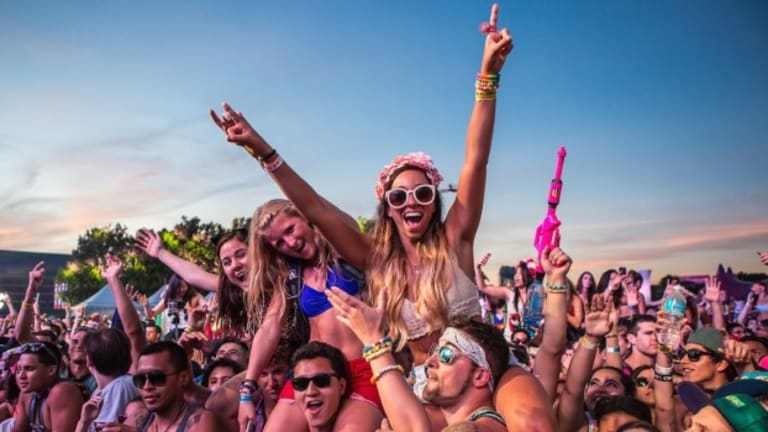 5 Things We Love to Hate at Music Festivals
But don't worry, we have solutions.
Festival season is on the horizon and it's giving us all kinds of emotions! Some aspects of a music festival aren't too glittery, and really grind our gears! There are a few things we could live without at festivals and here are some simple ways to overcome those festival speed bumps! No one wants to be the sour patch of the bunch and admit these festival faux-pas, but how will you ever solve it?! Here's a list of some festival stressors, how to punch them in the face so they don't put a damper on your experience!
Fun Size Probs
You may be fun size, but it's never fun being the shorty in the crowd. Girls, purchase some flatforms, they will be your favorite accessory for any festival! Boys, be conscientious when you walk right in front of a girl for a set. They want to see too. 
Or Butts in Face..
Need I say more? As much as we love flying high on someone's shoulders, getting the back end (literally) is the last view anyone wants. If everyone is doing it, sure do it, but if you're the only one.. Kinda annoying. Save it for a better time. 
The Pushers
Push them back. jk. Don't do that. These are the worst kind of humans. There is no reason to push your knobby elbows into my ribs to make your way through. Get there early or stay where you are! The only way to avoid this is to move to the sidelines of the stage, that gives you more room away from pushers.
Conflicting Set Times
Our worst reality. Choosing which of your favorite artists you want to see over the other is a decision we never like to make. Simple but a little painful, do half & half. Hopefully it isn't a journey to the other set, but catching half of both can make you whole again.
Bathroom lines
Lines, porta potties, the horror! Go before a set ends, dodging all the traffic in between sets! It may be tough to leave a set but it's the sacrifice you must make! Or if you are feeling ambitious, take a random water bottle and have your sweet release in a crowd. Yes I said it, and may or may not have done it before. 😅 
Or maybe just upgrade to VIP so you can enjoy the luxe bathroom trailers that actually flush!
The best way to overcome the downsides of large crowds at a festival is to have a good attitude! You're there to have fun, even if something isn't perfect, it's all part of the experience. So make the best of it!