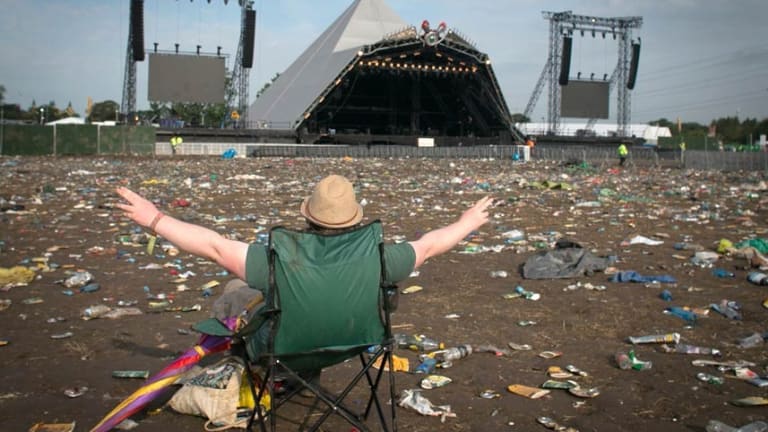 8 Thoughts You Have the Morning After a Festival
We've all been there.
Oh, the post-festival blues. These thoughts are the creepy crawlers that appear in your head after a weekend of heavy raging and degeneracy. Although the festival scaries are very real, they are hilarious as well. Here are a 8 thoughts that run through our exhausted festival head the morning after.
1. "Can my boss tell I'm dead inside?"
Work is another dimension of reality we aren't down for, especially after a festival. We try to look like a decent member of society but we end up looking like a corpse. LOL. Do our bosses see right through us... I guess we'll never know. 
2. "Whose number is this?"
The classic unknown number in the phone. We become social butterflies at festivals, meeting new people every chance we get. Let's hope these numbers are keepers.
3. "What was that song during Major Lazer again... Did I Shazam it? "
Ah Shazam, the greatest creation for capturing new sounds. There is always one point in the festival where we casually try to hold up our phone and Shazam a song. If you're lucky, Shazam will pick up on the live music and save it. What's not so lucky is when festivals don't get enough service to capture the song on Shazam. A festival tragedy. 
4. "Did I wash all the glitter off me?"
Festival glitter becomes the ghost that haunts you for the rest of your life. it will pop up in your clothes, it will pop up in your hair... and even your mouth! Be careful!
5. "Oh no, I think my anxiety is kicking in.."
One of the worst realizations. The morning after a festival starts off blissful and dandy. Then it hits you like a truck. Before you know it, fear, nervousness, worry and apprehension are all your best friends. 
6. "Who has all the pictures we took from the weekend?"
Make sure you have your friend send all the pictures to everyone right after. Worst case your friend could lose their phone and your sweet memories! Take preventative measures!
7. "Who was that guy/girl I made out with?"
We kiss fellow festival goers as much as we shake hands. With our love in full force a during the weekend, this is an inevitable thought. XOXO
8. "Fuck, where's my phone?"
The scariest thought of them all. We all want to wake up after a festival, cradling our precious baby in the morning. That's not always the case though. Keep your cellular device close and always have a way to track it.