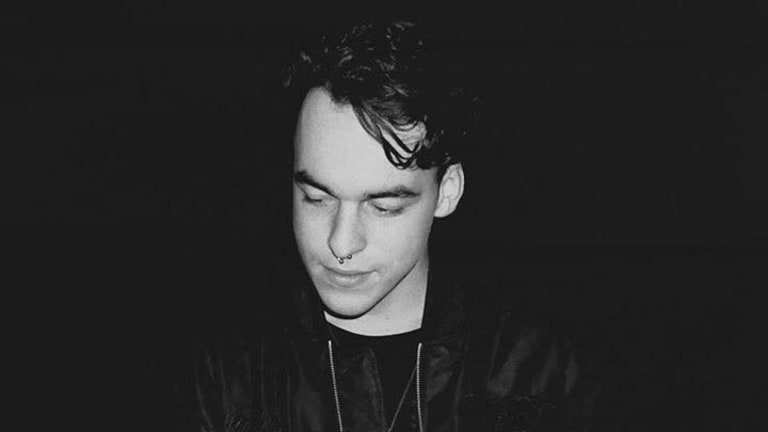 Frequent Flyer Ownglow Unabashedly Details What America Needs.
"Breaking Through" Is A Conversational Series Highlighting The Stories Of Some Of Dance Music's Rising Stars.
"I was always working the hot corner! I tried pitching once and it didn't go well for people in the (batter's) box!"
Since then, 21 year old New York Yankees fan, Sam Reeves a.k.a. Ownglow, has become an introvert of sorts, playing video games while his trusty German Shephard companion "Socks," named after her orange colored paws, looks on as his voyage has shifted to "minimalistic, fast, soul music" and his knowledge of baseball "has tanked!"
His story is compelling - ballsy even, but concerning to him nowadays is the lack of a drum and bass community in the U.S. between not only artists but fans and promoters in comparison to England. "People in the U.S. are finally starting to research the music more, having discovered electronic music via other genres," Sam explained.
 "It's a matter of time before Drum and Bass makes an emergence in the scene.  It could pop off in America solely if it's compromised to American standards - similar to like to what happened with dubstep," citing the 20 year old scene. 
"Drum and bass fans are very open to different styles so long as it doesn't cross a certain threshold of pop, I can see it taking a very similar shape but I think it will take a very different form."  
With regard to promoters, Sam cites the different cultures, complacent vs active, as an explanation. "America is too spread out and isolated, it lacks the sense of community that they could have in say, a smaller country. That directly plays into the music. There's no place to play," Sam continued. "Dance music to the majority in America is still a very new idea and it's synonymous with pop but it's still entry level," saying that clubs that promote electronic focus on "Mainstream EDM." 
With the recent closing of several well known U.K. clubs, Sam firmly believes these venues still resonate with people as they "harbored very important community centers for people to meet and share the music" and that America is underfunded and not up to the challenge of creating music culture in cities.  
"The English have taken this genre and developed it into their own and they've turned it into something they're very proud and protective of because it's one of the sole things they're able to export to the world and your surroundings have a very big part of producing," Sam says. 
With his 2013 - 2015 "Savo" Dubstep project abandoned when an SEO search found there was an Australian rapper with the same name "and 100 times more likes than me!" Sam comically said. And with his two EP ("A Walk to Remember" - 2016 and "Inside the Silence" - 2017) agreement with Hospital Records fulfilled, Sam tested the waters as he yearned to do something more independent and non label focused.  
Ownglow is comfortably settled now with his new recording home at London's Drum and Bass Arena, admitting it was a risky departure but "I capitalize under an umbrella where I'm allowed to release more than just liquid. It was a progression - I find it easier."  
Also citing Hospital's direction of writing a full length feature as his next step was one that "still needs a few years of progression to do so." Sam explains, "With Drum and Bass Arena the direct focus is on the artist putting out material." 2018 will be concentrated on "releasing a lot of music and see what that consistent content can build in relations to the identity as Ownglow. I felt like it was one of the things I was missing - identity behind the brand." Sam does envision a push in the next couple of years of releasing albums in America and is using his singles as a stepping stone for a story in that format.
Sam details how the social media age of instant gratification has changed the way artists write and deliver music to their followers and whether they have a say in what is released saying, "Sometimes it puts artists in a predicament between what the crowd wants versus what the artist wants. Artists are producing bangers and are perhaps being caught up in the moment by releasing clips on social media before completion."
"Learning self confidence and exercising restraint are difficult bits of working in the music industry, it's exciting!" Sam exclaimed. "You want to be able to say, Yo, check my shit out, this is fire! Self confidence vs cockiness is a hard thing for young producers to come to terms with. Instead, have a small group of three or four trusted fellow producers. That way, it's already passed the test of taste makers and A&R, Sam recommends. 
Sam feels he can choose what material is releasable as he now he sits on a back catalog of tunes saying, "A year and a half ago I would be working and a lot of material would be throwaways, but now I'm continuing on the vibe until it develops into something. It's a difficult spot to get to because you're consistently fighting against yourself with thinking it's not release worthy or comparing it to another producer who has been in the game 20 more years. Once you get passed all that, you start to find what you're good at and what you can put out." 
Not over complicating his productions Sam says, "There's a lot of artists that are really good and put a lot of technically sound elements in to one. Coming from hip hop sample based, I don't focus on the technicalities, so long as it's a vibe. Sometimes simplicity is key and it works better for me, most of the time." 
As a music producer, Sam has also found a niche to score, soundtrack, sound design and synthesis in other areas, working with Billon as a general song writer for a running application, Weav. Explaining, "The music syncs with the tempo of your activity then mixes it cohesively in to the last activity you performed based on the tempo. I'ts a fun experiment, creating three different parts of a song to make them blend seamlessly between 100 bpm to 200 bpm. It gives you a whole different perspective on production." Sam is also awaiting final commitments for television commercial sound bytes.
So, does this mean that the Ownglow project is coming to an end? "It's one the first projects I've stuck with for multiple years," Sam reflected.  "I think this one has some longevity to it and as long as the drum and bass scene remains healthy, I'm still going to be releasing it. I like the trend of drum and bass bangers and rollers for Ownglow.  It feels like what I was told about the 90's and it seems to be in full swing right now." 
Sam elaborates, "There's a huge resurgence in rave, jungle and hard core that put drum and bass artists in a good spot because they know how to produce that, citing artists Virtual Self and Jauz.  There's no shame with hopping on trends. You have to keep in mind the shelf  lives of these things can be short but developing along side that trend is very important."
Staying in Arizona until June before making his quarterly pilgrimage, as he's done for the last six years, back to London, Sam has a message for his growing number of followers:
Don't be solely dedicated to one sub genre, explore new styles and seek out the history of the genres you love.  After all, you're helping to create a culture. Give something from left field a chance, you may find your new favorite artist."