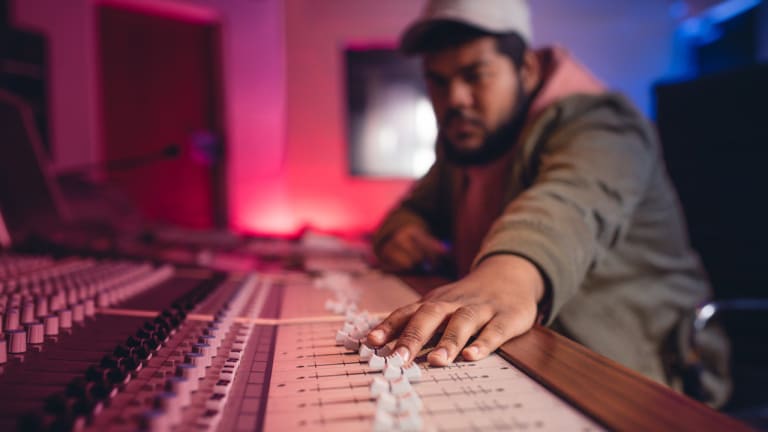 If You're Thinking of Being a Ghost Producer, Read This
What is the role of ghost production in the era of electronic dance music?
In the middle of 2019, everyone already knows what a ghost producer is. In 2014, however, after the great boom of EDM, the concept was just becoming a part of regular fan discourse. During this time, numerous long-kept secrets were revealed to the public about how the industry works, secrets to which only the biggest names in the recording industry were previously privy. Many were the media outlets that published about it, and many of the artists themselves opened up about it. 
In an interview, Hardwell, who has sometimes claimed to have worked as a ghost producer, showed his point of view about ghost production: "Well I'm fine with ghost producing in general," he said, "but if you're not producing your own tracks, be honest, say 'I'm a good DJ but I can't produce my own songs, I got help.'"
As the number of new DJs and producers entering the space continues to increase exponentially, the demand for ghost production has increased as well. An entire industry specifically designed around the buying and selling of tracks has begun to emerge, including ghost producer-focused websites based around brokering these types of transactions.
It is well-known that iconic dance music artists have used ghost production services for years; names like David Guetta and Tiësto are perfect examples of EDM legends who have admitted to bringing in other producers and engineers to assist with the creation of certain records. On the other hand, many world-famous producers have claimed to have worked for other artists as a ghost producers. Hardwell and KSHMR are good examples, as is the well-known Maarten Vorwerk, who has written for dozens of artists such as Quintino, Dimitri Vegas & Like Mike, Chuckie, Sander Van Doorn, and more. 
When asked about the life of a ghost producer, Vorwerk had the following to say:
"Life is good, especially here in Aruba where it's always nice weather and you can always go to the beach. If you combine that with a lot of studio time you basically describe a perfect life. However, being a producer is still a very tough career. There is always some form of pressure. People expect a lot of you and you always have to deliver. Same goes for a DJ, although a DJ can play the same set while I have to create something entirely new every time. I love it if a track becomes a hit. It's great to see and hear all the positive reactions and to hear your tracks on the radio. My name is still in the credits though, so that's enough recognition for me. I do appreciate it when a DJ mentions me as a co-producer in interviews..."
Thanks to the attention the issue has received as the result of these outspoken individuals, ghost production is now significantly more understood and transparent. Most ghost producers are seeking a legitimate means of income to fit a lifestyle otherwise not conducive to being a musician, and many otherwise extremely talented artists seek out the assistance of a ghost producer to help with the creation of music when faced with the challenges of being constantly on tour. While playing late nights and early mornings - and being permanently deprived of sleep while away from the studio - it can be incredibly hard to keep pace with the robust release schedule often expected of bigger artists. All of these factors contribute to the idea that a ghost producer isn't just "a shortcut to fame" for the rich and [not-so]-talented, it's a perfectly viable career path through the ever-evolving music industry. 
Today, ghost production is in many ways now considered to be acceptable by the general public, and demand for the service has continued to skyrocket. 
ABOUT GHOST PRODUCTION:
Ghost production has quickly emerged as a viable means for talented but otherwise unheard-of artists to earn money as a producer, in fact, it's one of the easiest ways to earn income without needing to develop your own brand and fanbase. Many artists are already able to support themselves from their music as a direct result of the many online platforms and services that have spring up around the idea of selling ghost produced tracks.
Music producers know how hard it is to make money from their work. In many ways, it often seems like there is no middle ground between being a famous, multi-platinum producer, and producing as a hobby in your bedroom. For any producer with great knowledge and experience, but without a well-known name, it can be all but impossible to earn a stable income from releasing their own music, especially when you consider the vast array of other tasks that a solo artist has to stay on top of (branding, engaging fans, running socials, designing graphics, etc).
My Ghost Market, one of the leading companies in ghost production services, states that more than 50% of the tracks uploaded to the website are sold within one year of uploading to the platform. Even if ghost production isn't your primary focus as an artist, this high sales rate makes it a great option for artists that have a level of musical output that exceeds their own ability to release it all in a timely fashion. In this way, these ghost production platforms also serve as a great supplementary income stream for artists who are already touring or doing well with their own solo productions.
THE FUTURE OF GHOST PRODUCING
Far from disappearing, the ghost producing market is rapidly expanding and is now opening up to new terrain beyond EDM. We regularly see many prominent companies in the space taking ghost production beyond the world of electronic music, taking on things such as hip-hop beats, and even to the sale of loops and samples. In the future (likely already taking place in the present), we will hear songs created by multiple different ghost producers who not only don't know each other but have likely have never even interacted let alone know of each other in the first place. All of this presents quite a challenge for musical creativity, while simultaneously opening a door to a whole new world of innovation in the music industry.